About WFMU
hiptran on 08/09/2010 at 01:59PM
Like a lot of my peers who got hooked on weirdo music during the mid 80s, the arrival of the New Bomb Turks circa 1991 was something of a religious epiphany. At that time, I was a lowly fanzine editor who'd recently wormed his way into a DJ slot on Princeton's massive commercial college station, WPRB. In spite of my townie status, I thought of myself as already being pretty knowledgeable of the contemporary underground acts that PRB championed. As a result of that (misguided) assertion, I wound up spending countless overnights in the station's record library, often firing up the transmitter two or three hours after official broadcasting had ended in order to air a bunch of weird vinyl I'd plied from PRB's enviable stacks.
Among the coolest and wildest records I got acquainted with on those 3-6 AM musical odysseys were the Back From the Grave series of 60s punk compilations, released by the brazen Crypt label. Those comps, as has been noted by all sorts of rock royalty from Byron Coley to Johan Kugelberg, effectively retrofitted a miniscule slice of the past with a bold, new identity. More importantly, they became a springboard from which a new musical aesthetic (90s garage rock) was forged. As such, when Crypt Records released the Turks' debut LP in 1993, I'd unknowingly primed myself to be instantly hooked.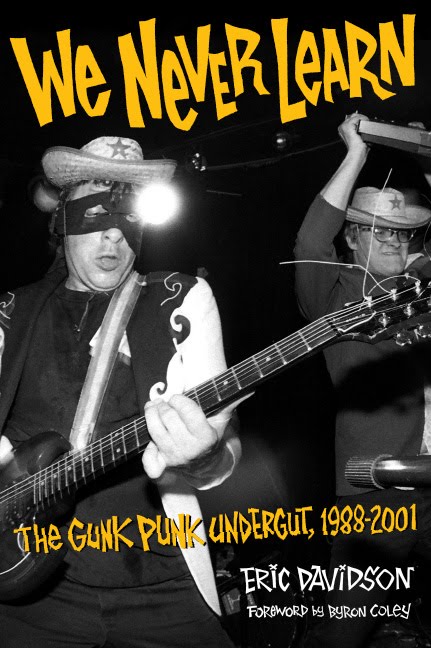 Here was a band that had clearly siphoned all the bad attitude and snotbrained cynicism of the Grave comps into their sound, and then had the nuts to pair it with equal parts grad school geekery (Song title: "Born Toulouse-Lautrec") and latterday punk rock fury. That they had one of the meanest guitar sounds ever to hit my eardrums, an utterly unhinged frontman, and that they nailed down the single greatest Wire cover of all time only sweetened the deal as far as I was concerned. So began a glorious decade of following the New Bomb Turks' every move via their innumerable 45s and incendiary live shows (mostly at Maxwell's, though the absolute best time I ever saw them was at Under Acme.) My fandom culminated in November of 2002, when the band taped a live session for my program on WFMU. By then, some version of the "garage rock" they'd championed for years had exploded into the mainstream via bands like the Hives and White Stripes, and as you'll hear through the music in this session and the interspersed interview segments, the perspectives of vocalist Eric Davidson and bassist Matt Reber throw a pretty unique light on the musical climate of that era. (Not to mention the scene's often dubious progenitors and kingpins.)
The Turks quit being a full time band a few years ago, though they do still play out from time to time. Eric Davidson's got a new book out called We Never Learn: The Gunk Punk Undergut that details the rise and fall of the 90s garage scene that he and his bandmates helped ignite. Welcoming them to WFMU's Jersey City studios remains one of my proudest broadcasting moments, and I'm beyond thrilled to finally share the aural rewards of that evening. You can stream the whole set with the link below, or head over to their artist page on the FMA to download the tracks individually.