You came this way:
Home
>
WFMU
>
Blog
>
Huun Huur Tu: Traditional Music From Tuva live at …
WFMU : Freedom is Freeform!
About WFMU
jason on 01/28/2011 at 04:00PM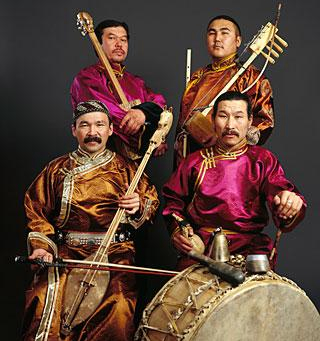 Huun Huur Tu are the first and still greatest traditional band from Tuva, bringing indigenous music -- including the incredible xöömei (overtone/throat-singing) -- to worldwide audiences while also experimenting through collaborations with the likes of Kronos Quartet, Frank Zappa, and Carmen Rizzo. An mp3 of "Chira Khoor" from their February 2010 live performance at KEXP can be found below.
Earlier this month, the tireless overtone-singing spike-fiddle-wielding marvels serenaded WFMU's Transpacific Sound Paradise. This live performance features native Tuvan instruments such as the igil, khomus (Tuvan Jew's Harp), doshpuluur, and dünggür (shaman drum), as well as demonstrations of various styles of Tuvan throat singing; "Sygyt" is flute-like and remeniscent of a bird, while "Kargyraa" is deeper, similar to Tibetan Buddhist chant. During interview segments, Sayan Bapa -- one of the co-founders of the group in 1992 -- explains the history and significance of the music. For example, listening to their rendition of the traditional Tuvan composition "Chyraa-Khoor," one cannot help but conjure the ancient legend of a man riding his horse.
Huun Huur Tu are currently midway through their winter North American tour, with a show Saturday January 29th at Joe's Pub. Their new cd, Ancestors Call, is out now on World Village Records.
Thank you to Rob Weisberg, host of WFMU's TSP, for inviting me to engineer this live session on a snowy January afternoon, and to HHT's Kaigal-ool Khovalyg, Sayan Bapa, Radik Tülüsh, and Alexei Saryglar of Huun-Huur-Tu for sharing this incredible music with the world!