You came this way:
Home
>
WFMU
>
Blog
>
Golden Festival 2012: Balkan Vocal Groups in the A…
WFMU : Freedom is Freeform!
About WFMU
jason on 02/02/2012 at 07:00PM
The Golden Festival is a massive Balkan and East European music and dance bacchanal. On January 14th, WFMU's Transpacific Sound Paradise presented its fourth live broadcast from the event's main stage in Brooklyn's kitschy and fabulous Grand Prospect Hall. The Grand Ballroom was one of four stages, and the two-night event featured over sixty groups. This year, the Free Music Archive will host archives from all four stages.
We're starting the Golden Festival 2012 Collection with the Atrium Room.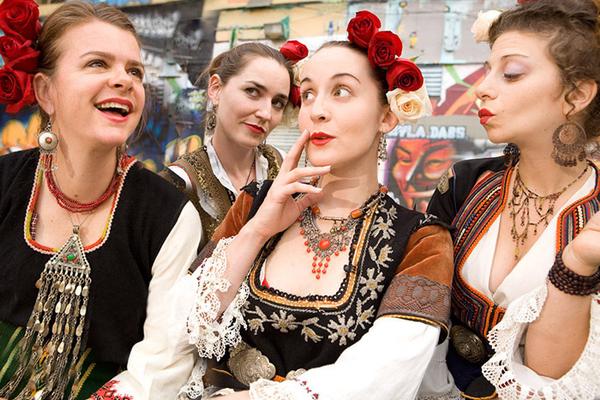 Black Sea Hotel (pictured) is the Brooklyn-based vocal quartet of Corinna, Joy, Sarah and Willa. Their set included traditional songs learned under a plum tree in Bulgaria, but with their own distinct twists and arrangements, since many of the songs were originally sung by larger choirs.
Brazda (pictured) is a New York-based Balkan band that plays fresh arrangements of traditional repertoire from Bulgaria, Macedonia, Greece, and beyond. Like many of the groups, they have provided information about each song in their set including translations. I was surprised to learn that "Yiati Foumaro Kokaini" has lyrics that translate to "That crazy rascal, cocaine smoker For my troubles, now I smoke cocaine."
Isra-Alien Band is a duo of Israeli acoustic guitar players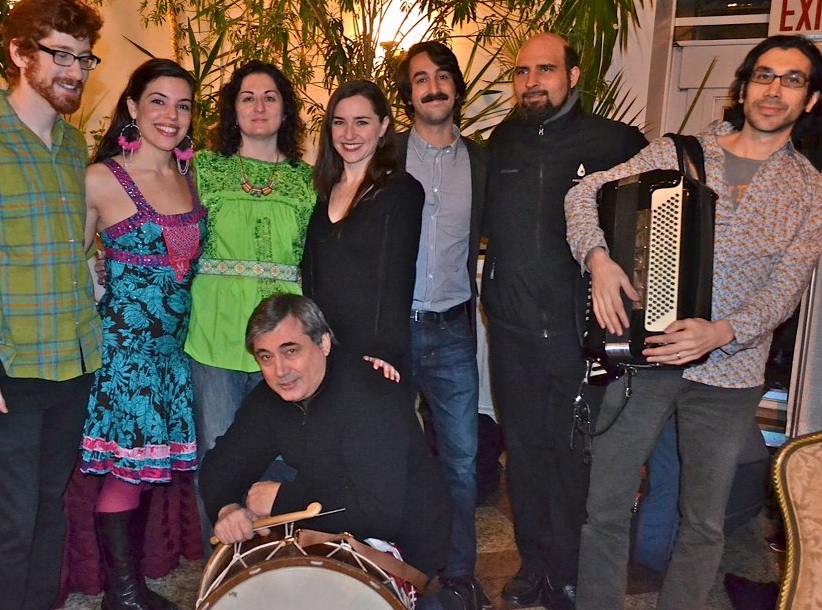 Slaveya Women's Vocal Ensemble is inspired by the vocal heritage of the Balkans, Caucasus Georgia, and neighboring regions.
The Rosen Sisters (Ariana and Amerbly, both on violin) were joined by Bill Cope on Bulgarian Tambura for a set of folk dances from Russia, Israel, Romania, Greece, Ireland and even some American big band swing. This one's a Bulgarian line dance in 7/8.
Tenores de Aterúe is an all-male vocal quartet that specializes in Sardinian cantu a tenore singing dating as far back at the 7th century. The guttural throat singing is reminiscent of traditions in other parts of the world, like Tuva's Huun Huur Tu.
Supruli (pictured) is a Georgian choir directed by Carl Linich (also of Tenores de Aterúe). Its members have studied in Georgia -- listen and hear why polyphonic singing is so captivating to music scholars: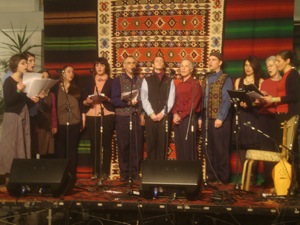 Judith Cohen is a Toronto-based ethnomusicologist specializing in Sephardic traditional songs from throughout the Balkans and beyond - her set includes music from Turkey, Morocco, Portugal, and this one from Salonica: 
Ventanas from Toronto, perform Tukish Sephardic music, flamenco, and traditional songs from Greece and Kosovo like "Gusta mi Magla"
Yale Women's Slavic Chorus performs songs from Macedonia, Russia, Georgia, and Bulgaria:
Big thanks to Transpacific Sound Paradise's Rob Weisberg for hosting & organizing another fantastic broadcast; Golden Festival founders and organizers the Zlatne Uste Balkan Brass Band and the festival committee; co-host and tech guru Irene Trudel; and to the rest of our our illustrious crew: Bil Bowen, Davey Jewell, Glenn Luttman, Wendy Levy, Juan Aboites, Julian Sampson, Jason Sigal, Katie Gentile, Veronica Liu
Stay tuned for more sets from the other performance spaces at this year's Golden Festival!