You came this way:
Home
>
WFMU
>
Blog
>
Dustin Wong solo guitar magic live on WFMU
WFMU : Freedom is Freeform!
About WFMU
jason on 02/15/2012 at 12:45PM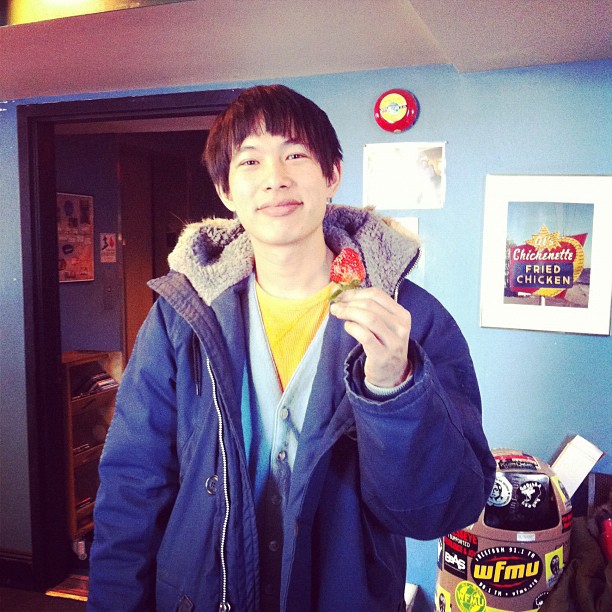 After fluttering across the fretboard live on WFMU in 2010, Dustin Wong made a return visit to LizB's radio show this Monday for a live set of looped solo guitar magic.
Dreams Say, View, Create, Shadow Leads, the 2xLP follow-up to 2010's 2xLP Infinite Love, comes out next Tuesday on Thrill Jockey. The music video for "Diagonally Talking Echoes" is below, and we've excerpted the live session version for you to download and share. First, enjoy a couple live takes of songs that won't be on the album: "Chocolate Dentist" is a brand new composition from the future, while the studio version of "Liberal Christian Youth Ministry" is hot of the virtual press at the Deathbomb Arc Digital Singles Club.
As a founding member of Baltimore art/noise-makers Ponytail and the original Ecstatic Sunshine guitar duo, Dustin Wong is sculpting new forms with intricate, processed guitar. It's an especially fun sound to follow as it is being created live. There's a great video from Newtown Radio.
If you're in the Brooklyn area, Dustin Wong plays tonight at Roulette, and the Dreams Say... record release show is Friday Feb 24th at multimedia space La Sala, with Lichens and Highlife.
Meanwhile, there are a few days left in Dustin's "Say Your Dream, Create a Sound" project. Dustin Wong has been working to soundtrack your dreams. The dropbox for your dream audio narrative submissions is still live though the deadline's around the corner -- the tracks will be available starting on Feb 20th.