About WFMU
jason on 08/09/2010 at 09:00AM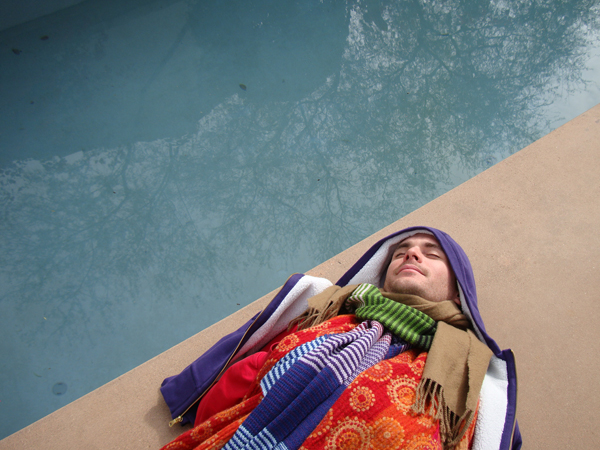 Ben Vida is a musical traveler with roots in the late 90s Chicago minimalist/post-rock/improv melting pot, playing guitar and analog synthesizers in groups like Singer and Town & Country. He's more recently migrated to Brooklyn, where he joined up with Hishaam Barooka (ex-Black Dice/Lightning Bolt) in Soft Circle and was awarded an Emerging Artists commission by ISSUE Project Room. Though he's hardly an "emerging artist" -- his work's already been praised for years by everyone from The Wire Magazine to BBC Music -- 2010 does seem to be a pivotal year in the soaring flight-path of Ben Vida's own Bird Show project.
Bird Show began as a collaborative outgrowth of Ben's solo work; a hypnotizing compendium of organic and synthesized sounds. 2008's untitled release on Kranky really caught my ear with its range of wind, percussion and string instruments -- mbira, dumbek, pan pipes, frame drums, harps, finger cymbals and gongs -- paired alongside warm vintage synthesizers evocative of both the scholarly work of Stockhausen and the more contemporary humanistic electronic sounds of Finland's Shogun Kunitoki. Guests on that record included frequent Vida collaborators like Greg Davis, Robert AA Lowe (Lichens), and Ben's brother Adam (US Maple).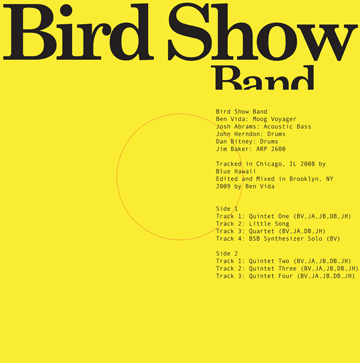 Bird Show Band (Amish 2010) finds Ben Vida returning to his Chicago roots to record with some of key figures from the Windy City's jazz/improv scene. Percussionists Dan Bitney and John Herndon are best known for their work in Tortoise. Upright-bassist Josh Abrams previously played with Ben Vida in Town & Country. Jim Baker's violent ARP 2600 is the secret weapon on this 7-track LP/CD, bringing a harsh contrast to Vida's warmer Moog Voyager. Blue Hawaii (Cave, Chandeliers, Icy Demons) engineered the two-day session, which Vida edited and mixed later on in Brooklyn. "Quintet Four" is a great overview of the record's fantastically spliced mix of jazz/improv, psychedelic kraut-rock, and electro-acoustic sounds. 
Earlier this year, WFMU's Daniel Blumin debuted Ben Vida "Patchwerked Radio Mix" -- a fluid-yet-challenging trip showcasing Vida's more avant-garde side, recorded exclusively for WFMU.
As to what's next, word is Vida's been working on an opera in collaboration with visual artists Siebren Versteeg and Deborah Johnson. He's also touring the East Coast with Greg Davis and Tortoise Sept 5-10, followed by a Greg Davis performance at Raleigh NC's Hopscotch Festival.