You came this way:
Home
>
WFMU
>
Blog
>
Arrington de Dionyso's Indonesian Relijun
WFMU : Freedom is Freeform!
About WFMU
jason on 05/21/2010 at 05:30PM
You may know Arrington de Dionyso from his post-punk-freak-folk group Old Time Relijun, or from his trance-inducing solo experimentations with overtone-singing, shruti-box, jaw harp, and Kadri Gopalnath-inspired bass clarinet. He also teaches workshops on "Unleashing the Voice", and plays in the free-jazz quartet The Naked Future (ESP-Disk). His paintings offer a visual depiction of said future, where humans, animals, and angels live in naked, bestial harmony.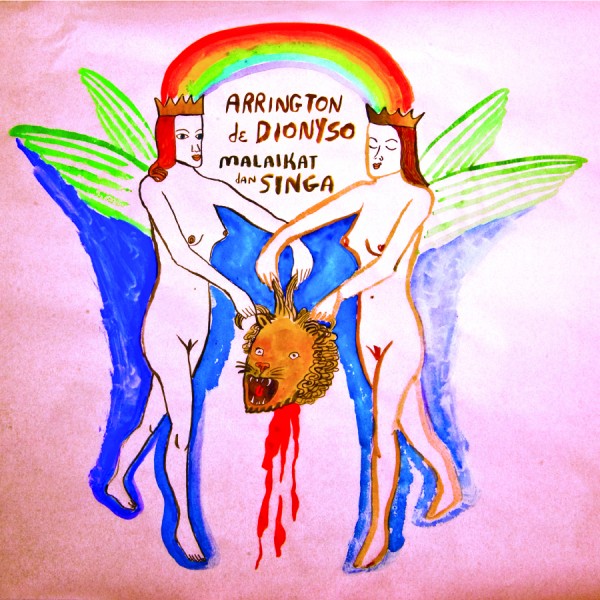 Malaikat Dan Singa (K Records, 2009) is an album that melds all of these influences and more: Arrington's unleashed vocals are sung entirely in Indonesian, with translations of William Blake and the Zohar finding their way into the mix. The album was produced by K Records/Dub Narcotic house engineer Karl Blau, who also plays bass and drums on the record.
Arrington de Dionyso brought Malaikat Dan Singa to life for a visit to Talk's Cheap on WFMU this past Tuesday, engineered by Dave Mambach. The lineup featured Arrington on vocals/guitar/bass clarinet, Nehemiah Saint-Danger on bass guitar and Ruben Sindo Acosta on drums. Old Time Relijun's drummer Germaine Baca was on-hand as well, studying up for the next leg of the tour. She's got an extra leg up because the first song of the live session, "Kedalman Air," is a reworking of an Old Time Relijun song "Cold Water" <-- be sure to check out the amazing live version from WFMU's Free Music Series concert @ Southpaw, 10/13/2007!
Speaking of Old Time Relijun, they're playing a surprise show at NYC's Cake Shop this Saturday 5/22. Malaikat Dan Singa plays Brooklyn's Death By Audio tonight, then they're off to AS220 and beyond for this tour which Arrington promises will be "never-ending" (see here for tourdates).
So what compelled Arrington to start writing music and lyrics in Bahasa Indonesia, let alone to learn the language in the first place? (read more...)
Arrington gave an charmingly candid answer to that question during our Talk's Cheap interview, where we also discussed his new lathe cut records and the origins of his name. He also noted the demise of myspace as a homebase for musicians. We're happy to provide an archive of his wide-ranging musical endeavors here on the FMA, along with some video from his youtube channel (after the jump, alongside the full live session) that helps connect the dots between Arrington de Dionyso's music and visual art.
If you'd like to hear Arrington interviewed by a confounded-yet-respectful Andy Breckman, check out this archive of WFMU's Seven Second Delay, and for a different window into Arrington's musical output check out this set with upright-bassist Gene Janas (Owl Xounds) from 2009.