You came this way:
Home
>
WFMU
>
Blog
>
Angels In America, Shitty Puns and Whistle Solos
WFMU : Freedom is Freeform!
About WFMU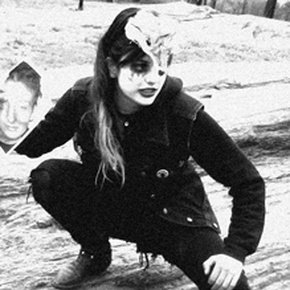 Angels In America.  No less an aural seeker than Thurston Moore was unable to find a musical reference point in their solipsistic stew, yet still was wowed enough to release their cassette Cunt Tree Grammar thru Ecstatic Peace.
Here's all we know for certain about Angels In America, through their own direct transmission: they are two 20-year olds bullshitting their way through it all; they are self-avowed fans of shitty puns (you noticed the name of the tape) and whistle solos; and their names are probably not Rob Rhombus and Moppy Pont, who you can email.
Opportunities for deeper exploration are forthcoming: Angels In America will be coming to your hometown this August, oh resident of Montreal, Providence, New York, Philadelphia, etc.  Tour dates, as well as information on the forthcoming release Allergic to Latex, shall appear on their artist page here at the FMA.  Currently, that page is chock full of mp3 delights from Cunt Tree Grammar, as well as some haunting live nuggets, so get along pronto, buckaroo.
One more opportunity to peek at what  they are: youtube