About WFMU
jason on 08/08/2011 at 05:00PM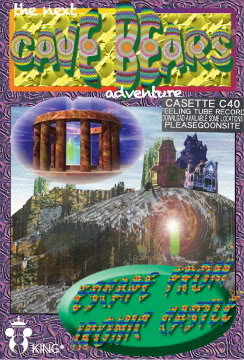 Cave Bears  is the incredibly bizarre, noise-drenched, brain-damaged sound exploration project of pre-school teacher Nick Williams, Carrie Bren & friends.
Cave Bears emerged from the same Massachusetts Such Fun Feeding Tube as Fat Worm of Error and Sam Gas Can, and have releases on some of the finest small-run tape/LP/CDr labels (Ozonokids, Yod Tapes, Grasshopper's Baked Tapes, Feeding Tube). If you throw in some self-releases and a few completely unique improvised live performances, you've got the Cave Bears FMA Profile offerings.
Jazz Hands, is embedded below, along with Horrible & Useless (Yod), which the Village Voice suggested as part of their profile and interview this week, and the Escape From Ironic Castle VHS (Feeding Tube) is pictured at right...
Cave Bears are notorious for their improvised live shows, which are often documented on tape and with video links from their suchfun live archive.
They're on tour right now with Amber Girls and a new Jump To Your Bed LP + Feeding Tube cassettes/VHS/CDR, and played Greenpoint on Wednesday with avant sound purveyors Opponents, Hexbreaker Quartet (memb Grasshopper + Telecult Powers), and Ric Royer. It was an early show, and I am upset to have missed it.
Via WFMU » Visit Blog
» 0 COMMENTS
jason on 07/29/2011 at 06:00PM
July's been too hot!! WFMU's air conditioning may not have survived the heat, but we played host to an incredible batch of live performances, and those did survive to be archived here on the FMA in WFMU's July 2011 Live Sessions collection.
Dig in for a special acousti-lectric set from Urge Overkill  ::  Wayne New Jersey's own Fountains of Wayne  ::  Columbus Ohio fuzz-pop heroes Times New Viking ::  beloved Nintendo-powered rock band Anamanaguchi  ::  the whispery-voiced Matt Bauer of Jessamine County Kentucky ::  Tomas Fujiwara & The Hook Up Trio (featuring Mary Halvorson on guitar and Mr. Bungle's Trevor Dunn on bass!)  ::  The Sadies' signature swirl of alt-country, psychedelic garage rock and surf  ::  Nashville's teenage psychedelics The Paperhead  ::  Last July and In Isolation live from a UK club full of black-boot-clad sweltering goths on the hottest day of the year  ::  the world debut of former Bone Awl drummer's blackened punk band Raspberry Bulbs  ::  Pacific NW rock band Milk Music hittin' all the right spots (Dino Jr, Wipers)  ::  Madison WI's infectiously witty garage-poppers The Hussy

>> WFMU's July 2011 Live Sessions collection 
Via WFMU » Visit Blog
» 0 COMMENTS
jason on 07/26/2011 at 12:00AM
Most of us know Bobb Trimble -- well, as much as anyone does -- through the first two LPs of surreal psychedelic folk that the cult figure self-released in his early 20s. Iron Curtain Innocence (1980) and Harvest of Dreams (1982) were either a decade too late, or decades ahead of their time, as they went on to inspire the likes of Ariel Pink and Thurston Moore, fetching up to $1500 on ebay (sez wikipedia). Both were reissued by Secretly Canadian in 2007, and you can preview a track off of each at Bobb Trimble's FMA profile. But all the while, there was a third -- and very different -- Bobb Trimble record from 1983 that had never seen the light of day, because all 500 copies were disposed of in an office park dumpster.
The Crippled Dog Band LP is finally available for the first time ever via Yoga Records. The Crippled Dog Band is also the name of the group of teenage boys who back Bobb up on this recording. Story goes that the band itself wasn't Bobb's idea -- rather he was invited to join, but if you watch this recently excavated live video (below) it's clear that the music is Bobb's vision.
After disappearing for a couple decades, Bobb Trimble returned to the stage backed by a new band of young (but not that young) disciples: the Flying Spiders (Gary War, Nick Branigan, Karina DaCosta, and long-time friend Kris Thompson). In June 2009, Bobb Trimble's Flying Spiders played on my radio show at WFMU in 2009 (mp3s below, 2009 blog post here), and four songs from the Crippled Dog Band-era -- which can be heard here on the FMA -- were surprise favorites from the set. You can also hear Bobb Trimble's Flying Spiders perform at their first-ever but long-overdue NYC appearance (6/25/2009), and a year later at ISSUE Project Room's outdoor courtyard series.
Via WFMU » Visit Blog
» 0 COMMENTS
jason on 07/25/2011 at 12:03PM
via DJ /rupture:
tune into Mudd Up at 8pm EST to catch a special show, recorded on-location with the mysterious Barcelona-based duo Downliners Sekt, who make "soul-filled gospel hymns for a technological apocalypse." We will learn new myths about Portbou , enter the world of gypsies who sell fake gold teeth, and hear some unreleased Sekt material… Their past several releases have been availalble on vinyl and as free downloads. See you down the line…
The latest release, 'Meet The Decline,' is embedded below, and you can delve into Downliners Sekt's website, and check out their Free Music Archive profile, where you'll find five releases' worth of Creative Commons Attribution-NonCommercial-NoDerivatives mp3s. If you miss the live broadcast of Mudd Up! with DJ /rupture, there's always the podcast (xml)
Via WFMU » Visit Blog
» 1 COMMENTS
kingmmm1234 on 07/19/2011 at 11:34AM
"WFMU-YOU GOT IT!" sung Anamanaguchi's Peter Berkman on their improvised WFMU jingle last Sunday for Beastin the Airwaves with Keili. The chiptune-punk quartet's 10-song set (including the jingle, plus a bonus Wavves cover!) of hyper-active and insanely tunes is now part of Anamanaguchi's FMA Profile.
Anamanaguchi integrate traditional rock instruments--drums, bass, and guitar--with the soundchips from early video game systems (in this case, a hacked NES from 1985) that make Chip Music unique. And with innovative releases like the immersive Dawn Metropolis and a new album in the works, they've taken the scene to new heights.
Once an underground phenomenon, chip's growing popularity could be tied in with nostalgia-fueled extended adolescence of today's Millennial Generation. Yet for the members of Anamanaguchi, video games were not the sole influence on their music as "a lot of influences come from stranger stuff," Peter Berkman said in a 2009 A.V. Club interview, "...just absurd stuff." And a simple listen to the range of chip-inspired music here on the FMA -- resources like True Chip Til Death, and the ever-expanding Blip Festival -- is enough proof to show that the genre of the new millennium will be infecting young minds well into the future.
There are certainly enough Anamanaguchi fans to sell out their upcoming shows at at Philadelphia's North Star Bar Thursday July 21 and the Music Hall of Williamsburg this Friday July 22. Get tickets while they are still available, and in the meantime, listen to this incredible live recording, engineered/mastered by Ernie Inradat here.
READ MORE
Via WFMU » Visit Blog
» 0 COMMENTS
jason on 07/18/2011 at 08:19PM
If you follow WFMU's Record of the Day series (on twitter / facebook), you may already be aware that today's pick is Leave Home by Brooklyn's AmRep-style spacerock/punk group The Men.
This new Sacred Bones release is the third full-length to-date from a band active since 2008, and clearly doing it for all the right reasons. Looking over The Men's discography reveals that all of their releases -- including the sold-out cassettes, a 7", and a 12" EP -- are also available for free download via mediafire. Who knows how long it'll last, but The Men was kind enough to let us mirror their 2nd LP, Immaculada, via the Free Music Archive:
After selling out of two self-released pressings, Deranged Records has a third Immaculada LP pressing available, and you'd be wise to pick up a copy now before it sells out again! While you're browsing the catalog of this top-notch Canadian hardcore label -- home to classics by the likes of Fucked Up an Total Abuse -- check out new releases by some of Canada's finest young punk bands including White Lung, Nü Sensae, and Brutal Knights (link).
The Men play live on Brian Turner's show here at WFMU August 2nd, and hit the road for a national tour -- including a bunch of dates with recent live guests Milk Music -- Aug 4th-Sept 11th. Stay tuned to wearethemen.blogspot.com for info on that!
Via WFMU » Visit Blog
» 0 COMMENTS
jason on 07/13/2011 at 04:00PM
In the aftermath of Obits' first gig (Jan 12th 2008 @ Cake Shop NYC), word spread fast about this four-piece fronted by underground rock veterans Rick Froberg (Hot Snakes, Pitchfork, Drive Like Jehu) and Sohrab Habibion (Edsel). 
Along with the word came the sound: the Cake Shop bootleg, attesting to the nascent band's greatness (and their full year spent gearing up for this show!) as it was passed around by fans online. it's a lo-fi document, but a cohesive Obits sound shines through: one with incredible live energy, drawing on a wide range of influences with wisdom and sparseness and a rhythm section to match. That recording soon reached the ears of the mighty Sub Pop label, for whom the Obits are currently two albums deep.
The Cake Shop recording is now one of six Obits live performances hosted here on the FMA, where the group has taken ownership over their "bootlegs" by actively adding new sets to the archive. In addition to sets curated by WFMU (Evan "Funk" Davies show in 2009, June 4th 2011 on Terre T's Cherry Blossom Clinic) and KEXP ("Put It In Writing", 5/16/2009), there are recent sets from Athens GA's Caledonia Lounge and Chicago's Empty Bottle. The latter two were recorded by local scene archivists whose websites yield many more gems: Southern Shelter (Athens GA) and Gonzo (Chicago).
For Obits on record, check out I Blame You (2009) and Moody, Standard And Poor (2011) at Sub Pop, who also co-released two 7"s ("One Cross Apiece b/w Put It In Writing " & "I Can't Lose" b/w "Military Madness") with Comedy Minus One. All of these releases are highly recommended.
And for further reading, check out the Obits bio written by the one and only Sam McPheeters!
Via WFMU » Visit Blog
» 0 COMMENTS
BTurner on 07/10/2011 at 05:31PM
Recent guests on Brian Turner's show: hailing from Olympia, Washington, Milk Music are a killer electric rock trio that conjure up the downstroke punk attack of Greg Ginn with the pop hooks and Bigmuff stylings of Greg Sage & the Wipers (who are clearly a spirit looming large over the Northwest USA these days). Liberal doses of early Dinosaur and Thin Lizzy floating around as well in this, the band's first ever radio session. No-nonsense, simple, buzzed-up American rock for your downloading/listening pleasure.
Via WFMU » Visit Blog
» 0 COMMENTS
BTurner on 06/29/2011 at 09:45PM
This Copenhagen quartet averaged age 17 when composing their debut LP "New Brigade." Dais Records did the 1st pressing stateside, and it's newly reissued on What's Your Rupture who describe the release as "uncontrived, pure – this record is a youthful assault of downer no-wave hardcore, wise beyond it's years."
Indeed, there's a fresh breath of air in this mix of Pink Flag/Wire-style compact energy and '81 downtown NYC guitar nods (not to mention the frosty flurry of Darkthrone at times) but Ice Age's average 2-minute jams overflow with a very original approach to youthful aggro-rock that has already won them a legion of stateside fans.
Ice Age's live set on my radio show was a no-nonsense 25 minute blast during a slew of big NYC gigs that week with the likes of Fucked Up, Prurient, Cult of Youth and others. They return to the states for more shows July 15-August 21 (listed here). More info at their blog.
Via WFMU » Visit Blog
» 1 COMMENTS
jason on 06/23/2011 at 01:00PM
In his 40-year career, lo-fi legend R. Stevie Moore has self-released 400+ home recordings (a few of which appear here on the FMA). And as a longtime NJ resident, Stevie has performed live on WFMU more than any other artist -- he even hosted his own show in the early 80s! -- and we're in the process of bringing many RSM highlights from over the years to you via the FMA.
But despite his prolificness and influence, R. Stevie Moore has never toured! Until now...
Powered by fan support from his recent Kickstarter projects, a benevolent documentarian in need of a plot, the encouragement of disciples like Ariel Pink, and a backing-band of young fans called Tropical Ooze, R. Stevie Moore is embarking on his first-ever tour all across the USA and Europe! [tour dates after the jump]
Along the way, the band stopped by WFMU for a career-spanning set of should-be hits like "I Like To Stay Home," "Play Myself Some Music," and "Conflict of Interest" along with songs featured on the brand new album Advanced, which was recorded down in RSM's homestate of Tennessee.
RSM's backing band features Tropical Ooze members Sam Levin (drums), Wilson Novitzki (keyboard, guitar), & JR Thomason (guitar)
READ MORE
Via WFMU » Visit Blog
» 0 COMMENTS