About WFMU
jason on 08/31/2011 at 05:46AM
| | |
| --- | --- |
| Asian Women on the Telephone? My Lord, what would Yuri Andropov make of this mysterious pseudonym-attired bunch of miscreants? The tracks on this Moscow quintet's Chelsea Grandpa CD-R open up clogged passages in one's 3rd ear by driving a motherfausting caveman club right through it. All the evidence required is on the falsetto-melt of "Scania-Man"/"Commandment 69" and the Flipper meets Can of "High Grade".  Recorded live and released without any post-production, the mangled stew seems to emanate from somewhere between a state of visionary mental instability and a healthy sense of the absurd. Just try to get through the damaged guitar/keyboard/drums of "Feeling Round Dance" and the lysergic space portal of "Aspect-Son" without seeing a wood nymph on a tricycle wielding a battle axe. Hopefully this lunatic fringe will invade U.S. shores soon. Judging by AWOTT's video clips, the lo-fi free-psych-noise gurgitation-rock costume-drama is a killer spectacle! Come to think of it, I bet Yuri would be proud. You can download material (several albums worth!) via AWOTT's Free Music Archive profile! [via Daniel Blumin at WFMU's Beware of the Blog] | |
Asian Women on the Telephone are going to make their USA debut in October, which is very exciting because, as Liz B wrote in her AWOTT feature, "When the band performs live, they dress up like overgrown mutant arthropods" -- seriously, check this out!
Tour dates below are subject to changes and additions, and if you see AWOTT member Nikita (aka Raretist) around the FMA, be sure to say hey
Oct 8 Albany NY @ UAG Gallery w/Spreaders
Oct 9 NYC Brooklyn @ Bruar Falls w/Advaita/Guerilla Toss + 1 more TBA
Oct 11 NYC CAKE SHOP NYC w/Spreaders/Manburger Surgical
Oct 13 San Francisco @ Stud Bar w/California Bleeding/Sutekh Hexen
Oct 14 Portland @ The Know w/Big Black Cloud
Oct 15 Olympia @ TBA w/Broken Water
Oct 16 Seattle @ Josephine w/Perpetual Rituals
Oct 23 LA @ the Smell w/TBA
Oct 27 Oakland @ Mama Buzz w/TBA
Via WFMU » Visit Blog
» 18 COMMENTS
JoeMc on 08/30/2011 at 09:14AM
Believe it or not, in the good-old bad-old days, it was a big deal to be a girl in a rock band. This idea seems a little silly now, when at a concert you're just as likely to see a woman playing a guitar as a man, but it was pretty unusual back in the late 60s and early 70s. Even more unusual were bands made up solely of women. They were out there, but they were barely on the music business radar. Early all-female bands like the Daisy Chain, the Daughters of Eve, Goldie and the Gingerbreads, and the Ace of Cups all did their share to break down some of the entrenched attitude towards women playing rock music. None of these bands, however, was able to make the next step up from small clubs and independent-label singles to the male-dominated world of big tours and major-label records. Only one all-female rock band was able to take the big step that finally leveled the playing field: Fanny.
Helmed by sisters June and Jean Millington, Fanny started out in the mid-60s in Southern California and experienced a lot of the same hostility towards women playing rock that their fellow all-female bands did. But they persevered, and by 1970, their first record came out on Reprise Records. They attracted big-name producers, recorded in world-famous studios, and developed a reputation as a killer live act. Fanny would go on to release four more LPs and a host of singles, two of which were Top 40 hits, and tour the world before calling it a day in 1976. Along the way they made fans of most of the rock royalty of the day, including George Harrison, Harry Nilsson, Todd Rundgren, and David Bowie. They even backed Barbra Streisand during her short-lived rock period of the early 70s.
After Fanny broke up, mostly for the usual reasons that bands break up (different musical directions, changes in lifestyles, record label shuffles), the core of the group, the Millington sisters, occasionally came back together to make music. June Millington became very active in the women's music scene, working with Cris Williamson and making her own solo albums. Now and then, her sister Jean would join her on bass. These occasional reunions were natural enough given their familial ties, but only this year have they combined forces to release a duo album under their own names. It's called Play Like a Girl and it's on their own Fabulous Records label.
June and Jean stopped by the studios of WFMU to play some of the songs from their new album last week and proved that they still have the fire and solid musicianship that made Fanny such an attraction back in the day. With Lee Madeloni on drums, the Millingtons played the kind of confident and seemingly effortless rock and funk you might expect from the sure hands of lifelong musicians. The limos and road crews of the big Fanny tours may be a thing of the past, but the talent that elevated the Millingtons to that level is intact and in effect.
Joining the Millingtons on two songs, and making the idea of playing like a girl literal, is Ari Natoli, one of the young graduates of the Institute of the Musical Arts (IMA), an organization June Millington founded to help girls develop their interest in making music. Who better to teach young women about rock music than the original pioneers of female rock? Check out the IMA here. For more on Fanny, see here. To hear the entire archived show, go here.
Via WFMU » Visit Blog
» 1 COMMENTS
jason on 08/22/2011 at 02:12PM
The Collected Works of Ilya Monosov is a new limited-edition boxset from the You Don't Have To Call It Music label consisting of an LP, book, CDr w/ sound-files and video, and a collection of objects. This range of materials should come as no surprise to anyone familiar with Ilya Monosov's myriad musical projects, which themselves take many forms: from Holy Mountain noise/psych-rock duo The Shining Path and improv with Preston Swirnoff (Monosov/Swirnoff) to 'DJ Ilya Monosov' collaborations with hip-hop super group Hedonic Islands and the 'new music' of 21st Century Punks.
Collected Works showcases Monosov's more conceptual intermedia projects, "for fans of Joe Jones, Takehisa Kosugi, John Cage, and Terry Riley" according to the label's description. For example, "One Hour As Music" (an hour-long ResonanceFM performance), "Music for Broken Music Box and Electronic Cricket," "Music For My Empty Room," and "Autonomous Guitar Music for Marc Shulz". While these works make for deep listening experiences on their own, meaning is derived from the environment in which they were created.
The book [.pdf] that accompanies the boxset is titled Performance Things Scores and its snapshots of installations, objects (like the broken music box and sounding record), writings, and scrapbook-style 'scores' provide a more in-depth understanding of Ilya Monosov's broad output. Context is key -- for example, there is an essay accompanying "Solo Cello #1 For Charles Curtis" and while it helps to know that it was composed for the Fluxus 40th Anniversary Exhibit along with a series of photographic sheet music, the music itself is plenty engulfing. Video includes performances with Little Howlin' Wolf, "Silent Music," and the fascinating "Sounding Record" pictured above. 
The boxset is limited to 50 copies, with an additional 250 copies of the LP. You Don't Have To Call It Music has generously made the music available for free download along with a PDF of the book. We are proud to mirror a selection of recordings here at the Free Music Archive (below), and a PDF of the book can be viewed here or download courtesy of WFMU.
Via WFMU » Visit Blog
» 0 COMMENTS
emcecil on 08/17/2011 at 05:32PM
In the Voidoids, he and Bob Quine comprised what was probably the fiercest guitar duo in punk's infancy.  And just last week, Ivan Julian turned in a solid WFMU performance on Terre T's Cherry Blossom Clinic as both he and his band tore through a number of covers and originals from his new alb, The Naked Flame (2:59 Records). 
Fans of his work in the Voidoids, Outsets and beyond will be stoked to hear that time hasn't tamed Julian one bit.  His guitar's still as sinewy and caustic as it ever was, and his band brings up the rear with some real panache.  They pull out a surprising and great cover of the Nuns' "The Beat," not to mention a haunting original, "You Is Dead."  Hell, the whole set's rife with those trebly strangulations that Julian harnessed throughout his time in LES's punk and no-wave heydays -- and those that son Austin Julian continues to harness in his own no-wave unit, Sediment Club -- but they sound just as vital as ever.  So have a listen, chum.  And don't forget to catch one of his upcoming live shows, three of which are with Radio Birdman's Deniz Tek (who'll make his own trip to WFMU's Three Chord Monte on Aug 25th):
August 20 - New York, NY - @ Highline Ballroom w/ APB
August 26 - Brooklyn, NY - @ Bell House w/ Deniz Tek
August 27 - Hoboken, NJ - @ Maxwell's w/ Deniz Tek
August 28 - Philadelphia, PA - @ Kung Fu Necktie w/ Deniz Tek
Via WFMU » Visit Blog
» 0 COMMENTS
Via WFMU » Visit Blog
» 0 COMMENTS
BTurner on 08/15/2011 at 11:10AM
Hard to believe Psychic Paramount have been around for ten years already, coming up out of the ashes of the late great Laddio Bolocko. Both on record and live, PP swerve between brutality and bliss: layers of textural distorto guitar action and color, throttling, mathy percussive pummel recalling great moments of This Heat gone into total in-the-red Japanese psych mode. Add Robert Fripp-like loops building and dismantling the songs themselves in bulldozer style, and you've got the makings of one killer progressive rock unit. This month's session on my radio show blasted into orbit at the moment of start-up; guitarist Drew St. Ivany matched the propulsive intensity of bassist Ben Armstrong and drummer Jeff Conaway with figures reminiscent of Achim Reichel, heavy repetition segueing into burnt intermission of collapsing rhythms, eerie space and then finally climbing upwards into another frenetic movement to close off the 30 minute set. St. Ivany tweaked the post-session mix, it's a scorcher! Thanks to the band, Mike from No Quarter and Ernie Indridat and Ruaraidh Sanachan for the engineering.
Via WFMU » Visit Blog
» 0 COMMENTS
DylanGoing on 08/11/2011 at 12:57PM
AKA Craig Diamonds AKA "the king of booty" AKA "the hottest in Detroit dance music," DJ Assault is probably the most reoccurring name in the Booty Bass/GhettoTech pantheon. When people imagine the essence of the genre, many immediately recall the concise, infectious hook from "Ass-n-Titties." When people want to hear the accelerated tempo, gait, and raunchy lyrics associated with the genre, they want to hear Assault. Even if they may not know him by name and their only familiarity with his work stems from the features, snippets and samples laid throughout incalculable DJ mixes, compilations, as well as TV and movies over the past decade and a half, he's the one behind what they want to hear.
When the King of Booty came to WFMU's Marty McSorley show for a live session (and later ice cream), he surprised us with his congenial and fairly reserved demeanor but soon revealed an overpowering love of the production, history, traditions of dance music as he knew and grew up with it. He waxed on about his vintage 303s, and told us about all the Chicago house and Detroit techno DJs he would religiously tape off the radio while growing up in Michigan.
Assault's live set, comprised of all original productions, showed this kind of youthful home-taping enthusiasm still very much alive, as if he knew there was another young DJ Assault-to-be on the other side of the radio wetting his or her pants with the same kind of excitement. His joking "Friday night live, ain't no jive!" is actually a reference to the kind of banter pioneering house DJ Farley "Jackmaster" Funk would pepper throughout his late night radio appearances in the 80s.
This was all on the eve of a massive Santos Party House event featuring fellow Detroit Ghettotech pioneer DJ Godfather, Chicago juke innovator DJ Rashad, Dipset's Araabmuzik, locals Blissed Out and Laurel Halo, and many more.
DJ Assault recently founded his own record label Jefferson Ave, through which he shares a TON of free recordings (as well as rips of some of the original cassette from his favorite 80s radio mixes)-- dig in here: http://www.jeffersonave.com/
Via WFMU » Visit Blog
» 0 COMMENTS
jason on 08/08/2011 at 05:00PM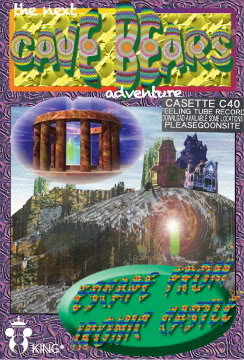 Cave Bears  is the incredibly bizarre, noise-drenched, brain-damaged sound exploration project of pre-school teacher Nick Williams, Carrie Bren & friends.
Cave Bears emerged from the same Massachusetts Such Fun Feeding Tube as Fat Worm of Error and Sam Gas Can, and have releases on some of the finest small-run tape/LP/CDr labels (Ozonokids, Yod Tapes, Grasshopper's Baked Tapes, Feeding Tube). If you throw in some self-releases and a few completely unique improvised live performances, you've got the Cave Bears FMA Profile offerings.
Jazz Hands, is embedded below, along with Horrible & Useless (Yod), which the Village Voice suggested as part of their profile and interview this week, and the Escape From Ironic Castle VHS (Feeding Tube) is pictured at right...
Cave Bears are notorious for their improvised live shows, which are often documented on tape and with video links from their suchfun live archive.
They're on tour right now with Amber Girls and a new Jump To Your Bed LP + Feeding Tube cassettes/VHS/CDR, and played Greenpoint on Wednesday with avant sound purveyors Opponents, Hexbreaker Quartet (memb Grasshopper + Telecult Powers), and Ric Royer. It was an early show, and I am upset to have missed it.
Via WFMU » Visit Blog
» 0 COMMENTS
jason on 07/29/2011 at 06:00PM
July's been too hot!! WFMU's air conditioning may not have survived the heat, but we played host to an incredible batch of live performances, and those did survive to be archived here on the FMA in WFMU's July 2011 Live Sessions collection.
Dig in for a special acousti-lectric set from Urge Overkill  ::  Wayne New Jersey's own Fountains of Wayne  ::  Columbus Ohio fuzz-pop heroes Times New Viking ::  beloved Nintendo-powered rock band Anamanaguchi  ::  the whispery-voiced Matt Bauer of Jessamine County Kentucky ::  Tomas Fujiwara & The Hook Up Trio (featuring Mary Halvorson on guitar and Mr. Bungle's Trevor Dunn on bass!)  ::  The Sadies' signature swirl of alt-country, psychedelic garage rock and surf  ::  Nashville's teenage psychedelics The Paperhead  ::  Last July and In Isolation live from a UK club full of black-boot-clad sweltering goths on the hottest day of the year  ::  the world debut of former Bone Awl drummer's blackened punk band Raspberry Bulbs  ::  Pacific NW rock band Milk Music hittin' all the right spots (Dino Jr, Wipers)  ::  Madison WI's infectiously witty garage-poppers The Hussy

>> WFMU's July 2011 Live Sessions collection 
Via WFMU » Visit Blog
» 0 COMMENTS
jason on 07/26/2011 at 12:00AM
Most of us know Bobb Trimble -- well, as much as anyone does -- through the first two LPs of surreal psychedelic folk that the cult figure self-released in his early 20s. Iron Curtain Innocence (1980) and Harvest of Dreams (1982) were either a decade too late, or decades ahead of their time, as they went on to inspire the likes of Ariel Pink and Thurston Moore, fetching up to $1500 on ebay (sez wikipedia). Both were reissued by Secretly Canadian in 2007, and you can preview a track off of each at Bobb Trimble's FMA profile. But all the while, there was a third -- and very different -- Bobb Trimble record from 1983 that had never seen the light of day, because all 500 copies were disposed of in an office park dumpster.
The Crippled Dog Band LP is finally available for the first time ever via Yoga Records. The Crippled Dog Band is also the name of the group of teenage boys who back Bobb up on this recording. Story goes that the band itself wasn't Bobb's idea -- rather he was invited to join, but if you watch this recently excavated live video (below) it's clear that the music is Bobb's vision.
After disappearing for a couple decades, Bobb Trimble returned to the stage backed by a new band of young (but not that young) disciples: the Flying Spiders (Gary War, Nick Branigan, Karina DaCosta, and long-time friend Kris Thompson). In June 2009, Bobb Trimble's Flying Spiders played on my radio show at WFMU in 2009 (mp3s below, 2009 blog post here), and four songs from the Crippled Dog Band-era -- which can be heard here on the FMA -- were surprise favorites from the set. You can also hear Bobb Trimble's Flying Spiders perform at their first-ever but long-overdue NYC appearance (6/25/2009), and a year later at ISSUE Project Room's outdoor courtyard series.
>> Bobb Trimble - The Crippled Dog Band @ Yoga Records
Via WFMU » Visit Blog
» 0 COMMENTS