You came this way:
Home
>
WFMU
>
Blog
>
1-666-CALL-SAAD: 12 Hours of Avant Thrash Metal by…
WFMU : Freedom is Freeform!
About WFMU
jason on 03/07/2012 at 12:00PM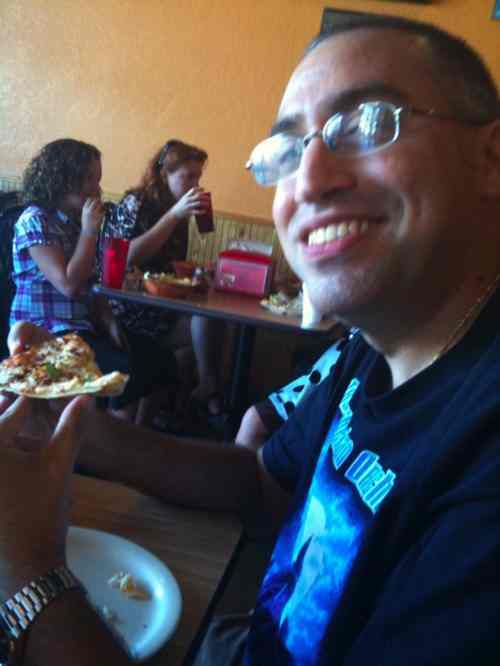 1-666-CALL-SAAD is a 110-track thrash metal and avant brutality compilation presented by Kalashnikov. The spontaneous metal duo of Jamie Saft and Mike Pride contribute eight hours of new Kalashnikov recordings and gather a team of avant all stars like "Mad Skills" Mary Halvorson, Joe Morris, and Weasel Walter for an epic stream of positively brutal thrash interpretations.
By way of introduction to this massive endeavor, we are honored to host a selection here on the Free Music Archive. All twelve thrashing hours can be downloaded for free courtesy of Veal Records.
Ed Saad is the inspiration and backbone of this compilation, with his motto "FREE RULES." The full download includes Ed Saad's "History of Thrash Metal & Avant", plus many improvised spoken interludes recorded while on the go in his hometown of Birmingham, Alabama. Many of the contributors are connected with Ed Saad via Facebook, even if they have not met in person.
WFMU DJ Kurt Gottschalk explains in the liner notes (below).
Liner Notes by Kurt Gottschalk:
I don't know Saad. Never met him. But I know about Saad. I know he loves music and I know he walks all over Birmingham, AL. I know where he eats lunch and I know where he buys his t-shirts. I know that one time I asked Birmingham-based musician LaDonna Smith if she knew Saad and she looked at me like I was an idiot because of course she did. I know that Saad cares about things deeply. I know he cared a lot about this record, about who was on it and what it represented to him and now to a community of people united not just by a love for unusual music but simply by knowing Ed Saad. I feel like I know Saad.

And maybe I do. Maybe Facebook counts as knowing someone. Hell, maybe it's better than in person with all the politeness and phoniness. On Facebook you don't owe nobody nothing and nobody owes you nothing. And that's where I met Saad, and that's where I continue to know him. You too, probably.

I don't know Saad's world, but I know his world on Facebook. On Facebook it's all thrash videos and remembered dates and cigars with Saft and hugs to Mad Skills Mary and Miss Carla K and smiles all around and walking and running and eating and listening and listing all the records he has by Facebook friends and more importantly which ones he still needs. I know these things are important to him. And those things are important to me as well. You too, probably.

People should care about things deeply. That's pretty obvious and probably they do, but people should care more about music and anniversaries and less about borders and armaments. That's pretty obvious too, but probably they don't. But maybe they wish they could.

Like us. Like Saad.

I don't know Saad. We are all Saad.

- Kurt Gottschalk, NYC, Dec. 2011