About Third Coast International Audio Festival
jason on 05/03/2010 at 12:00PM

As part of their efforts to promote and inspire creative audio storytelling, The Third Coast International Audio Festival has enlisted The Books as your potential collaborators for the 2010 ShortDocs Challenge.
The Books are audio collage masters. Their three full-lengths to-date (Thought for Food, The Lemon of Pink, and Lost and Safe) mix the organic sounds of Nick Zammuto's guitar and Paul de Jong's cello with electronics and recontextualized found-sound to create a uniquely cohesive musical universe. While prepping their new album for a summer release, the duo crafted the following samples to fuel your ShortDocs...
and now here's The Challenge:
Produce a short audio story (up to three minutes) inspired by (and named after) song titles from The Books' upcoming record The Way Out, and including at least two of eight samples carefully selected from their vast library of musical bits, strange phrases, and sonic doodads. Stories of all styles are welcome – from documentary to drama - and everything in-between.
So that's one sample from the left, one from the right, and one of the following titles: "A Cold Freezin Night" "All You Need is a Wall" "Chain of Missing Links" or "I Didn't Know That". Complete rules here, you've got until July 5th, and Third Coast wants to hear from you "whether you can produce radio in your sleep, or have always dreamed of uttering the words 'Testing, 1, 2, 3. Testing' into a microphone".
Part of the idea behind TCF's annual ShortDocs project is that a few guideines and a starting point can do wonders for the creative mind. It's a similar concept to the "constrained writing" techniques of Ouiipo, a French literary group who actually provided direct inspiration for the 2006 ShortDocs, 99 Ways to Tell a Radio Story. Other recent ShortDocs have drawn inspiration from the Prellinger Archives (2008's Radio Ephemera) and Third Coast's hometown/capital of Chicago (last year's Chicago Sound Drops).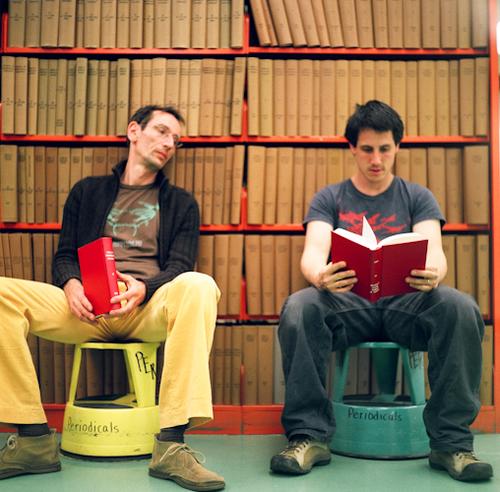 Speaking of Chicago, four entrants will win a trip to present their piece at the 2010 Third Coast Conference, October 28-30. The Free Music Archive will be there, but even if we don't see/hear you at TCF, we'll be able to listen to your piece in Third Coast's onine library, which will archive all of this year's ShortDocs submissions. Your work might also be featured on Third Coast's weekly radio show, Re:sound. A 2005 episode of the program, "The Remix Show," featured an interview with Nick and Paul of The Books.
The Books' new album The Way Out is slated for a July release on the Temporary Residence label. In addition to the four songs that they've offered up as potential titles for your ShortDocs, you can preview a new Books track here called "Beautiful People".
If you're looking for more free sounds to enrich into your ShortDocs, Bennett4Senate's Tracks to Sync mixes are a great introduction to the Free Music Archive's Creative Commons library.