You came this way:
Home
>
KEXP
>
Blog
>
KEXP @ Iceland Airwaves // S.H. Draumur Reunion
KEXP : Where the Music Matters
About KEXP
jason on 06/24/2011 at 12:15PM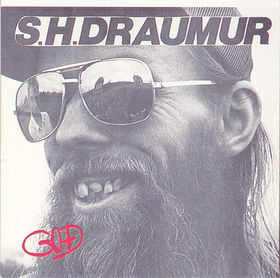 This week, Iceland Airwaves announced the latest additions to their lineup for October 2011, prompting a look & a listen back to KEXP's trip to Reykjavik for Iceland Airwaves 2010 featuring some of Iceland's most exciting artists.
Today I'd like to spotlight the avant-punk band S.H. Draumur from Kópavogur, Iceland. Originally active from 1982-1988, the three-piece was inspired by Pere Ubu, Suicide, Swell Maps, Joy Division and The Birthday Party, as well as by the vibrant Icelandic music scene, where they served as the local opener for Swans and Einsturzende Neubauten. Along with a handful of cassettes and 7"s, S.H. Draumur recorded one LP -- Goð -- over the course of 50 hours spent in a YMCA community center, as bassist/vocalist Dr. Guuni recounts in The Reykjavik Grapevine.
That sought-after LP (picutred R) was reissued by Iceland's Kimi Records in 2010 to coincide with S.H. Draumur's reunion at the Iceland Airwaves Festival. KEXP was there all the way from Seattle (Reykjavik's "sister city") to record the performance (stream it here), and "Nótt Eins Og Þessi" (below) is part of KEXP's Iceland Airwaves MP3 compilation.
KEXP will return to Iceland Airwaves for the third year in a row Oct 12-16th 2011. This year's lineup again features an incredible array of Icelandic artists (including Retro Stefson and Who Knew who are also featured in KEXP's 2010 mix) and internationals (tUnE-yArDs, K-X-P, Liturgy, Dungen, Suuns, and Beach House to name a few). Check out the latest on the 2011 lineup here and more of KEXP's Iceland Airwaves coverage here.