About Free Music Archive
jason on 04/20/2012 at 03:40PM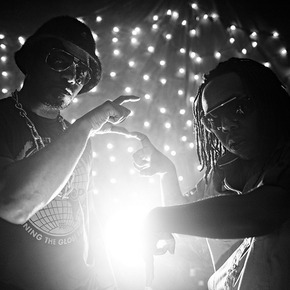 Shabazz Palaces are a Seattle-based hip-hop group led by Ishmael Butler aka 'Palaceer Lazaro' (once 'Butterfly' of jazz-rap group Digable Planets) and multi-instrumentalist Tendai 'Baba' Maraire, son of mbira master Dumisani Maraire.
The duo performed several times at Seattle's mighty KEXP. A track from their 2009 appearance, "Hottabatch," can be is today's #FMAmp3. Their latest 2011 session is available on vinyl in celebration of Record Store Day, Sat April 21st. Check out all the special RSD releases here.
In addition to their recordings—their latest LP is 2011's Black Up (Sub Pop)—Shabazz Palaces live performances are not to be missed. There's a fantastic video from their 2011 KEXP session below with thumb piano prominently featured. Catch them on tour now.
Photo Creative Commons by-nc-nd Dave Lichterman / KEXP via flickr // music Copyright 2011 (download only)