About Free Music Archive
jason on 05/08/2012 at 12:30PM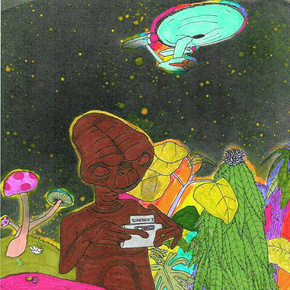 "Combed Over Chrome" is an interstellar beat-blast to launch minds into warp.
California's Raleigh Moncrief grew up composing music on tracker software, transcribing guitar parts into digital sequence in the pre-mp3 era of the Commodore 64. Members of the tracker scene were music filesharing pioneers, and Raleigh naturally took to the web to release the Combed Over Chrome EP via his own Obstructive Vibrations netlabel.
OV also helped introduce us to some of the many talented musicians who run in Moncrief's Sacramento circle like Hexlove, Appetite and Pregnant. Alongside Death Grips, Moncrief seems to be leading the local beat-oriented scene, but he is a truly eclectic collaborator—playing with the likes of Zach Hill (Hella), The Advantage, and Marnie Stern—and a producer of albums by Ganglians and 'sound design' for Dirty Projectors' Bitte Orca.
Anticon recently released Raleigh's debut LP, Watered Lawn. Check out the "Lament For Morning" video, directly by Moncrief himself, after the jump. Raleigh Moncrief plays live on my WFMU program this Thursday May 10th at 10am.
Raleigh Moncrief @ WWW  |  Twitter  |  Facebook  |  Soundcloud  |  FMA