About Free Music Archive
jason on 01/30/2013 at 10:15AM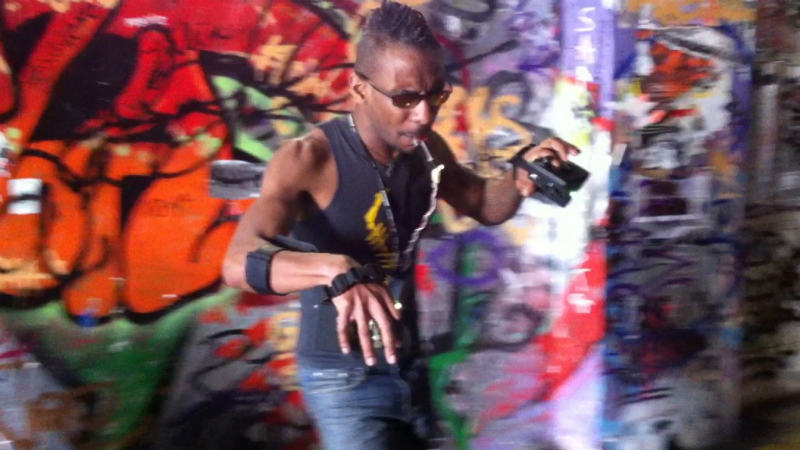 Originally a jazz saxophone player, Onyx Ashanti cut his teeth in the 90s rave scene where he imagined how sax-like gestures might control the sound of drum 'n' bass music. Following through on this idea, he harnessed the potential of new open source technology to design his own instrument, the "Beatjazz" system, which is also the term he uses to describe his distinct style of music.
Beatjazz is an open framework for improvisation. The two tracks below are from Recursive Artifact II:Nomadic Summer 2010, recorded as Onyx Ashanti road-tested his ever-evolving system and experimented with new techniques. The recordings themselves make for a fantastic listen, but it's the performance that takes Beatjazz to the next level.
The Beatjazz controller includes two hand units and a mouthpiece. The mouthpiece senses breath pressure to instantiate notes, using a lip sensor for added expression. The hand units each have a joystick, four pressure-sensitive buttons, a switch to change modes (i.e. from 'record' to 'loop'), and accelerometers to measure x-y coordinates. Three wifi-equipped Arduinos transmit all of this controller information to a computer running Puredata patches that turn these zeroes and ones into sweet Beatjazz music.
Onyx Ashanti is continually refining his Beatjazz system. For example, the prototype's controllers were made out of cardboard, while the latest iteration is almost entirely 3D-printed. Now you can play a role in the evolution of Beatjazz because Controller v1.0 is officially released under a Creative Commons Attribution-NonCommercial-ShareAlike license via MakerBot's Thingiverse. The same CC BY-NC-SA license covers the tracks below.
Onyx Ashanti has many more releases available at onyx-ashanti.com, where you can keep tabs on his latest innovations.