You came this way:
Home
>
Excavated Shellac
>
Blog
>
Excavated Shellac -- Strings LP
Excavated Shellac : 78 Revolutions Per Minute
About Excavated Shellac
jason on 04/23/2010 at 02:41PM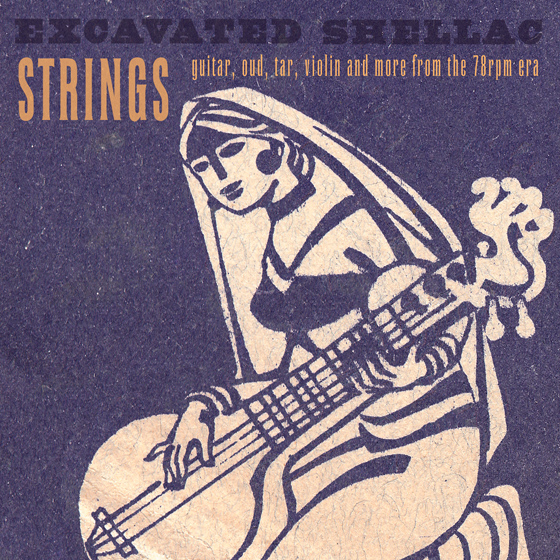 Excavated Shellac is an incredible resource for rare international 78rpm recordings. With each post, shellac excavator Jonathan Ward takes great care to ensure that the transfer is as clean as possible. His blog posts always go the extra mile in placing the music within a larger cultural and historical context (on the side, JW is a professional writer and researcher).
With the motto "good music is best when it's shared", JW has done just that for upwards of 100 songs that might otherwise go unheard, and we're honored to be hosting the Excavated Shellac archives here on the FMA.
For those who would prefer to hear this music on vinyl, we're in luck! Excavated Shellac has produced its first-ever LP, titled Strings, in collaboration with Dust-to-Digital's Parlorphone imprint. Strings collects fourteen previously unissued performances on various stringed instruments from around the world, including the fiddle, shamisen, charango, Paraguyan harp, Indian vina, Vietnamese moon guitar, Persian violin, and Lebanese oud,. These recordings -- made between 1920 and 1950 -- are all presented with the detailed liner notes we've come to expect from Excavated Shellac.
Anybody with an interest in historical music might already be familiar with the Dust-to-Digital catalog, which includes releases like the Ian Nagoski-curated Black Mirror: Reflections in Global Musics 1915-1955. Here's one of my favorite tracks from that compilation -- a rare performance by the Irish uilleann piper Patrick J. Touhey:
Black Mirror is available here, and you can pick up a copy of Excavated Shellac's Strings LP here. The new LP featured tracks that are not otherwise available -- not even from the Excavated Shellac blog -- but after the jump there's a fantastic mix of other stringed tunes from Jonathan Ward's archives.