About Excavated Shellac
» VIEW BLOG
Excavated Shellac Blog
jason on 04/23/2010 at 02:41PM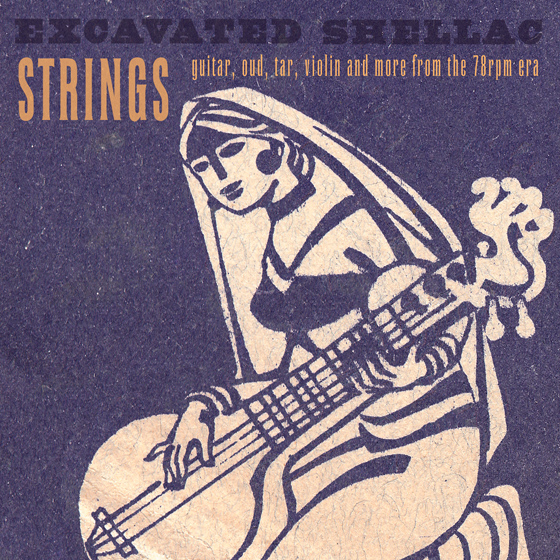 Excavated Shellac is an incredible resource for rare international 78rpm recordings. With each post, shellac excavator Jonathan Ward takes great care to ensure that the transfer is as clean as possible. His blog posts always go the extra mile in placing the music within a larger cultural and historical context (on the side, JW is a professional writer and researcher).
With the motto "good music is best when it's shared", JW has done just that for upwards of 100 songs that might otherwise go unheard, and we're honored to be hosting the Excavated Shellac archives here on the FMA.
For those who would prefer to hear this music on vinyl, we're in luck! Excavated Shellac has produced its first-ever LP, titled Strings, in collaboration with Dust-to-Digital's Parlorphone imprint. Strings collects fourteen previously unissued performances on various stringed instruments from around the world, including the fiddle, shamisen, charango, Paraguyan harp, Indian vina, Vietnamese moon guitar, Persian violin, and Lebanese oud,. These recordings -- made between 1920 and 1950 -- are all presented with the detailed liner notes we've come to expect from Excavated Shellac.
Anybody with an interest in historical music might already be familiar with the Dust-to-Digital catalog, which includes releases like the Ian Nagoski-curated Black Mirror: Reflections in Global Musics 1915-1955. Here's one of my favorite tracks from that compilation -- a rare performance by the Irish uilleann piper Patrick J. Touhey:
Black Mirror is available here, and you can pick up a copy of Excavated Shellac's Strings LP here. The new LP featured tracks that are not otherwise available -- not even from the Excavated Shellac blog -- but after the jump there's a fantastic mix of other stringed tunes from Jonathan Ward's archives.
READ MORE
Via Excavated Shellac » Visit Blog
» 1 COMMENTS
jw on 09/21/2009 at 12:44PM
Allow me to present to you to a type of music that has a special place in my heart: the Nasib, or "Song of Fate" from Indonesia and Malaysia…part of what once was the Dutch East Indies.
'Nasib' in Malay means 'fate.' The Nasib song is an aching, slow lament; a deeply melancholic popular song type which is built around the singer's misfortune in life. On the surface, this description would make the Nasib similar to the fado, rebetika, or blues, but that would be a mischaraterization. The origins of the Nasib derive, in fact, from Indonesian/Malaysian stambul theater music. Stambul theater (also referred to as bangsawan) developed in the late 19th century and was an urban affair, where theatrical groups would perform musical dramas, many with stories which had origins in India or the Middle East. Stambul songs were most popular from 1920-1935.
The Nasib is sung by a singer who is in fact playing – or at the very least channeling – a character or situation from these classical stories, rather than singing her own blues. Interestingly, much of the stambul music that I've heard from that era is quite cultured – operatic, even. However, the Nasibs, although derived from stambul, are a different thing altogether. The operatic aspect has gone out the window, and what we have here is swooning sadness – the Nasib adopted to a bar band setting!
Today's Nasib features Miss Inah singing "Sesalken Oentoeng" (a Dutch transliteration of the Malay "Sesalkan Untung"), which more or less means "I Regret My Luck." She is accompanied by her smooth yet lurching Malay Entertainers on harmonium (another Indian connection), saxophone, bass, and percussion.
READ MORE
Via Excavated Shellac » Visit Blog
» 1 COMMENTS
jw on 09/16/2009 at 08:48AM
I thought I'd update mid-week with a pretty solid example of mid-20th century Indonesian krontjong.
Krontjong (in relatively equal amounts spelled kronjong, kroncong, keroncong, and kerontjong) is slightly over a century old, and is an urban folk music. Ethnomusicologists would call it a syncretic music, as it developed over time from a variety of cultural influences, such as Portuguese, Batavian, African, and Malay – all of which were present in one form or another in turn of the century Indonesia.
Known for its languid rhythm, Hawaiian "walking guitar," and partially improvised violin runs, the style was first recorded in 1904, but musically hit its stride and popularity in the 1930s. By the 1940s, independent Indonesian labels began to appear such as Dendang (pictured here), Irama, and Serimpi, and hundreds if not thousands more krontjong records were released, joining the large amount already available from HMV, Odeon, and other companies.
In my personal experience, I've found it difficult to track down much krontjong on 78 outside of Indonesia, nor has much, if any, early krontjong music been re-released on CD. I've always found it unique – it often sounds like two bands playing completely separate arrangements of the same song, and somehow landing on their feet.
READ MORE
Via Excavated Shellac » Visit Blog
» 0 COMMENTS
jw on 08/31/2009 at 09:30AM
In the late 1920s, musicians from across Iraq were being recorded by a variety of companies: Baidaphon of Beirut, Polyphon of Germany, and HMV of England being the Big Three. As usual in those nascent markets, all were competing against each other for shelf space in the shops that sold gramophone records.
I chose an early piece from Iraq this week because of the appearance of a terrific Honest Jons release culled from original copies at the EMI Hayes Archive titled Give Me Love: Songs of the Brokenhearted – Baghdad, 1925-1929. Two lovely songs by Badria Anwar are included on Give Me Love, but today's post is another of her long lost recordings, from ca. 1928-1929 or so. "Rah Wilfy" translates roughly to "My Lover Is Gone." She is accompanied by oud, kanun, violin, and percussion. (Thanks to the Pictures Clerk for translation!)
READ MORE
Via Excavated Shellac » Visit Blog
» 0 COMMENTS
jw on 08/19/2009 at 12:31AM
In the late 1920s, the Victor company decided to begin producing recordings of music geared specifically to Slovakian immigrants in the United States. It was a short-lived effort, yet it yielded some fascinating music, most of which was performed by a cache of immigrants (quite probably coal miners) from western Pennsylvania. I've heard other Slovenian/Slovakian 78s, but nothing matches the wild, almost primitive energy of these Victor recordings, which don't turn up too often.
The Pachač a Juskanič Slovenská Orkestra recorded this, Part One of their "harvest" čardáš, on December 6, 1929, in New York – the same date they recorded the bulk of their entire output (the group would later record a few more releases in that dark year for the American recording industry, 1932). The čardáš is a closed-circle folk dance in 2/4 time which originated in Hungary, but has close gypsy connections according to Richard Spottswood, in the notes to his excellent CD Slovak Csardas: Dance Tunes from the Pennsylvania Coal Mines. In his opinion, the Slovakian music on Victor from this period may be a peek into what music from the area may have sounded like in the nineteenth century.
There are several tracks by the Pachač a Juskanič Slovenská Orkestra on Mr. Spottswood's CD, but this track remains unreleased. Listen close for the whistling!
READ MORE
Via Excavated Shellac » Visit Blog
» 0 COMMENTS
jw on 05/17/2009 at 07:36PM
Welcome to Excavated Shellac on the Free Music Archive website.
Excavated Shellac began as a blog in April of 2007, featuring weekly posts of 78rpm records featuring traditional music from (primarily) outside of the United States. The material generally comes from my own collection, though there are numerous guest posts from other collectors in the mix.
WFMU and the Free Music Archive have offered to host the Excavated Shellac archive of tracks that have long since been deleted from the site, and that's about 90, so far. I hope they take you somewhere...
Via Excavated Shellac » Visit Blog
» 1 COMMENTS