You came this way:
Home
>
ccCommunity
>
Blog
>
Club de Jazz Presents... A Full Moon Party
ccCommunity : Creative Commons music from around the world wide web, selected by our independent curatorial crew
About ccCommunity
jason on 03/20/2012 at 07:00PM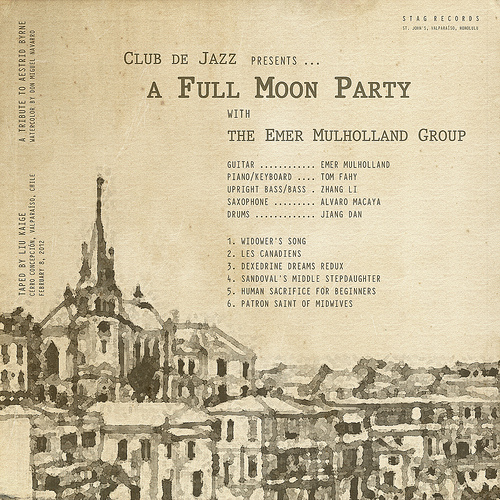 "Human Sacrifice for Beginners" and "Dexedrine Dreams Redux" are among the highlights taped from this full-moon'd evening of cross-continental jazz collaboration at Cerro Concepción in Valparaíso, Chile. Players include Emer Mulholland on guitar; Zhang Li on upright bass; Alvaro Macaya on Saxophone; Jiang Dan on drums; and Tom Fahy on piano/keys. 
Emer Mulholland, the group's namesake, is a classically-trained musician who runs Bookmakers Studio East in Gaillimh, Galway Ireland.
As for pianist Tom Fahy, well...
'Tom Fahy' (pseudonym: Quinn McCarthy) is an assemblage of musicians headed by multi-instrumentalist, composer, and author Tom Fahy. Core members include Jiang Dan, Rachael Eisley, Zhang Li, Liu Kaige and Emer Mulholland, while other players, including Alvaro Macaya, Thomas Byrne, Vicente Labarca, and Marco Falabella, are drafted for the requirements of particular pieces. (Read the full bio at tomfahy.org)
The incredible universe of Tom Fahy encompasses the independent publisher Orchard Park Press, as well as the record/net-label Stag Records. Active since 1991, Stag Records now shares over seventy-five releases via their website, all under a Creative Commons Attribution-ShareAlike license.
This album is a tribute to Aestrid Byrne, whose fantastic Music for Toy Pianos was previously featured by Oddio Overplay in a spotlight on "The Underappreciated Kinderklavier."