You came this way:
Home
>
ccCommunity
>
Blog
ccCommunity : Creative Commons music from around the world wide web, selected by our independent curatorial crew
About ccCommunity
jason on 03/20/2012 at 07:00PM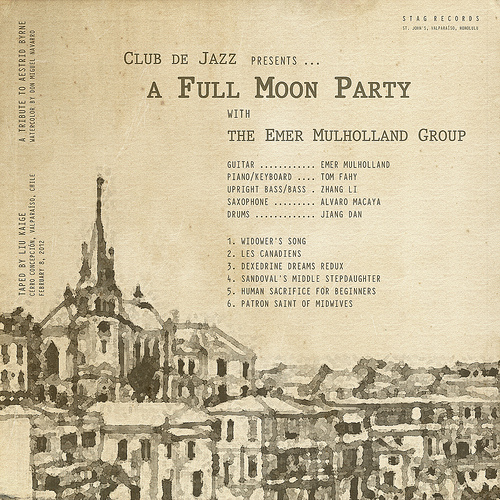 "Human Sacrifice for Beginners" and "Dexedrine Dreams Redux" are among the highlights taped from this full-moon'd evening of cross-continental jazz collaboration at Cerro Concepción in Valparaíso, Chile. Players include Emer Mulholland on guitar; Zhang Li on upright bass; Alvaro Macaya on Saxophone; Jiang Dan on drums; and Tom Fahy on piano/keys. 
Emer Mulholland, the group's namesake, is a classically-trained musician who runs Bookmakers Studio East in Gaillimh, Galway Ireland.
As for pianist Tom Fahy, well...
'Tom Fahy' (pseudonym: Quinn McCarthy) is an assemblage of musicians headed by multi-instrumentalist, composer, and author Tom Fahy. Core members include Jiang Dan, Rachael Eisley, Zhang Li, Liu Kaige and Emer Mulholland, while other players, including Alvaro Macaya, Thomas Byrne, Vicente Labarca, and Marco Falabella, are drafted for the requirements of particular pieces. (Read the full bio at tomfahy.org)
The incredible universe of Tom Fahy encompasses the independent publisher Orchard Park Press, as well as the record/net-label Stag Records. Active since 1991, Stag Records now shares over seventy-five releases via their website, all under a Creative Commons Attribution-ShareAlike license.
This album is a tribute to Aestrid Byrne, whose fantastic Music for Toy Pianos was previously featured by Oddio Overplay in a spotlight on "The Underappreciated Kinderklavier."
Via ccCommunity » Visit Blog
» 1 COMMENTS
jason on 03/18/2012 at 12:00PM
Plaistow are a Swiss post-jazz trio named after the Squarepusher song "Plaistow Flex Out," and with a song of their own titled "Steve Reich." Whether imagining new forms of techno, minimalism, post-rock/noise or improvised music, all Plaistow's recordings are realized organically with a drum kit, bass and piano.
The group met through improv and netaudio communities over five years, and now have several netlabel releases in their growing discography. The latest is on Insubordinations, a netlabel for whom Plaistow's drummer Cyril Bondi organizes concerts. Released this past month under a Creative Commons BY-NC-SA license, Lacrimosa consists of two fantastically expansive minimalist tracks, and is also available in a limited edition cdr / digisleeve.
Here's a video of Plaistow performing the title track to Lacrimosa live at Jazzdor in Strasbourg France:
FMA also hosts 2010's Insubordinations/Unit Records release The Crow, (featuring "Full CSS" below) and 2008's 12rec release Do You Feel Lucky (featuring "Steve Reich" below).
Via ccCommunity » Visit Blog
» 2 COMMENTS
jason on 03/05/2012 at 05:35PM
Via ccCommunity » Visit Blog
» 1 COMMENTS
jason on 02/22/2012 at 11:55AM
Top Surprise is a four-piece from Minas Gerais in southeast Brazil. Their bedroom punk recordings that draw heavily on US underground sounds from late 80s and early 90s, from You're Living All Over Me and Daydream Nation to Slanted & Enchanted.
"Saturn (The Season)" has an especially Sonic Youth-y vibe. This jam can be found on a 7-inch as well as on the Everything Must Go cassette. Both releases are freely downloadable under a Creative Commons Music Sharing license courtesy of Pug Records.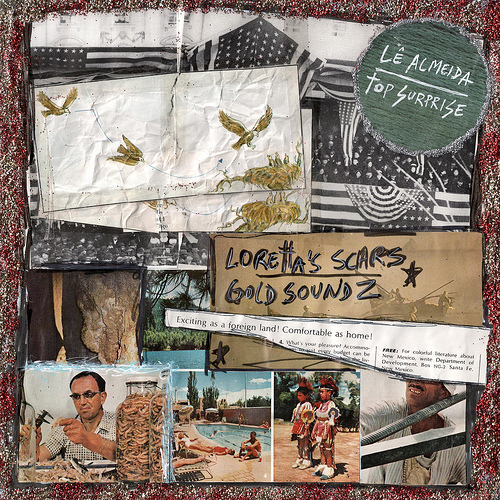 Pug Records just released a split of Pavement covers featuring Top Surprise and Lê Almeida, available for free download here:
Top Surprise will be in the US for this year's SXSW Festival, so keep an ear out if you're heading to Austin!
Via ccCommunity » Visit Blog
» 0 COMMENTS
jason on 02/20/2012 at 02:00AM
Lessazo's Soleil d'hiver is a collaboration between fifteen musicians from France and fifteen musicians from Mali. There is no shortage of voices and instruments, from guitar to kora, calabash to electric bass, horn sections to balafon, talking drum and n'goni lute.
These aren't jam sessions -- each composition is beautifully orchestrated with room to breathe and time to let the ideas play out. Over the course of the double album, a host of French and Malian folk and jazz traditions fuse with bambara rap and dub-worthy bass while field recordings mix in and out of mbox studio sessions.
The album was released in 2006 on Alter Musique. We discovered it through the French free music portal Dogmazic, who curate a selection for the FMA. Soleil d'hiver is shared under a Free Art / Art Libre license, which dates back to 2000 and precedes Creative Commons. Read the english version at artlibre.org/licence/lal/en
Lessazo was founded by Maya Diallo and Antoine Gonot, who continue to perform in France as the Lessazo Trio as well as in Mail with Lessazo Angata. Video from an intercontinental studio session after the jump:
READ MORE
Via ccCommunity » Visit Blog
» 1 COMMENTS
jason on 02/10/2012 at 04:22PM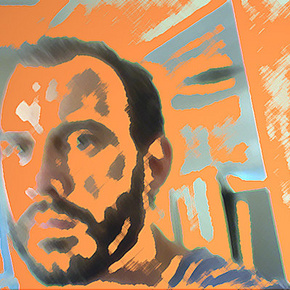 It was around this time last year that suRRism-Phonoethics introduced us to Detatching Realities Vol. 1 by Jared C. Balogh. The multimedia artist from Bethlehem Pennsylvania has since unleashed an outpouring of new music. His hyperactive-yet-focused release schedule mirrors the frenetic energy of his music; there is a lot happening in any given Balogh composition, but also a fantastic sense of minimalism. Balogh has worked with some of the world's finest netlabels, including Portugal's long-running Enough Records and Moscow's 45 RPM Records. Already this year, Lee Rosevere's Happy Puppy released the wonderfully organic-yet-synthetic Rhythms Of Life, and Headphonica introduced us to Detatching Realities Vol. 2.
Balogh only began releasing music under his own name in spring 2010. But Trans Atlantic Rage, a "extreme audio surrealism" project that finds Balogh performing under the name Shadow Entity Wizard alongside his wife Echo Tranquility, dates back to 1997. All told, Jared Christopher Balogh's creative force is behind an estimated 175 releases. In addition, Balogh operates Altered State Reflections, a recording studio which begat a CD-R label, and soon also took the form of a netlabel to showcase music, videos and artwork.
I interviewed Jared C. Balogh via email to learn more about his sonic evolution, his approach to distribution, and his range of influences; they include everything from Hall and Oats to Hatebreed (which I never would've guessed!) alongside Captain Beefheart and Frank Zappa (which I might have guessed), and labels like Cuneiform, Ipecac and Tzadik.
READ MORE
Via ccCommunity » Visit Blog
» 0 COMMENTS
jason on 02/06/2012 at 06:00PM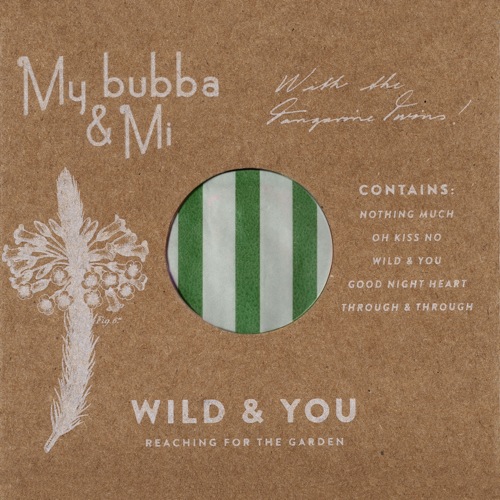 My Bubba & Mi is the duo of Gudbjörg Tomasdottir and My Larsdotter. Originally from Iceland and Sweden, they are now based in Copenhagen. They've been playing music together since the late oughts, but theirs is a timeless sound: two acoustic stringed instruments (guitar, banjo, bass) + two sweet harmonized vocals. Occasionally sprinkled with organ, harmonica, a scraped washboard or train rumble:
"Steamengeene" is a track off of How It's Done In Italy, a Creative Commons full-length from Utrecht's great label/netlabel Beep! Beep! Back Up The Truck. Last year, they followed it up with two EPs: BOB (in tribute to Bob Dylan?) and Wild & You, which are also available on very vinyl looking CDs from Beep Beep.
My Bubba & Mi recently founded the Hello Jingle Factory. They exhibited the project at the Reykjavik Art Museum, but it's not just art -- they've got a real jingles and an application form if you'd like to put your own message to song. Here's the entertaining infomercial:
Via ccCommunity » Visit Blog
» 0 COMMENTS
jason on 01/02/2012 at 07:05AM
2012 is here, but 2011 has left a serious impact! I for one am still discovering a lot of music that passed me by last year, thanks in large part to all of the FMA members who are still adding mixes tagged as #bestof2011. Here's a couple more from FMA community members Jenane and cpusinelli.
Via ccCommunity » Visit Blog
» 0 COMMENTS
jason on 12/30/2011 at 06:53AM
Via ccCommunity » Visit Blog
» 0 COMMENTS
jason on 12/30/2011 at 06:00AM
As we count down to 2012, we've been featuring year-end lists from FMA curators as well as community members. Here's one from elsoberanno and one from piereall.
There's still time to add your free music discoveries to the pool - just make a mix and then tag it #bestof2011. Feel free to share your lists, thoughts, questions or other ideas in the forum.
Via ccCommunity » Visit Blog
» 0 COMMENTS