You came this way:
Home
>
Boston Hassle
>
Blog
>
Wearable Boston Underground Music Comp, No Hassle
Boston Hassle
About Boston Hassle
jason on 10/12/2012 at 05:00AM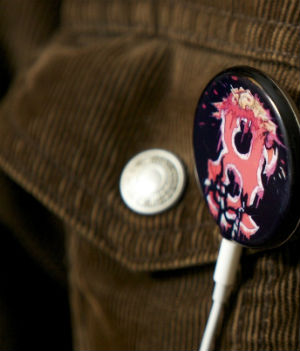 Though you'd never guess from a listen to this fantastic comp of Boston DIY music, its organizers believe that their city has some problems: "Rents are high. The train doesn't go where the rents are low. Nearly all the clubs in town treat bands like scum and have little or nothing to do with the music communities that keep them in business. In short it can be a serious hassle to be a band in the area, especially one that isn't mainstream."
Boston Hassle is combatting these problems through concerts and initiatives that unite the greater Boston area's underground communities. The Boston Hassle webzine is overseen by Bodies of Water Shows, a not-for-profit show-booking entity with a bourgening label arm known as Bodies of Water Arts & Crafts. The same crew is also behind the Boston Counter Cultural Compass, a monthly newsletter for underground all-ages/DIY shows throughout Boston, Cambridge, Somerville, Brookline and beyond.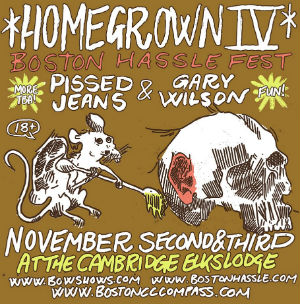 Boston Compass, Boston Hassle and Bodies of Water are joining forces for the fourth-annual Home Grown Festival this November 2nd & 3rd. The lineup includes a big batch of FMA favorites from all over the country like Gary Wilson, Pissed Jeans, Blue Sausage Infant, Burning Star Core, Dan Melchior, Black Dice's Eric Copeland, Fat Worm of Error, Greg Kelley/Bill Nace, Major Stars, PC Worship, Purling Hiss, Roomrunner, Sediment Club, Sightings, Sore Eros and many more. You'll also find a few of the artists from this compilation: Slumberland's classy pop group Cuffs, deconstructed post-indie rockers Fat History Month, and Exusamwa feat. Angela from the great local shop Weirdo Records.
Boston Hassle's premier compilation of Boston underground music was originally released on a 3" playable button (pictured at right). Pick up the badge and show some support for their efforts to make it a little bit easier for Boston underground music to thrive!