About All Tomorrow's Parties
» VIEW BLOG
All Tomorrow's Parties Blog
BTurner on 11/21/2010 at 01:00PM
This past September WFMU traipsed up to Kutshers Resort in Monticello, New York for a third yearly broadcast of the grand All Tomorrow's Parties, and we were especially excited to be plugging in the recorders Friday night as we'd landed permission from Kim Salmon to broadcast and archive the legendary Scientists! Starting off as a Perth-based punk band of the 70s, a move to Sydney in the 80's (and eventually London) found the Scientists morphing into one of the best Australian bands of all time. Like kindred spirits the Gun Club, and fellow countrymen the Birthday Party, Salmon and company defined blooze-ooze and gutter dwelling while equally purveying a lofty sense of style and poetry; their timeless nature easily defined by putting on a platter like Blood Red River (played in its entirety this night), or seeing their image floating around the DNA of later bands like Mudhoney, Chrome Cranks, Blues Explosion and many more. At ATP, we heard rumors of minimal (or no) rehearsal, but from the first scrape of "Set It On Fire" the timespan seemed nonexistent and Salmon's yowl no less bone-rattling. Take a dig via the Free Music Archive, where you can check out more archived sets from WFMU's 2008, 2009 and 2010 broadcasts. You can also check the WFMU site and stream of some of the non-downloadable sets we aired from this year here, including Hallogallo, Sonic Youth, Mudhoney and White Hills.
Via All Tomorrow's Parties » Visit Blog
» 1 COMMENTS
Swedish psychedelic rock band Dungen (pronounced "dune-yen", not "Dungeon", as your Stryper-loving stepbrother may refer to them as) performed an awesome set at the Jim Jarmusch curated ATP last month in Monticello, New York.
While the set covered most of the band's discography, it centered around the group's awesome new LP, Skit i allt, which in English humorously translates to "Fuck it all." That title may have been a bit more appropriate for frontman Gustav Ejstes' early days as a hip hop artist, but there's something about it that's perfect for Dungen's music, which to me occasionally sounds like Eureka-era Jim O'Rourke playing with Selling England By The Pound-era Genesis.
Maybe only I hear that combination... but to me that sounds... awesome! Dungen can be a bit proggy, they can be a bit folky, a bit metal, and sometimes it even seems like in any minute Karen Carpenter might come up and grab the microphone from Gustav and start singing a Burt Bacharach-penned number, especially on "Marken Lag Stilla", from the newest album.
"Mina Damer Och Fasaner", from 2008's 4, was a particular highlight from the set, recalling Gentle Giant and Peter Gabriel (in a good way) and has been made available to download via WFMU below, engineered by Ernie Inradat. Unleash your inner prog nerd!
Via All Tomorrow's Parties » Visit Blog
» 0 COMMENTS
jason on 09/27/2010 at 02:50PM
In July, Vivian Girls mainstays Kickball Katy and Cassy Ramone started working with new drummer Fiona Campbell. A former member of the New Zealand punk band Coolies, Fiona is now planted firmly in Brooklyn, where she's also one-half of submerged pop-jammers Coasting.
We had the chance to catch this revised lineup earlier this month when WFMU broadcast live from the third-annual NY edition of the All Tomorrow's Parties festival at Kutsher's Country Club. The three-piece tore through a set of classic material, hits from last year's s/t on In The Red, and new jams like "The Other Girls", featured below.
The full Vivian Girls ATP-NY set is available here, but we're not archiving the opening track because the mix was still falling into place. It's too bad because "Tell The World" is one of my all-time favorite songs -- seriously every time I pick up a bass I wanna play that riff! But, lucky for us, there is already an incredible live version of "Tell The World" available on the Free Music Archive pre-launch sampler #2.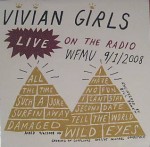 This version was from Vivian Girls' 2008 WFMU session for Choking on Cufflinks. This session was recorded before the FMA launched, but WFMU posted mp3s to the blog after the set aired, and because WFMU likes to give live session commercial rights over to the artist, the recordings have since resurfaced in two for-sale editions: a limited CDR, and 12'' on Troubleman. Both are now sold-out, and I've seen the CD-R command upwards of $60 on eBay. 
READ MORE
Via All Tomorrow's Parties » Visit Blog
» 0 COMMENTS
jason on 09/22/2010 at 06:54PM
For the third year in a row, WFMU trekked up to Kutsher's Country Club in Monticello for the NY edition of the legendary All Tomorrow's Parties Festival. We're following up the live broadcast with a series of blog posts highlighting mp3s from the best of the fest.
Thurston Moore was one of the major players at the fest -- he joined this year's curator Jim Jarmusch for a Criterion cinema panel in the Sportsman's Lounge, then rocked a career-spanning set with Sonic Youth. And to top it all off, he played a special acoustic set followed by an electric-guitar duo with Bill Nace as Northampton Wools. The latter, a 20-minute epic named "Sweetness", evolves from a trembling cinematic soundscape into a volcanic eruption; as the lava-flow cools you take a look back to where it all began and realize, damn: the improv highlight of the whole fest.
This dissonant assault was preceded by a rare Thurston Moore solo performance on 12-string guitar. The original recording of "Circulation" can be found on a new release titled In Silver Rain with a Paper Key -- a hardcover monograph containing two seven-inch vinyl records, as well as art, photographs, lyrics, poetry and other texts from Moore's personal notebooks and visual archives. This is a new release on Ecstatic Peace Library, an imprint of the label Thurston founded in 1981.
Ecastic Peace releases (and Ecstatic Yod, the collaboration with Byron Coley) shine a broad-yet-narrowly focused light into the musical underground. So I thought it'd be fun to make a list of the artists who've released music through these labels and also have FMA profiles: Menstruation Sisters, Lydia Lunch (of Teenage Jesus & The Jerks), Michael Gira, Jaap Blonk, Nels Cline, Sightings, Mouthus, Gang Wizard, Okkyung Lee, Fursaxa, Magik Markers, Lambsbread, MV&EE, Pocahaunted, Robedoor, Samara Lubelski, James Twig Harper (of Nautical Almanac), Angels in America, Loren Mazzacane Connors, Paul Flaherty/Chris Corsano...happy digging, and for a full discography try Discogs [Ecstatic Peace] [Ecstatic Yod].
If you're looking for more free mp3s, try Thurston's Protest Records project, founded as a protest against United States' invasions in the middle east. The site offers free politicized stencils in addition to the archived mp3 compilation series.
and hey! Keep an eye on the FMA's Recently Added feed and Featured Blog for more highlights from ATP-NY, and check out ATP's FMA Portal for highlights from this & previous festivals.
Via All Tomorrow's Parties » Visit Blog
» 0 COMMENTS
jason on 11/12/2009 at 01:38PM
Chicago post-punk rawk legends The Jesus Lizard reunited in 2008 and performed at May 2009's ATP vs. The Fans II: The Fans Strike Back in Minehead, England along with the likes of Devo, Killing Joke, and Sleep. By all accounts, and judging by the above photo, it musta been an incredibley intense show.

Fast forward to 9/11/2009. The Jesus Lizard take the stage at the Stardust Ballroom up at Kutsher's Resort in Monticello, NY for All Tomorrow's Parties second annual New York festival. In case we had forgotten, David Yow made sure to wish the audience a happy 9/11 repeatedly, throughout the set. And the reunited 4-piece launched into a blistering set of sharp-edged classics like "Mouth Breather", "Seasick", "Puss", even their TV As Eyes/Abstract Nympho Chrome cover (originally released on a Touch & Go 7''). The whole night, it felt like David Yow was gonna take his shirt off. It just had that out of control energy as he jumped in and out of the turbulent audience. Fans made their way on to the stage as well, and at one point I counted three of them all tearing at Yow's shirt, which had made its way to the elbows. But this time, the shirt stayed on.
The original Jesus Lizard lineup was in full force. Duane Denison's been playing in Th' Legendary Shack Shakers these days, and his razorblade riffs on "Mouth Breather" sliced through the gigantic Stardust speakers with precision. Drummer Mac McNeilly and bassist David Sims are a rhythm section in league with the best of 'em. Just check out the intro to "Monkey Trick" below, a classic that brings back fond memories of WPRB Station ID's.
Stream the full set here via WFMU, and if you're anywhere nearby NYC, you can catch The Jesus Lizard live this Monday November 16th at Irving Plaza.
READ MORE
Via All Tomorrow's Parties » Visit Blog
» 0 COMMENTS
When I first saw the lineup for this year's Catskills edition of the All Tomorrow's Parties festival, all my excitement centered on one thing: the prospect of seeing the near-mythical NYC duo Suicide perform their (your-favorite-superlative-here) first album on the bizarre spaceship stage in the corrugated metal galaxy that is the famed Stardust Ballroom at Kutsher's Resort.  Such glory having come to pass, we're thrilled that Alan Vega and Martin Rev have consented to our sharing two tracks from their set with you.
Suicide were in a playful mood for this show, with Martin Rev gleefully pounding tonal fist-clusters on his synths, and Alan Vega doing a slow menacing prowl in his track suit and twitching along to his every echo-laden howl and yelp.
Via All Tomorrow's Parties » Visit Blog
» 0 COMMENTS
doron on 10/09/2009 at 06:09AM
It's been almost five years since Warren Ellis, Jim White and Mick Turner have recorded a studio album as the Dirty Three but it looks like they've been keeping busy. Drummer Jim White, who now lives is New York, has been anchoring Cat Power's Dirty Delta Band while sitting in on various gigs around town while violinist Warren Ellis, a member of Nick Cave's Bad Seeds, has spent the past few years scoring several films with Cave including this fall's upcoming screen version of Cormac McCarthy's "The Road".

"Ocean Songs" is probably my favorite album by the Dirty Three and All Tomorrow's Parties organizer Barry Hogan most likely feels the same way as the 2009 New York installation of the festival marked the third time that the band has played the album in its entirety as part of ATP's Don't Look Back segment. The album is decidedly less raucous then some of the band's earlier work and the slow, almost dirge like compositions are loosely structured allowing everyone lots of opportunity to stretch out and improvise in a live setting.


The album reaches its climax with the epic 16 minute track "Deep Waters" which finds the band exploring a wide dynamic range from quiet finger picking to a rather loud, crashing tumult. Like many of the tunes on the album "Deep Waters" is a bit of a mood piece and the song has a staggering, almost drunken quality that always threatens to fall apart before returning to beautiful, repetitive violin pattern played by Ellis. Joining the band to play the piano parts originally played on the studio album by David Grubbs was Nick Cave, resplendent in a sharp black suit.

The tune was one of the grander moments I witnessed in the Starlight Ballroom over the course of the weekend and definitely one the festival's stand out performances.
Via All Tomorrow's Parties » Visit Blog
» 0 COMMENTS
lizb on 10/08/2009 at 04:00AM
From the crumbling dining room of Davis California's DAM House to a massive stage in the Stardust Ballroom at All Tomorrow's Parties New York, Deerhoof have forged a loud and impressive path over their decade-plus existence. Living in the Bay and Sacramento areas during the late '90s, I was able to catch them a few times in their earlier incarnations, and it was a real treat to witness their performance at ATP-NY last month.
After repeated (and mostly failed) attempts to turn friends on to the quirky, irregular, experimental, yet undeniably catchy and sweet sounds of Deerhoof over the years (the girl who cried Deerhoof?), standing in a giant ballroom full of believers was indeed a powerful moment.
The band's lineup has changed over the years: mainstays Greg Saunier, John Dieterich, and Satomi Matsuzaki were joined by Ed Rodriguez at ATP, who has been with the band since early last year. Chris Cohen was part of the band for a number of years (he has since formed Cryptacize, along with Nedelle and Michael Carreira), and appeared with Deerhoof during all three of their visits to WFMU on Brian Turner's show in 2002, 2003, and 2005.
The band has graciously allowed us to serve up their awesome set from ATP-NY for your listening pleasure, including some recent hits and a brand new song. (mp3s after the jump)
READ MORE
Via All Tomorrow's Parties » Visit Blog
» 0 COMMENTS
There were certainly bigger rockstars than Bradford Cox running around banging into things at Kutsher's Resort the weekend of Sept 11, but if you were at this year's Catskills edition of the beloved All Tomorrow's Parties fest, I'm sure you would agree that neither Wayne, Buzzo, Jon, Cristina, Steve, Sufjan, Nick, Eye, David, nor Bob totally pwned the weekend quite like the man behind Deerhunter and Atlas Sound.  A quick cataloguing of his ATP antics is here called for:
- Jumping onstage with Bob Mould and No Age to howl along to "Chinese Rocks"
- summoning the ghost of Lindsay Buckingham and spitting water out his nose during a particularly hilarious interview with our Brian Turner on WFMU,
- leading a surreal (and mostly impromptu) piano-lounge karaoke session with a gaggle of wasted Australians hours after the Flaming Lips had closed out the festival on Sunday,
and an utterly compelling, always on the brink of collapse solo acoustic set at Stage 2, full of stream-of-conscience banter that was anything but "banter", and a stage manner reflecting that weird netherworld between Total Self Posession and Complete Doubt.  Dude's got it down.  Hear it for yourself, here, now, below the jump.
Atlas Sound on the FMA here
Atlas Sound live at ATP-NY 2009 on WFMU here
READ MORE
Via All Tomorrow's Parties » Visit Blog
» 0 COMMENTS
tront on 10/05/2009 at 04:49AM
If you're anything like me, then this cutie's album Person Pitch really made your summer 2007 something a little more magical than it would have been without it.
Using only a couple of exquisitely-picked loops and a shitload of very specific reverb, Panda Bear (a.k.a. Noah Lennox a.k.a. 1/3 or so of Animal Collective) creates small but very detailed worlds of songs that take you somewhere Brian Wilson might have gone if he had only stuck to the good kinds of drugs and understood the internet.
If you're already familiar with the work of tha bear, the live set, recorded and broadcast during All Tomorrows Parties just a few weeks ago, will sound very much like what you heard on the album, but with a lot more fun insight and deep-diving into the sparklies, yelps, and high-impact loop layering technology that make the PB experience exactly what it is. Download a free MP3 of BROS live at ATP-NY 2009:
Expertly mixed by Rob Christiansen as part of WFMU's live broadcast from ATP-NY. Photo by heybelinda.
Via All Tomorrow's Parties » Visit Blog
» 0 COMMENTS