You came this way:
Home
>
Blog
FMA Blog
Recent FMA Blog Posts
This is a feed of featured blog posts from FMA users. Blog on, bloggers!
FMA Blog
macedonia on 05/07/2009 at 10:00PM
Coming straight outta Budapest, the Budabeats netlabel hasn't been around for that long, but their digital footprint is gargantuan in nature thanks to their stellar artist roster and their emphasis on quality over quantity.  Within the last year and a half, Budabeats have released a handful of EPs that span a wide of variety of genres, including hip-hop, nujazz, broken beat, downtempo, cinematic jazz, and funky breaks.  Viewed as a platform for artist exposure and stepping stone towards larger ventures, the netlabel's philosophy is "freestyle", keeping things loose and fun, never staying in one place rhythmically for too long.  The result is music that remains engaging and accessible while offering surprises around every corner.  You know you're doing something right when the likes of Kid Loco and Kraak & Smaak offer up kudos, not to mention gaining consistent praise from labels like Tru Thoughts.

One of the strongest releases from Budabeats is the Symphaty Modul EP from Suhov, a Hungarian producer and DJ who clearly has an ear for proper arrangement.  Things kick off on a high note with the Bollywood-infused "Exx F**k," but settles into jazzy hip-hop with "Different," a song that boasts tight edits and bits of piano and trumpet punched in at all the right times.  "Funny" will win you over with its hard drum pattern and smooth, swinging accompaniment.  The sampled female vocal is the icing on the cake.  The criminally short "Skunn" leaves any listener wanting more as Suhov breaks out the mambo numbers and intricately weaves them into the song, making for the perfect finale.  For further proof of Suhov's production prowess, make sure to check out his MySpace page for more songs and his YouTube promo.  For any and all that haven't experienced the Budabeats netlabel yet, this EP is a great place to start.  Serious love and thanks goes out to Gandharva for their blessing to upload this release to the Free Music Archive...
» 0 COMMENTS
BTurner on 05/07/2009 at 11:02AM
Back on March 20th, WFMU did its second SXSW show down in Austin, this time joined in the hand-picking and presentation of the bill by our friends at Aquarius Records in San Francisco. It was a pretty massive event, 14 bands in all, and the outdoor stage kicked off that evening with one of AQ's picks from their hometown, Prizehog. Like the band Harvey Milk (who coincidentally opened WFMU's SXSW show the previous year), this trio specializes in downtuned, sludged-out epic psychedelic metal, though for my money these guys take it into a more spaced-out realm. Their great studio CDR had a somewhat primitive vibe of lo-fi basement doom done on bareboned recording equipment, but live in the outdoor concrete pit of Spiro's I thought they sounded no less destructive, and even more expansive. Worked totally great on the radio as well, check out these MP3s below. And also check out an assortment of 2008/2009 live MP3s from our SXSW shows up on the Free Music Archive (with more to come). Thanks again to Prizehog, AQ, and all the bands and Austin attendees!
Prizehog live at Spiro's, March 20, 2009 (full set)
Via WFMU » Visit Blog
» 0 COMMENTS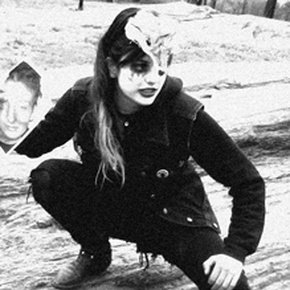 Angels In America.  No less an aural seeker than Thurston Moore was unable to find a musical reference point in their solipsistic stew, yet still was wowed enough to release their cassette Cunt Tree Grammar thru Ecstatic Peace.
Here's all we know for certain about Angels In America, through their own direct transmission: they are two 20-year olds bullshitting their way through it all; they are self-avowed fans of shitty puns (you noticed the name of the tape) and whistle solos; and their names are probably not Rob Rhombus and Moppy Pont, who you can email.
Opportunities for deeper exploration are forthcoming: Angels In America will be coming to your hometown this August, oh resident of Montreal, Providence, New York, Philadelphia, etc.  Tour dates, as well as information on the forthcoming release Allergic to Latex, shall appear on their artist page here at the FMA.  Currently, that page is chock full of mp3 delights from Cunt Tree Grammar, as well as some haunting live nuggets, so get along pronto, buckaroo.
One more opportunity to peek at what  they are: youtube 
Via WFMU » Visit Blog
» 0 COMMENTS
tommy on 05/06/2009 at 10:07AM
The FMA is honing in on the 7,000 track mark! You can really get a sense of just how much the archive is growing by searching for completely random terms and seeing what comes up.
Searching for two of my favorite things, cheese and candy, yields over 100 songs, including a recently added comp featuring the fellas of Foot Village and many, many friends covering "Chicken & Cheese 2."
Songs about swine? Check. Colombian folk songs about Barack Obama? Check. Hades, ancient god of the underworld? Check. Pickles? Check.
While you get your search on, have a listen below to Ric Royer explain exactly why I love candy so much.
» 0 COMMENTS
macedonia on 05/05/2009 at 12:00AM
"Drop one o' them muthaf**kin' neck breakin' Dilla beats, ya heard?" - Pete Rock
READ MORE
» 0 COMMENTS
zlayton on 05/04/2009 at 12:22PM
ISSUE was thrilled to host the new Flaming Fire running band this past friday.  The band lined up and ran from carroll gardens all the way down to our location at the old american can factory in Gowanus on 3rd ave and 3rd street.  Patrick Hambrecht called in and we had the sound of the band running through the sound system and a video camera set up following them into the performance space.  At that point Flaming Fire proceeded to tear up the night with their patented kenneth anger inspired insanity...complete with flaming hula hoops.  
Before that we presented a related free improv/psych rock project related to the flaming fire crew...LYDSOD (aka. Live Your Dreams, Stay Off Drugs).  
Check out the free mp3:
Via ISSUE Project Room » Visit Blog
» 0 COMMENTS
jason on 05/04/2009 at 10:38AM
The Free Music Archive opened its doors one month ago, on April 4th, with our Free Music Archive launch party (check out the archived mp3s here).
Last night, we passed the 6666 mark with a batch of uploads from France's fantastic Ego Twister imprint. The 6666th song was "One Day I'll Make A Million" by the German electronic artist Vernon Lenoir, which I think is a sign of things to come. Check out Ego Twister for all sorts of what they'd like to call "Stupid beats" or "Leftwing dance music", like the attached track from Brazil's Retrigger (pic via flickr)
» 0 COMMENTS
JoeMc on 04/28/2009 at 02:47PM
When I think about it, I'm often amazed by how quickly artists who were famous and beloved in their day can pass into obscurity. Even mega-stars of the past like Bing Crosby and Al Jolson, both record-breaking entertainers and innovators, have become cobwebby relics neglected by most music fans.
Given the fact that someone like Bing Crosby isn't even heard much these days, it's perhaps less surprising that one of the best-known and most adored singers of a slightly earlier era continues to dwell in the Land of the Who's-Thats. His name was Billy Murray--and yes, he was most likely the best-selling and most heard artist of the period from 1903 to 1925.
READ MORE
» 0 COMMENTS
pushbinlou on 04/24/2009 at 03:48PM
I was pretty psyched to see that FMA has quite a few tracks from the unforgettable Toecutter available to assault your ears.  Toecutter (David Harris) is a mash-up/ragga/drillcore/electronica artist from Australia with a penchant for humorous tracks and the ability to throw everything and the kitchen sink at you with one song.  Some people would compare him to Shitmat which I guess is not a bad comparison.
Check out You, Me, Carpark, Now from the Real Sexual People release which was put out by System Corrupt in 2004.  Enjoy!
Via WFMU » Visit Blog
» 0 COMMENTS
DylanGoing on 04/23/2009 at 05:11PM
God, gimme a break Spring. I can think of several better seasons. Stop messing around and commit to one cohesive atmospheric theme and then I can cut down on my rotations of outerwear to fit your bogus schedule.
Thankfully, there are a good deal of artists on the FMA that bring about elements from where fickle weather patterns offer no distraction: SPACE. Although the Space Rock section is still in the early stages of development, there are tracks littered about that explore tones and frontiers from the outer cosmos and beyond.
This past September, WFMU was there to transmit the revived Cluster/Neu! emissions of Harmonia from the All Tomorrow's Parties festival in Monticello, New York. Even after more than 30 years of dormancy, they still sound like a convincing vision of the future.
And then we go from the hypothetical future to the ultra-present. All but three days ago on his Talk's Cheap show, Jason Sigal welcomed performers Mudboy and Area C of Providence, commonly referred to as "Rhode Island's Cape Canaveral." They play individual sets and a collaboration of meditative, extraterrestrial organ and guitar psychedelia and also stop to talk about their upcoming double abum release of live recordings from a NASA sponsored (really) concert series in a planetarium. The record is set to be released this May by Sedimental Records.
Originally mentioned here in our FMA preview blog on Bay Area artists, Oakland's Oaxacan has held a firm place in our hompages's "Most Interesting" tracklist since the site landed. In my humble description, it sounds like Martin Denny's islanders have taken up the occult and play covers of Saturn's atmosphere atop a pyramid, to put it simply. They'll be touring this summer with Sir Richard Bishop, doubling as his backup band along the way. Keep an Eye out.
Via WFMU » Visit Blog
» 1 COMMENTS