You came this way:
Home
>
Blog
FMA Blog
Recent FMA Blog Posts
This is a feed of featured blog posts from FMA users. Blog on, bloggers!
FMA Blog
andrewcsmith on 02/22/2010 at 12:00AM
Steve Gunn's playing shimmers like a raga-inspired blues, or maybe a blues-inspired raga. It seems like it's all plucked guitars, roots and open strings, and cymbals.
In this music, every beat is the same. There are moments, here and there, where it starts to feel like it settles into something like a simple rhythm, the threes and fours we're used to hearing. It doesn't take long, though, because Gunn turns it around again and the "accent" (or what we're used to hearing as an accent) is somewhere completely different. After this happens enough times, the mind just shuts off. There's no use trying to re-calibrate every five or ten seconds.
Or, properly, "that part" of the mind just shuts off: the part that likes to keep time. Not that likes time, but that likes to keep it, and package it, and remember it for later in more easily-digestible threes and fours. When that part acquiesces, there's an entire universe to be found–the universe that consists of addition, not multiplication—a universe that does not remember multiples.
Steve Gunn's latest work, Boerum Palace, is available as of last November from Three Lobed Recordings.
Via ISSUE Project Room » Visit Blog
» 0 COMMENTS
mwalker on 02/19/2010 at 09:00AM
This Friday (2/19/10), ISSUE's first-ever Artist-in-Residence Collective returns for their second monthly concert. The ensemble consists of Shannon Fields, Laura Ortman, Matt Lavelle, Shelley Burgon, Ryan Sawyer, and Jon Natchez (long-time collaborators from their 10+ years of work together in the now-concluded Stars Like Fleas). For the second residency concert, Jon Natchez and Matt Lavelle will present works to be performed by the collective. Shelley Burgon and Ryan Sawyer will lead the ensemble on 3/26/10.
To get everyone amped for the second installment of the residency, Shannon Fields and Laura Ortman have shared the recordings from their fantastic first performance. I've included all three compositions from the show in a mix included below.
READ MORE
Via ISSUE Project Room » Visit Blog
» 1 COMMENTS
JoeMc on 02/18/2010 at 09:00AM
One of the all-time great artistes of the accordion was a diminutive Sicilian immigrant with bad eyesight and a bum lip named Pietro Frosini. Although he was barely five feet tall, he stood head-and-shoulders above the players of his day. Even today, among accordionists, he is considered to be one of the greatest players who ever hoisted the instrument. He lived up to his renown as "The Wizard of the Accordion."
What made him so special? Well, technical facility for one thing. The dude could play rings around just about anybody. He wasn't just fast, but flawless, his playing almost liquid in its sure and smooth motion. Not only that, but he was doing it on a chromatic accordion, a beast harder to master than the standard piano accordion. Chromatic accordions rely on a button system instead of a keyboard system, with more complicated fingering patterns and other arm and wrist gymnastics. The buttons are set up on the chromatic scale of half-step intervals instead of the standard major and minor scales most employed by musical instruments. Frosini made playing this challenging instrument sound easy.
Frosini was indeed technically accomplished, but what makes him such a master is that he also had taste. His playing is rarely busy. Take a listen to his version of "Wedding of the Winds" and see if you don't agree, and then read on below for more about the "Wizard of the Accordion."
READ MORE
Via WFMU » Visit Blog
» 0 COMMENTS
jason on 02/17/2010 at 02:20PM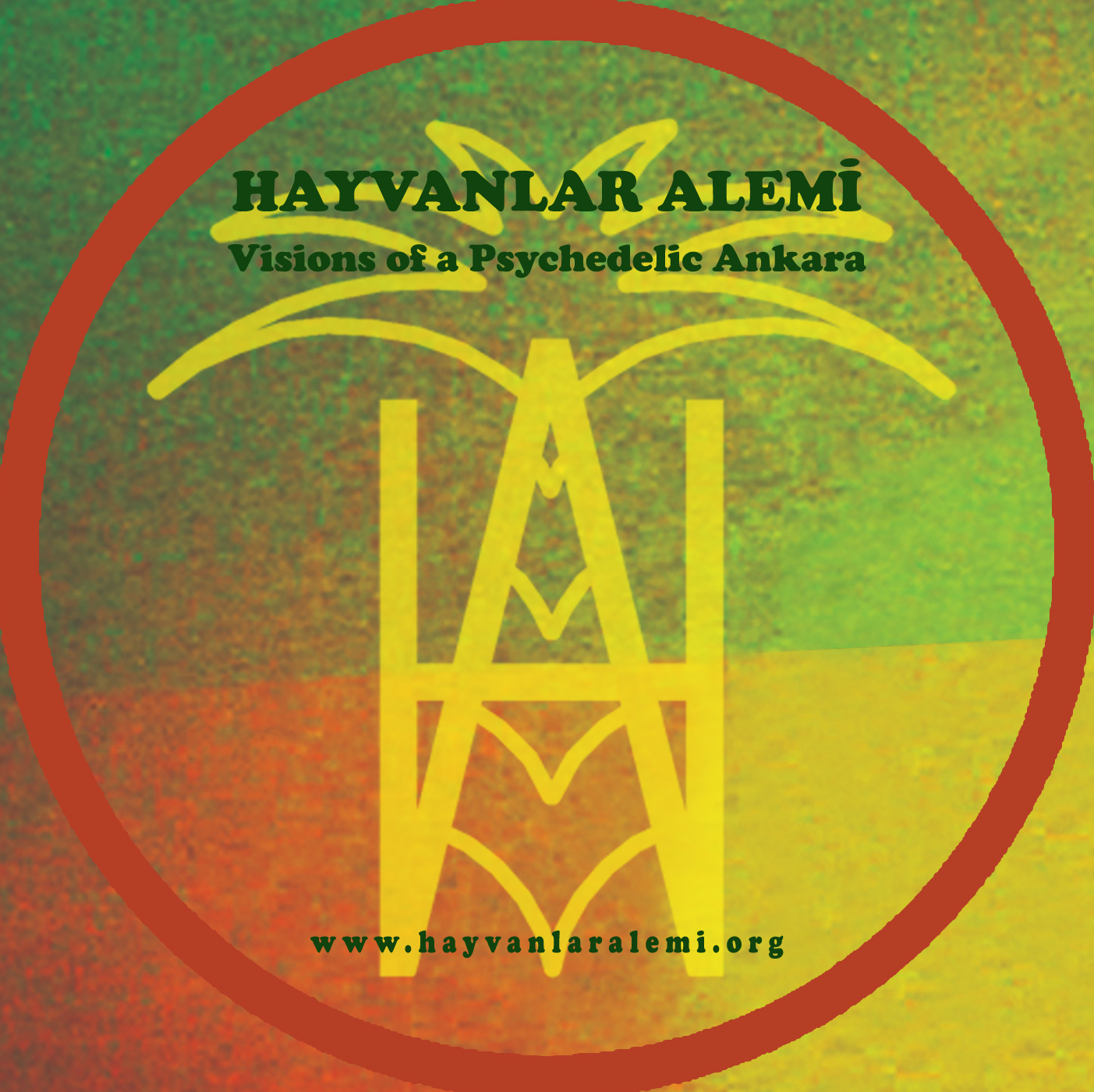 Seems like all the world's a dub these days, and by and large that's a good thing. I've been wading deep into the underwater sounds of DJ /Rupture & Matt Shadetek, Titus 12, and a couple of the world's finest dub-oriented netlabels: LCL (Libre Comme Lair), and Jahtari. A lot of the stuff that's bending my ear lately has veered toward the electronicly manipulated sound. Which is a good thing too. But it's also one reason why it's so refreshing to hear Visions of Psychedelic Ankara, the newest album from Turkey's most awesome contemporary rock band.
I think of Hayvanlar Alemi as a modern continuation of the global psychedelic/folk/rock phenomenon of the late 1960s and early 1970s, an era of when the electric guitar melded with traditional musical influences around the world. Artists like Ersen and Selda in Turkey, Traffic Sound in Peru, Os Mutantes in Brazil, Chrissy Zebby Tembo & Ngozi Family in Zambia, Sinn Sissamouth and Pan Ron in Cambodia...
This first wave of international psych-rock is a major influence on Hayvanlar Alemi's music -- for example, their Demolar 2007-2008 drew inspiration heavy on sounds from "Cambodia, Malaysia, Bolivia and Japan, mutated African guitars, some post-rock ambiance, touches of surf and dub, and a live improv." Dub has always been an element in Hayvanlar Alemi's music, and it's brought to the forefront on Visions of Psychedelic Ankara. I highly recommend checking out all four of Hayvanlar Alemi's free albums here.
I'm working on a mix of dubbed out favorites from the FMA and beyond -- was hoping to make it part of this post but I think I'll take my time with it.
What dubbed out sounds have you been diggin lately? If you're craving more dub, have you checked out LCL (Libre Comme Lair)'s recent adds to the FMA? Holy smokes!
» 2 COMMENTS
DylanGoing on 02/17/2010 at 08:45AM
A nugget of not-so-distant history from 2006:
My band politely opened the show and played a decent, three song set that didn't have anyone jumping out of their skin but generated some polite comments afterwards. Mordstrahlen, the eastern European chopped-and-screwed hip hop cdj alias of Shawn Greenlee played between all the sets as people perused the liquor table full of Old Grandad of an indeterminate age that my friend, the estate cleaner/tomb raider, had found in he attic of someone recently deceased. The attic conditions didn't prove to be too kind on Old Grandad's finer notes and nuances so a mildly distressed, kerosene-smelling crowd politely waited for the next action-adventure rock band to play...and play they did.
One particular person was so excited about the playing that it suggested to him that the plastic lawn nativity virgin mother that was hanging around was not being smashed with enough garden hoes. Person, who happened to be the propietor of the space, took his trusty garden hoe and in the upswing, knocked the head off of the sprinkler, letting a violent black cloud of warehouse water out on the crowd, band, and vintage equipment. He disappeared and water kept filling the space for about twenty minutes while I ran several blocks down to find a wet-dry vac from my studio.
This was the second out of five acts set to play, two being on tour from Europe: Jason Forrest (aka DJ Donna Summer) with his band, and About from the Netherlands. We certainly couldn't have brought these nice people all the way out to not play, so we strung some extension cords (on the ceiling, for there were already a couple inches of water on the floor) and some lights to a part to the warehouse where there was a spot of raised cement about four inches high where a band could conceivably fit, completely dry. They fit, and they performed for the remainder of the crowd who danced enthusiastically in several inches of water. Nobody was electrocuted.
Anyway, moral of the story: however cold, bleak and socially anesthetizing this winter might be, check out Jason's take from the Peppermill Records compilation "Winter" and remember that you're probably not ankle deep in water right now.

» 0 COMMENTS
doncbruital on 02/16/2010 at 02:07PM
The realm of home recording may be a pretty righteous place, full of patron saints and young apostles and the whole liturgical bit, but it's no dour zone of straight-faced worship; in other words, no dress code in this cathedral, no way--home recording is really more of this paradise of impish subversion, where the boring mainstream is reliably mocked, slandered, and taken to task. Using tried-and-true guerilla methods, the underground can really make a go of winning the hearts and minds of the listening population, and though alright, the mainstream may occasionally push back, these losing-battle efforts usually look sort of dumb. Of course there's no doing away with home recording--it's the advancing industry's pace-keeping mischievous twin: for every Garageband, there's a Garbageland, and U CAN UNLEARN GUITAR, satirist saint in the ever-growing pantheon, will have the last laugh.
UCUG began life as the shadow project of a four-track band (called, yeah, U Can Learn Guitar) which harnessed guitar, turntables, and the Suzuki QChord's bank of corporation-imposed sounds and samples in an effort to explore with hyperbolic bravado the straight-faced world of overblown music. Before long the push to Unlearn subsumed its twin impulse, and Garageband and other feature-rich DIY enablers found their way into the project's anti-aesthetic maw. Using these and other tools of the master, UCUG's library of noisy subversion grew--and found a handily righteous partner in communicating its message, namely this here Free Music Archive. Indeed, the album Garbageland is, by ringleader Andrew Unlearny's admission, a direct result of the FMA's existence, it having placed instant feedback from the sacred underground within easy reach.
So light your candles or get down with a sacrifice or affect whatever mechanisms of worship you deem appropriate; there are, after all, 59 U Can Unlearn Guitar tracks up at the FMA, and such a gift deserves some thanks. Below you'll find the tiniest of samplings; the songwriterly and elegiac "High for the Hogs," the lifealteringly NSFW touring-blues anthem "58 Days on the Road" and the epic Garbageland manifesto "Newest Zong, BuhBuhBaybeee." I'd urge you, reader, not to stop here, but I'm certain you won't, not once you've heard the good news. The gospel of home recording's here to counter that industry spiel--unlearn it, brother, and preach on.
» 0 COMMENTS
The history of chip music pretty much starts within the demoscene. As the sceners progressed from hacking existing games, showcasing their crews prowess in the loading screen to eventually making technically excellent standalone demo applications that pushed the limits of hardware, one thing that became constant was the progression from music out of the background to being a featured part of these productions. By the time the concept of Music Disks took shape, the musical compositions had become quite sophisticated. Some years later after the broadband internet era cut down on the appeal of these tiny floppy sized albums, the netlabel Backtrack decided for their first release to make a Windows music disc, named iHyper. The program is pretty simple. As the music plays, beat synced graphics are played that thematically match the action of the music. The sequence-like nature of the tracker file formats allow you to do lots of cool graphical effects rhythmically, so some music disks can be a tiny chip concert in your room (or at least a game minus the game play).
 iHyper seems to have been made by chip music veterans and neophytes alike, with tracks from Nagz, Zinger, and Zabutom, as well as a host of (at that time) newcomers. It has seemed to pass mustard from demoscene veterans judging by the reception on its Pouet page, a notoriously tough crowd when it comes to technical song composition and graphic design. If you are interested in finding more demo scene productions and music disks, Pouet is a good place to start, but until then check out the audio uploaded here, or better yet run the music disk found here at archive.org, and catch you guys next time.
Via True Chip Till Death » Visit Blog
» 2 COMMENTS
jason on 02/15/2010 at 07:00PM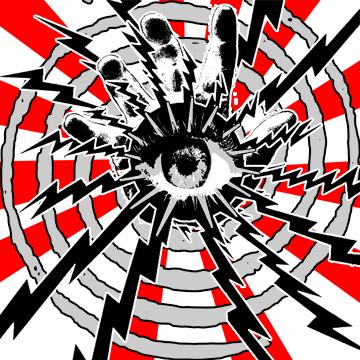 John Henry and Heather of the great Los Angeles band Static Static are in serious legal trouble in Prescott, Arizona, and are facing 5-15 years in prison. Though I don't know all the details about what has happened, I know they have a lot of great things to contribute to society, and they don't deserve to be locked out of it. They go before a judge tomorrow and their friends are trying to raise money so that they can both have proper legal representation.
I wrote more about Static Static (and the artist Keenan Keller, whose Static Static artwork appears in this post) here, when they played live at WFMU on my radio show Talk's Cheap.
Miss Pussycat, a friend of Static Static from their New Orleans days, writes
I have known John and Heather for over ten years. Heather has been on tour with us to sell merch, Static Static has rocked the Spellcaster many times and I love them both and know they have lots of other friends that love them and would want to help out. Lesley, the drummer for Static Static has a Paypal account to direct donations for a lawyer.

Send paypal donations to: [email protected]
More info and updates on Static Static's myspace.
» 0 COMMENTS
PK on 02/15/2010 at 11:36AM

Description:
It's the year 2999, and what you see above is your future.   What exactly is going on?  Your job is to soundtrack the above painting by celebrated futurist David Schleinkofer and write a short description of your vision.
This open competition is for a spot on a big upcoming Peppermill release, the chosen piece will be featured alongside many of the most talented forward-thinking electronic musicians around.  Their works will be interpreted by illustrators while you'll be doing the exact opposite. 
What we're putting together is a futuristic dance album, as the title is a play on the phrase "dance like it's 1999".  However this doesn't have to sound like anything humans currently groove to, in fact we encourage you to paint way, way outside the lines.
Bass is necessary though.  Deep, deep sub bass.  This collection is going to feature songs using a very full range of frequencies, and experimentation with the lower end of the spectrum is a must.
When completed it'll be freely downloadable under a Creative Commons license, as all our releases are, which means people are encouraged to share the music but aren't allowed to alter it in any way or use it for commercial purposes without your consent.
Guidelines:
- interpret the painting above
- the result should be ready to be played on dancefloors 989 years from now
- use a rich range of frequencies including sub-bass
- the title should be fairly descriptive, as the painting and the song are to be a combo
- include a paragraph-long summary of your vision
- for a bigger version of the painting visit the project page at Peppermill.
Submit your track:
The deadline is April the 18th.  You can enter more than one, although only one entry will be chosen for this release, however if the submissions warrant it we'd consider putting them out separately. And when you're finished you can submit your track right here.
So you have roughly 2 months to create your 30th-century masterpiece.  If you have any questions don't hesitate to contact us.   Good luck!
Via Peppermill Records » Visit Blog
» 0 COMMENTS
Irene_Rible on 02/14/2010 at 11:32AM
Edith Frost has always been a mainstay in my listening habits.  She makes perfect music for life's many in-between moments, those vague moments more frequent and enduring than all the highs and lows ever will be.  They're dreamy, nostalgic, bittersweet songs I can listen to in quiet moments of being neither here nor there, looking out bus windows, waiting in train stations, or singing along to in the car. 
While playing this on a date one day my blissful reverence for Edith Frost was disturbed forever.  I was unsuspectingly humming along to my new CD when the charmer exclaimed, "Turn this off!"  With a tone to make Eve Ensler weep he continued, "This is, like, vagina music."  But it was all too true.  Edith Frost explores such popular themes in the vagina music canon such as getting screwed over by a dude, song after song after song.
Ever since that day I've fantasized about the kitschy hipster record store of my dreams, where records would not be categorized by their comparatively irrelevant musical associations, but distilled to their essential Freudian core.  Of course, the majority of my store would be dedicated to the mother vagina Joni Mitchell, as well as her plentiful singer-songwriter offspring of both mainstream and freak-folk scenes.  Large swaths of token male vaginas from the Saddle Creek label would be thrown in for good measure.  Customers looking for metal both old and nu and the majority of all rock subcultures would be directed to my competitor, the Hairy Scrotum Record Barn, located on the other side of the McSweeney's.
Nurse your wounds (or plot your revenge!) this V-day with some of my favorite ladies on the FMA.
READ MORE
» 2 COMMENTS