You came this way:
Home
>
Blog
FMA Blog
Recent FMA Blog Posts
This is a feed of featured blog posts from FMA users. Blog on, bloggers!
FMA Blog
andrewcsmith on 10/19/2009 at 08:56PM
Elliott Sharp performed with the latest incarnation of his Orchestra Carbon, playing his 1998 composition SyndaKit (full score available) just in time for the reissue of the original recording by the German label Neos. The score includes twelve pages of short modules in varying temporal lengths, and the musicians were instructed to either play modules from their page or imitate what another musician is playing. It unfolds like the evil doppelganger of Terry Riley's "In C," alternating between driving pulses and rhythmic noise. This recording is a testament to both the interpretive flexibility that Sharp allows his performers and the inventiveness that the performers themselves bring to the performance.
Sharp's band (as of this October) includes Reut Regev, trombone; Catherine Sikora, saxophone; Rachel Golub, violin; Judith Insell, viola; Ha-Yang Kim, cello; Kevin ray, bass; Reuben Radding, bass; Marc Sloan, bass; Jenny Lin, piano; Danny Tunick, percussion; and Sim Cain, drums.
Via ISSUE Project Room » Visit Blog
» 0 COMMENTS
svenswift on 10/19/2009 at 01:10PM
This is my first post, hello all! My name is Sven Swift, I'm co-curator at Error Broadcast net- and recordlabel. We are publishing experimental Hip Hop music, mostly instrumental. Ask for a style, we prefer to put Post Dilla as tag but this is only for the first impression.

In the near future, I'll be blogging about underground Rap tapes you can find for free download usually. Today I got to let you know about the latest addition to the Error Broadcast catalogue, Frisco-based youngster Shlohmo.
Shlohmo had a bad-ass EP out in June 2009. "Shlomoshun" was extraordinary well received in the scene. His style owes a lot to Flying Lotus when it comes to the way he interloops beats and textures. It's dirty, it's sludgy, still it gets you by the neck once Shlohmo lets the wonky beats peak. However, with "Shlo-Fi", his long-awaited new EP, Shlohmo man is getting real deep. Here's the liner notes:
"19-years old Shlohmo delivers the soundtrack for the LA aftershow. His tracks swarm from dirty textures, strange sounds and obscured samples. It's not Hip Hop what you hear, but the echoes are clearly there: under the blanket the beats are alive and kicking, the compression is awful (as we love it) and from the way Shlohmo arranges his tracks, it is clear what this kid listens to at night."
Download the full free album here or listen to a couple highlights after the jump
READ MORE
Via Phlow Magazine » Visit Blog
» 0 COMMENTS
thekman on 10/19/2009 at 10:00AM
There are many ways to generate press and mythos for a band, but one of the most drastic might be to win a fistful of national awards from your home country of New Zealand, and then promptly jump ship for a small, little known town in the Pacific Northwest.

That tactic seems to be working for the now Portland based Rock/Dance Pop band, The Mint Chicks. The self described "troublegum" band has been taking advantage of their newfound relative obscurity to mix up their style with a new level of experimentation, and wow unexpecting audiences with their wild live shows.
Via KBOO » Visit Blog
» 0 COMMENTS
mwalker on 10/18/2009 at 11:15AM
Wildy versatile guitar virtuoso Marco Cappelli played ISSUE on Wednesday night (10/14/09) , offering commanding performances of notated works by Alberto Ginastera and Hans Werner Henze as well as some gripping free improvisation. On the improvs, Cappelli was joined in various combinations by guests Noah Kaplan (sax), Giacomo Merega (electric bass), Mauro Pagani (violin), and writer/director (and Blade Runner scribe) Hampton Fancher, who delivered a spoken word piece backed by the players.
I've upped the barn-burning set-closer, featuring all four instrumentalists. They rip through 12 minutes of tense, untiringly-propulsive interplay before a beautifully mournful, lyrical coda emerges.
Via ISSUE Project Room » Visit Blog
» 0 COMMENTS
macedonia on 10/17/2009 at 10:36AM
The wonderful minds behind dublab and Creative Commons have joined forces to bring you the INTO INFINITY project.  Details are still forthcoming regarding a live exhibition, but there's a large collection of visual art and audio loops available for remixing and resubmission purposes.  You can visit the official website to get a better idea of the creative possibilities such a project offers, but the audio loops are offered here on the FMA for your perusal.  Somebody far more technical than myself could already be on the path to making their own Buddha Machine.  I know I would. 
Some notable electronic and new school beat generation producers come through to contribute to the cause, such as Computer Jay, Dntel, Odd Nosdam, and Ras G.  I picked the Flying Lotus loop to offer as a sample, but you can hear all of them after the jump...
READ MORE
Via WFMU » Visit Blog
» 0 COMMENTS
jason on 10/16/2009 at 03:00PM
As Scott Williams so elegantly put it in his Atlas Sound post, Bradford Cox "totally pwned the weekend" at All Tomorrow's Parties NY this year. And there are plenty of reasons to love the guy, aside from the aforementioned ATP "antics".

For one, Bradford Cox is a damn talented musician, covering a wide range of sonic territory between his solo project (Atlas Sound) and band (Deerhunter). In Bradford's interview with Brian Turner, he revealed that when Deerhunter formed in 2001 they were inspired in no small way by hearing some early Sightings recordings on WFMU...which I never woulda guessed but now that he mentioned it, it is sure something to think about! Later in the interview, Bradford and BT bonded over a shared Fleetwood Mac obsession. I guess if you take Fleetwood Mac's pristine, artfully-crafted atmospheric pop and mix it with Sightings' dark otherworldly industrial anti-genre, Deerhunter's "ambient punk" might fit somewhere in between that broad spectrum of sound. Let's add a dimension of krautrock-inspired electronic music, and some ethereal shoegaze while we're at it. The result fits in well with this year's animalistic ATP lineup, like the atmospheric warped pet sounds of Panda Bear, and was one of the highlights of the festival (full set after the jump -->)
READ MORE
Via WFMU » Visit Blog
» 0 COMMENTS
jason on 10/15/2009 at 12:44PM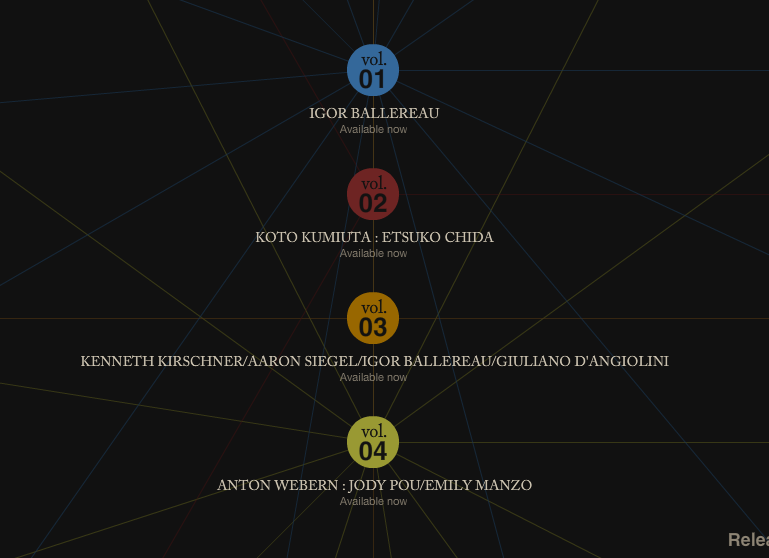 SHSK'H is a netlabel founded in November 2007 by avant-garde French composer Igor Ballereau, and the American-born soprano Jody Pou. The label curates a diverse, century-spanning mix of some of the finest avant-garde composition. The label began with Vol.1, an album featuring the spacious compositions of Igor Ballereau. (*audio samples from each album after the jump!)
Vol.2 offers three traditional Japanese compositions for koto and voice dating back to the 1600s, performed by Etsuko Chida. This is the release that tipped me off to SHSK'H, thanks to a feature on Free Albums Galore.
READ MORE
» 0 COMMENTS
lizb on 10/15/2009 at 09:00AM
Jessie Evans is a woman with her priorities in order. Moments after her arrival in Berlin, Ms. Evans met German no-wave legend Bettina Koster (Malaria!), and soon the two were making music as Autonervous. Prior to her relocation, Jessie was involved with Bay Area bands Subtonix and The Vanishing, and has collaborated with Glass Candy as well.
Most recently Jessie has focused on her own solo work, hooking up with drummer extraordinaire Toby Dammit (also a U.S. expat living in Berlin) to record the excellent dance/coldwave album "Is It Fire?" (Fantomette). Jessie's sultry vocals and lonely sax mix well with Toby's intense and complicated drumming.
The duo stopped by WFMU for an exclusive East Coast appearance on my radio show a few months ago, which you can check out here. Jessie and Toby tour extensively all over Europe and recently had a stint in Mexico, but have yet to set up many shows stateside. We hope that changes soon!
Via WFMU » Visit Blog
» 1 COMMENTS
mpvernon on 10/14/2009 at 10:45AM
Dallas Kincaid plays a brand of blues rock that hovers precariously between psychedelica and just plain psycho. His album is titled If You're a Heartbreaker, You Got a Broken Heart and it is a strange mixture of blues riffs, back alley guitar and mournful out-of-this-world vocals, sort of like George Thorogood  on 'shrooms.  It often sounds experimental in a grassroots back-to-basics way. The lyrics tend to be bizarre, a bit beat generation like Burroughs. One reviewer suggested a comparison with Captain Beefheart which makes sense too. Actually, this is quite a different and exciting record, something you won't ever hear on the usual commercial venues yet rooted in traditional country, rock and blues traditions. "Love n Fears" has a delta blues influence that reminds me of The Black Keys. "The Ice Truck Killers" is unapologetically rock and roll until it drifts into a eerie slow psychedelic jam. Perhaps the most interesting track is "Cherry Chainsaw", a soft ballad of a monologue that is somewhere between romantic and nightmarish.  If you are looking for blues rock or shockabilly country with a different slant, you may have found it.
Via Free Albums Galore » Visit Blog
» 0 COMMENTS
When I first saw the lineup for this year's Catskills edition of the All Tomorrow's Parties festival, all my excitement centered on one thing: the prospect of seeing the near-mythical NYC duo Suicide perform their (your-favorite-superlative-here) first album on the bizarre spaceship stage in the corrugated metal galaxy that is the famed Stardust Ballroom at Kutsher's Resort.  Such glory having come to pass, we're thrilled that Alan Vega and Martin Rev have consented to our sharing two tracks from their set with you.
Suicide were in a playful mood for this show, with Martin Rev gleefully pounding tonal fist-clusters on his synths, and Alan Vega doing a slow menacing prowl in his track suit and twitching along to his every echo-laden howl and yelp.
Via All Tomorrow's Parties » Visit Blog
» 0 COMMENTS