You came this way:
Home
>
Blog
FMA Blog
Recent FMA Blog Posts
This is a feed of featured blog posts from FMA users. Blog on, bloggers!
FMA Blog
This week's post was inspired by a chance encounter trawling the chiptune uploads here on the FMA. I found an upload released by Mexico City Dubstep collective Nimbo, the artist was named Kupa. The tracks, in particular, Peach Bitch, are nicely produced, and reminded me that there is a huge subset of chipmusic dedicated to dubby wobbles. We have covered the J Arthur Keene's Band before, and Jason did this article on quarta330, but there are two other great collectives you should check out as well.
 The first is newish upstart Metrodub, a singles focused label with releases from the aforementioned JAKB, Canadian mystery man ??? (I pronounced it as CONFOUNDED GRUNT) and label head Minikomi. Metrodub has been hot with its last few releases,but the biggest name in this space would have to be Jahtari, a label with both physical and online releases and an eclectic roster of electronic dubdudes like fan favorite Disrupt, as well as chip music artists like Dubmood and overthruster.
Fans might pick up on me only having a casual knowledge of this end of the chip music pool, so let me know in the comments if there is anything I am missing, and see you guys in seven!
Via True Chip Till Death » Visit Blog
» 1 COMMENTS
jason on 04/12/2010 at 05:00PM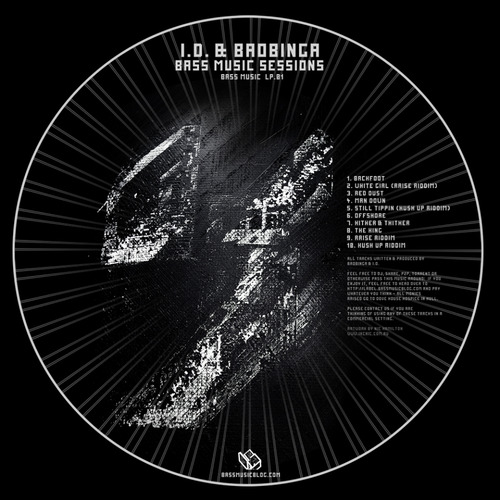 I.D. & Baobinga, a couple of the artists behind Bristol UK's influential Bass Music Blog, are keeping a "diary of a free album" to coincide with the release of their excellent Bass Music Sessions.
The 10-track album is full of top-notch, subwoofer-required tracks that've been dance-floor approved by prominent DJs like Claude Von Stroke, DJ Friction and Buraka Som Sistema. And there was some serious label interest, according to I.D.'s first blog entry, but the duo went the free/donation route -- with all proceeds going to Dove House Hospice in Hull, UK -- as "a bit of an experiment".
So how's it panning out? The statistics are included as part of the diary, and certainly open to interpretation. As of Friday's post, with close to 3000 full album downloads, it seems like 1/10 downloaders also donate, with an average donation of just under £3, totaling just under £900 so far. Not bad, but the blog also factors in pre-release planning, album mastering, promo video and publicity campaign -- all of these are costs (at least in terms of time) spent outside of the actual composition/recording. The diary also logs downloads/donations over time, and in relation to big events like a prominent review in an international print magazine, and posting stems on soundcloud. The biggest moment by far has been the day the album was released, prompting the question:
"Once its out, and the initial burst has worn off, what can you do to get more people interested, spread the word beyond the 'core' few thousand people who generally follow you, are aware of you, and have now either downloaded the album or at least checked it out?  Remix parts is one idea, we'll see how that goes, but there's got to be some more stuff we can do.  Hmm."
...and that's when they reached out to the Free Music Archive, offering to re-license under Creative Commons Attribution-NonCommercial-ShareAlike to encourage you to share this music far and wide. The tracks went up today, first and last tracks are below, but check out the full thing, and be sure to hit the "tip" button if you like what you hear!
» 2 COMMENTS
pushbinlou on 04/11/2010 at 09:52PM
Here's a nice Sunday mix of dub tracks, dubstep tracks and a little dub influenced rock and electronica as well.  FMA has a small but very strong collection of this genre and I thought I would shine a little light on it today.


Picture by Dubdem Sound System
» 1 COMMENTS
katya-oddio on 04/09/2010 at 05:09PM
Hugo "Droopy" Contini delivers hard bop from Lorraine, France to the WFMU Free Music Archive on US National Jazz Day. Contini is part of the RawBounce Records collective and the alto sax man for The Real Dealers.
Once after rehearsal, the band had the space for a few more hours, so they recorded the album, Surpriscording now hosted at the FMA.
Via Oddio Overplay » Visit Blog
» 0 COMMENTS
andrewcsmith on 04/09/2010 at 02:30PM
The trumpeter Nate Wooley recounted at the beginning of his set this interview he administered that day with the composer Tom Johnson in which Tom said a couple of things that Nate recounted for us: 1. improvisers are awful human beings 2. nothing new was happening in music period anywhere, but especially in the U.S.
"It's kind of freeing to know that there's nothing that I'll do tonight that's new," which means that he can do whatever he wants. Which means that anything that happens that night is arbitrary, not necessarily confined to a historical period.  Still, anything improvised that night is inseparable from the current time because of its arbitrary and personal quality. It is not an attempt to progress through history—to look to the future—and it makes no claims. Whatever happens happens, as someone could say.
Nate's playing is a constant expenditure of energy; there is never a moment when it seems like he is riding on his chops, or playing rehearsed licks. Or, if he is, he interrupts these licks as soon as they become standard, or sub-standard. Exhaustion is theme: maybe physical exhaustion as he circular-breathes for almost a half hour straight, or maybe emotional exhaustion, as the sounds oscillate between serenity and schizophrenia, multiple voices coming from all sides, or intellectual exhaustion, where it's all been done before anyway so anything new is old, arbitrary, and re-hashed.
Arguing the dialectic of improvisation-versus-composition does not satisfy anything. There is no dialectic if there is nothing new; if improvisation is just re-hashing old ideas, and if composition is just re-hashing slightly different (but basically the same) ideas, then what's the difference? This, which I'll repeat as a mantra from somewhere else, is that all the important things have become as one and the differences have disappeared.
Nate never said whether he agrees or disagrees, and this is improvisation; it is taking statements not as conveying information but as commands and as fact: the fact of the statement and not the fact of what the statement might refer to. The statement is fact because someone thinks it, or because someone thought of it once.
Via ISSUE Project Room » Visit Blog
» 0 COMMENTS
jason on 04/09/2010 at 09:15AM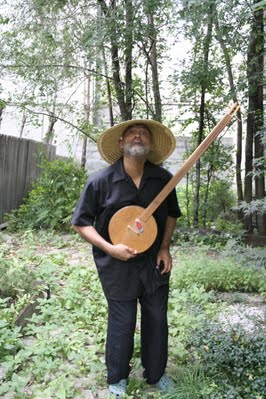 "Wow man, what were you thinking about when you wrote that?" Cooper-Moore asks himself in the note accomanying his recent retrospective. Divided into three sets and sampling work that had not been documented on his official releases (for labels like AUM Fidelity and Hopscotch), this collection is as diverse as the various identities Cooper-Moore has accumulated since 1946, when he was born, "Gene Y Ashton," in Virginia's Blue Ridge Mountains.
First, Cooper-Moore is a master musician; he began playing piano in church and turned to jazz at a young age, collaborating with the likes of David S. Ware in the 1970s. He went on to design and build instruments -- the electric mouth bow, a three-stringed fretless banjo, an ashimba-style xylophone -- which are works of art unto themselves. His penchant for creating music literally from scratch -- for building instruments from clay, paper, and bamboo as well as for his unconstrained approach to music -- is complemented by a rooted sense of art that came before, and of art as a folk tradition. For years, Cooper-Moore was the primary storyteller in a series of Sunday-night folktale sessions that took place in Brooklyn's Prospect Park, weaving ageless stories from Russia, Africa, and Native America with tales inspired by these traditions. Cooper-Moore is also a teacher and a music therapist who has given workshops around the world. A video from one such workshop, a master class in Holon, Israel (sponsored by FMA curator Halas Radio), appears after the jump.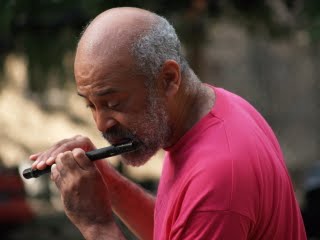 The retrospective encompasses all this and more. It includes live performances, short excersizes, and vocal pieces -- many composed for theatrical productions. Though some are purportedly fragments of a larger idea, they seem to work together to paint a larger picture; a flashback through twenty years in the life of Cooper-Moore, with snapshots of his creative mind at various points in time. Each piece is accompanied by detailed notes, available here on the Free Music Archive by clicking on the name of the song (or on the "i" that appears if you use the pop-up / embeddable player). These notes can also be downloaded or viewed online from the link in each album description.
Cooper-Moore: A Retrospective 1990-2010:  Set 1  |   Set 2  |  Set 3
In his introductory note on the retrospective's original Google Site (which he says he may take down this Saturday due to limited bandwidth, but has encouraged us to share), Cooper-Moore recalls an initial reluctance to look back rather than forward. Upon further inspection, he decided it would be a worthy endeaver "in order to gather up and move forward into the future". So this fascinating retrospective can also be thought of as a hint at what's next from one of the most creative musical minds of our time.
I've attached a few of my favorites from this incredible collection below, but encourage you to delve in to sets 1, 2, and 3 in their entirety. The FMA also hosts a fantastic ISSUE Project Room performance from a night curated by WFMU's music director Brian Turner, as well as a performance from the Brecht Forum featuring a collaboration with Elliott Sharp performed. Oh, and please follow the jump for the aforementioned video (via Halas Radio, who've also curated a performance from Cooper-Moore's duo with Assif Tsachar, Digital Primitives)
READ MORE
» 2 COMMENTS
JoeMc on 04/08/2010 at 03:30PM
Around this time last year, WFMU's own Doug Schulkind produced a wow of a compilation for his marathon fundraising premium. It was a little celebration of the brass band called Around the Horn: Brass Band Music from All Over. The CD featured bands from India, Italy, Surinam, Benin, and Mexico, just to name a few. There were even a few American brass bands on there. Sometimes homegrown, sometimes born of colonial influence, the brass band has made its way around the globe in a procession of tuba blatts and trumpet fanfares, and Doug highlighted just a few of the more interesting players in this wide-ranging parade.
If you were lucky enough to pick up a copy of Doug's premium when it was available, you know how good it is. But if you missed it, rest assured that the FMA has something that will make you feel at least a little bit better. We've got some serious brass band music here, all designed to make you jump in the air or at least grab a beer and some kielbasa.
The track I'd like to feature today is by the Zlatne Uste Balkan Brass Band, one of the great popularizers of this kind of music in the U.S. "Zlatne Uste" translates as "Golden Lips," and this 13-strong brass band sure enough has 'em. They also are one of the best promoters of the scene through their organization of the annual Golden Festival, the biggest festival of its kind outside of Europe. A New York-based aggregation, Zlatne Uste celebrates its 25th year as a working band in 2010.
"'Jaws' Čačak" is a track that originally appeared on Zlatne Uste's In the Center of the Village album (Azalea City Recordings, 1999), but here it is in a live recording from the 2010 Golden Festival, surged through at a tempo more associated with hardcore than horns. Just so you know, the brass bands were there first!
This weekend you'll have a chance to hear them do it live at the Balkan Shout Out!, a fundraiser at the Ukrainian National Home located at 140 Second Avenue in Manhattan. Zlatne Uste will be performing, as will Red Baraat, an Indian-style brass band, also from New York. If this track whets your appetite and you're in the area, do yourself a favor and experience them in person. Zlatne Uste likes to perform right in the crowd, so you can get up close and get an earful.
READ MORE
» 0 COMMENTS
efd on 04/08/2010 at 12:00PM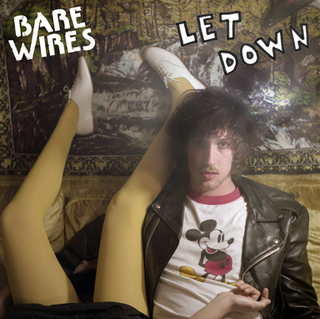 Back on the night of Tuesday, June 30, I was checking out a bunch of singles that had recently been added to the WFMU New Bin. As soon as dropped the tonearm onto "Let Down" by the Bare Wires I was hooked by the arresting feedback-laden guitar combined with the breathy, almost sweet-sounding vocals. Encouraged, I flipped the record over and was rewarded by "Looking For Some Action," which sounded like it almost could have been an old Real Kids outtake.
I played both sides of the single that night, and then played it again (just one side) the following week. And the week after that. And the week after that. I played that record for 12 weeks in a row, and the only thing that stopped me from playing it on that 13th week was that I'd gotten myself a copy of their LP, Artificial Clouds.
About halfway through those twelve weeks of repeated spins I contacted Matthew Melton, the Bare Wires' singer/guitar player/songwriter, with hopes that the band would be heading out east from their base in Oakland, CA. Sadly no such tour was forthcoming at the time, but the cliche "good things come to those who wait" is a cliche for a reason. In March they set off on an extensive tour across the country and back, and we're very happy that they came by to record a set at WFMU on what would have otherwise been a free Saturday afternoon in New York City.
Ironically, for all the talk of that single, by the time the band made it out this way they'd gone through some lineup changes and written a bunch of new songs and neither song from the single is currently in their repertoire. That's certainly not to say that their set was a disappointment - it absolutely was not. Melton is continuing to write short catchy garage-punk songs -- enough for another LP, which will be coming out in a few months on John Dwyer's (Oh-Sees, Coachwhips, etc.) label Castle Face.

While we wait for that album to come out, give a listen to this fantastic live set, which includes songs from the new LP as well as some from Artificial Clouds.

Thanks to Bare Wires for coming down, and to Diane Kamikaze for working her usual magic behind the board.

Bare Wires are on tour now, tourdates here
Via WFMU » Visit Blog
» 0 COMMENTS
Old folk songs have no need to be reinvented. They have no needs at all. But like our memories of the dead, we must resurrect them from time to time, because they cause us pleasure, dread or pain.

The central theme of Litanies in Zero Kelvin is death, the final entropy state. Death has never held any intrinsic meaning to me. But there are bound to be some spiritual mysteries involved in any attempted rapprochement. The songs I use in Litanies are not strictly speaking sacred, though their intentions are often just that.
The sources are mostly old Russian folk songs and English ballads. The imageries of the words, but also the cosmologies which inspired these songs, have moved and terrified me since the day I learned to sing them. James Joyce's one hundred letters of The Fall are a natural choice as facilitators of the transition from the old and familiar to the new and incomprehensible. As is it's contemporary - the theremin with it's space-age connotations.
READ MORE
Via Clinical Archives » Visit Blog
» 0 COMMENTS
Calebk on 04/06/2010 at 04:00PM
Like much of recent pop music, synths have found their way into adventurous musics. Influenced by no-wave and Suicide, acts like Knitted Abyss, and Hoffman and Hopkins (both bands are formed from The Holy Balm and Naked on the Vague) have been performing in the shop front and small spaces that have cropped up around Sydney in the last few years. Serial Space, Locksmith and Sedition have become the stage for often very small gigs (Sedition, a barbers by day, is the smallest  comfortably holding 20 people (counting the band)).
Both Knitted Abyss and Hochman and Hopkins feature in the Sydney Sound exhibition at ISSUE opening on Wed 7th April.
Via ISSUE Project Room » Visit Blog
» 1 COMMENTS