You came this way:
Home
>
Blog
FMA Blog
Recent FMA Blog Posts
This is a feed of featured blog posts from FMA users. Blog on, bloggers!
FMA Blog
jason on 01/14/2010 at 11:00AM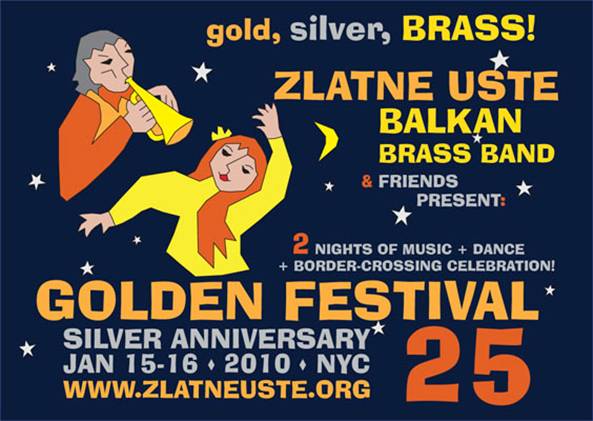 Every January, NY Balkan music scene pioneers the Zlatne Uste Balkan Brass Band organize the Golden Festival - a massive two-night grassroots Balkan and East European music and dance festival at the Good Shepherd School, 620 Isham Street in the Inwood section of Upper Manhattan.
The Golden Festival is New York's largest Balkan music event, with multiple stages, Balkan & Middle Eastern refreshments, Balkan arts vendors, as well as beautiful Balkan textiles on display.  From international stars to local musicians, modern Balkan stylists to folk traditionalists, over 40 bands provide hours of ecstatic listening, dancing and partying. (via Zlatne Uste's website)
The Golden Festival celebrates its 25th anniversary this Friday and Saturday, and tickets are available here.
For those who won't be able to attend but want to live vicariously, Rob Weisberg's Transpacific Sound Paradise program will broadcast live on WFMU this Saturday from 6pm until midnight NY time. The TSP broadcast will take place from one of the festival's three stages, the "Kafana" stage (Kafana is Serbo-Croatian for "cafe"; and the broadcast hq will once again be conveniently located right next to the beer line!).
To get an idea of what's in store, here are a few highlights from last year's TSP broadcast.
READ MORE
Via WFMU » Visit Blog
» 0 COMMENTS
lizb on 01/14/2010 at 08:30AM
» 0 COMMENTS
BTurner on 01/13/2010 at 12:45PM
Via WFMU » Visit Blog
» 0 COMMENTS
Jacklebee on 01/13/2010 at 09:51AM
Via KBOO » Visit Blog
» 0 COMMENTS
andrewcsmith on 01/13/2010 at 08:46AM
Via ISSUE Project Room » Visit Blog
» 0 COMMENTS
Via Creative Commons » Visit Blog
» 4 COMMENTS
Via True Chip Till Death » Visit Blog
» 0 COMMENTS
» 1 COMMENTS
jason on 01/11/2010 at 08:50AM
Via WFMU » Visit Blog
» 0 COMMENTS
katya-oddio on 01/08/2010 at 02:04PM
Via Oddio Overplay » Visit Blog
» 1 COMMENTS