Welcome to the Free Music Archive
"It's not just free music; it's good music."
cheyenne_h on 10/23/2017 at 03:03PM
Last year, the Freeharmonic Orchestra made its debut with "Freeharmonics Vol. 1," a groundbreaking round-robin music project that spanned the globe. I interviewed a couple of the artists last year for Radio Free Culture when the album dropped. This year's project is called "Space, Robots, the Future!" and features an impressive roster of musicians: Steve Combs, Lonely Punk, simon_mathewson, Monplaisir, Tapes & Tubes, Scott Holmes, gentil, Monk Turner, Matt Oakley, springtide, Ketsa, Art of Escapism, Jahzzar, Nic Bommarito, Matteo Berni, half cocked, Unthunk, Blue Dot Sessions and Small Colin. Needless to say, it's a profoundly varied listen and was a labor of love by these artists. Check it out (for free of course!) right here. I asked a few of the artists to tell me about their experiences and you can read answers from Simon Mathewson, Offal Tunes & springtide (lightly edited) below.
FMA: How did you get involved with the Free Music Archive?
simon_mathewson: I make music and put it on the FMA. In the past I've put music on Myspace, Soundcloud, Mixcloud, Bandcamp etc but I've found that people who use the FMA to find music are far more responsive and my music has been used for film, animation, games, choreography, documentaries, podcasts and more.
Offal Tunes: I have been a participating artist on the FMA platform since July of 2015 and have been releasing material on the site ever since. At first I put out a bunch of tunes by a band called Bad Ronald until they broke up late in 2016. At that point I put together a new act called half cocked. Through the site I have been contacted more than a few times by video artists looking to use our material for their projects, which I found quite exciting. That has never happened on any of the other music distribution sites I have worked with. I also volunteer my time helping produce live sets for the WFMU community as well as helping out with some of the site's curatorial duties. It is a labor of love and I am thankful for the services that the FMA provides!
springtide: I'm the only member of one-man band called springtide. I have been releasing my tunes on FMA since 2012, and it allows me to connect with listeners around the world, including talented videographers.
FMA: Where do you live and make music?
simon_mathewson: South West England.
Offal Tunes: I reside in Manhattan and can be found walking the streets of the East Village with my rat terrier, Jackie.
springtide: Tokyo, Japan.
FMA: How did you become involved with the Freeharmonic Orchestra?
simon_mathewson: Last year I made an album with Steve Combs and he suggested the idea getting lots of FMA musicians together to make a collaborative album. He organised Freeharmonics Vol 1 and I organised Vol 2 (Space, Robots, the Future).
Offal Tunes: Simon Mathewson, who put the whole thing together along with Steve Combs, contacted me through the FMA site back in 2016 to ask me if I wanted to participate in a musical version of an "Exquisite Corpse" where artists would begin a composition and hand it off to someone else for completion. I loved the idea from the get go and agreed enthusiastically. I had a blast working on both projects!
springtide: I didn't know about this project before Simon asked me if I'm interested in this type of collaboration. Actually, I have no idea why Simon selected me ;-) 
FMA: Tell me about the song(s) you worked on.
READ MORE
» 0 COMMENTS
cheyenne_h on 10/20/2017 at 06:49PM
This year, WFMU (our BFF's and the reason why FMA exists) is running a new October fundraising campaign: INTO THE BLACK! They want to get more people to help them with sustaining monthly donations to offset monthly expenses, and are offering handsome rewards in return. If you can, please consider donating to WFMU. Specifically, you can support WFMU + FMA by donating to support our radio show, the FMA Listening Party: 
» 1 COMMENTS
cheyenne_h on 10/20/2017 at 06:28PM
Experimental curator Mumure Intemporel has brought a new album to FMA, and just in time for Halloween. Called "Paranormal," this album by CorteX is a sonic exploration of fears, dark corners of the psyche, and what lies beyond this plane of existence. Laden with haunting vocal samples and shortwave effects, this release is not for listening in a dark room, alone. Bridging noise, experimental, musique concrete, electronic effects and more, this album is spooky even if you don't believe in ghosts. 
» 2 COMMENTS
massdist on 10/13/2017 at 06:35AM
DONKEY DISASTER, ACLSDC, TANQUERAY, JESUS CHRUST, MIAGI, MR. TONX, 2000 FLUSHES, MONKEYS, RAWDAWG REX, POESTENKILL, and SHARK MOUNTAIN!!!
That's 11! 11 bands newly up on the FMA. Stoked. These records run the gamut. Dig in. Get deep. Thanks! MassDist
» 1 COMMENTS
Song Of The Day Podcast: SUBSCRIBE TODAY!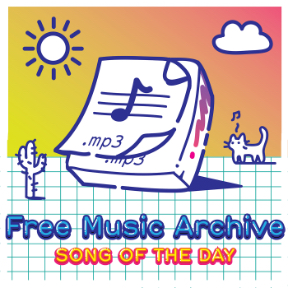 Hop over to iTunes and subscribe today to our long-running Song of the Day podcast! A Creative-Commons licensed, curated song for you to listen to every weekday. You can also find them via our Twitter & Facebook feeds every morning.