Welcome to the Free Music Archive
"It's not just free music; it's good music"

cheyenne_h on 04/25/2017 at 06:58PM
The commons is the largest collection of free and open knowledge in the world, and the Free Music Archive is proud to be part of it! To get some idea of how vast this amoeba of media, tools, and knowledge is, you should take a look at a report that was just released: the State of the Commons Report!
The numbers are in, and according to Creative Commons, there are more than 1.2 BILLION works shared with CC licenses floating around the web now. 65% of these works are shared under "Free Culture" licenses, which are CC BY, CC BY-SA, and CC0 (as well as other Public Domain tools). All CC licenses grant anyone who encounters a work certain permissions; "Free Culture" licenses are the most permissive and open, allowing for remixing, use in audiovisual projects, and more. The other licenses, which still allow for various types of use and access that standard copyright does not, make up the remaining 35% of the commons.
All of the licenses (aside from public domain tools) are built with cooperation and citation in mind, so if you use CC material, please follow the licenses and be excellent to each other (by giving attribution, for starters - here's an easy example).
Some notable additions this year are the NY Metropolitan Museum of Art, which added 375,000 works to the public domain using CC0; The Global African Storybook Project, which crowdsources translations of children's stories in languages not often considered by publishers to broaden access and encourage literacy; The British Museum, which released 128 models to Sketchfab; and our very own Freeharmonic Orchestra got a shout-out in the highlights section!
Other sources for CC audio listed in the report include Jamendo and Wikimedia Commons, but there is also a wealth of CC-licensed music in the Internet Archive and lots of free, re-usable sounds over at freesound.org.
Do you have other favorite spots to look for audio in the Commons? Comment below! And don't forget to read, excerpt, share, and tweet the report at http://stateof.creativecommons.org with the hashtag #sotc.
» 1 COMMENTS
cheyenne_h on 04/25/2017 at 01:29PM
The FMA's Terms of Use indicate that the intended audience for our archive is anyone 13 or older, but there are tracks on FMA appropriate for listeners of any age. But how to find them??
Lots of music on our site is available for use in noncommercial, educational contexts, so it's no surprise that teachers come looking for music they can use in student projects and for general classroom use. (Psst - if you're an educator with questions, check out our special FAQ, just for you!) But looking for audio that's safe for non-commercial use doesn't always return the most kid-friendly results. 
There's the netlabel for kids, Kazoomzoom, has been with FMA for years, and releases with names like "The Ambient Baby" -- but we wanted to make a better, easier way for parents and teachers to find music they could use.
Our best solution to this was to incorporate a new genre tag, "Kid-friendly," which collects all music that is either by kids, for kids, or both! If you cruise around this page, you'll find all sorts of stuff - songs about pants that try to ride a bike on their own, pirate songs, bouncy chiptunes, and much more! However, some of these songs may have lyrics or themes that are intended for specific ages within the kid-friendly range - so we ask that parents and educators still preview the music before sharing it with a younger audience. 
Are you a parent or educator looking for instrumentals? Try Podington Bear's short & catchy CC BY-NC instrumental treasure trove (and it's safe for use in video!) or the fabulous collection of classical music from the Isabella Stewart Gardner Museum. 
Do you make music for kids and want to add yours to the collection? Get in touch or comment below!
» 0 COMMENTS
Being a rapper I find one of the biggest challenges is to find stuff to write about. Having already done my song about finding the remains of an angel, and a whole album pretending to be a galaxy spanning space captain hip-hop extremist, I needed to find something else to talk about.
A few years back I was reading the news about Iraq and Afghanistan and what the article didn't give me was the 'why'. Why was it happening? What was the history which drove the behaviours? Who wanted what outcomes? What could be done about it? So, to help me understand I read a few books about recent events by investigative journalists and a few books about history and then a bit of Noam Chomsky – and after all that I was quite depressed and didn't fancy our chances as a species. But I did have a new perspective and some thoughts to write about!
All Eyes and Teeth – which is now available on FMA – was intended as a side project to work on while other band members finished another release. The way the band works is that we pretty much let each member explore any avenue they want allowing us to develop new styles on side projects and then bring it back into the mix on the more joined up albums. For All Eyes and Teeth I wanted to distil what I was learning, bringing it all together, and bring it to life. So the album starts with a general statement of dissatisfaction (All Eyes and Teeth) and ends with a positive view of the future.
Along the way there is a track on the state of journalism, the emotional stress of dealing with it all, the patterns of social power, and a few more positive tracks as it's not all impossible. And a few tracks where I talk shit with Quiet Man and Obsolete about how good we are as rappers and how cool we are and stuff. You have to do that on rap albums. It's tradition.
Words aside, the music on this album is a mix of funky beats from Tuck Pendleton and Watchmaker's slightly less sample driven and more programmed electronic tinged beats. I wanted a variety and order of tunes to keep the album moving forward – keep the listener listening. Watchmaker and Tuck did the damage and made some excellent beats that we polished till they were solid and Just Right. Tuck has frequently voiced his opinions through vocals samples and he did that here on the Interlude tracks adding new angles on the same subects I was to talking about.
So… now that it's done I can say that it's come out sounding better than I had hoped. I'm delighted that we've created the album I wanted to hear. Goes without saying that some folk will like it and some folk won't but I'm hopeful that the intention and love that we put into this is apparent. Hope you all enjoy it!
» 3 COMMENTS
Bozoo on 04/18/2017 at 02:09PM
For its 33rd release, Da ! Heard It Records dives into the origins of Creation.

Recorded in five days in London, at James Ogilvie's studio in 2010, Dragon's Teeth is the confrontation of eddie 135's experimental tweaks and Shitblaster's science of mix. Saturated like the oil from the fish and chips that three musicians greedily gulp up between two work sessions, the series of improvisations produced by Adrien, Matthieu, and James one evening, serves as the sizzling play-do used to conceive this future disc. From this initial magma that blends rhythm boxes, Juno synthesizer, and a deluge of pyrotechnical effects, accidental beaches form and reveal little by little large blankets that wrap the listener into an actual flow of lava. Petrified, the listener thus takes all the time needed to let oneself become invaded by the ensemble's numerous textures…

Taking everything with them on their way, the four gobbling geezers deployed here evolve in jolts to bring back from the depths this mysterious dragon's tooth. Instinctive, brutal, yet mastered, this album's boiling energy proves once more that the first idea is often the right one.
Dragon's Teeth, the 33rd release of Da ! Heard It Records, is distributed under a Creative Commons License BY-NC-ND. The album is available for free listening and downloading at the following link: http://www.daheardit-records.net/en/discography/dhr-33 & http://freemusicarchive.org/music/Eddie_135__The_Shitblaster/The_Dragons_Teeth/
Via Da ! Heard It Records » Visit Blog
» 1 COMMENTS
Music Licenses: A Handy Guide!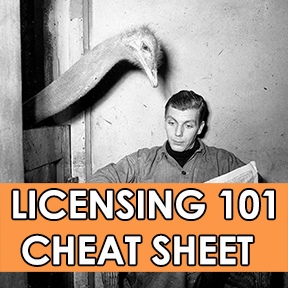 Go ahead and take a peek at our License Guide, assembled as a quick reference sheet for the variety of music licenses we carry on our site. From the array of Creative Commons options to the FMA-Limited to Public Domain dedications, this guide tells you what you can - and can't! - do with the music you find here. 
Browse by Genre
Blues
Classical
Country
Electronic
Experimental
Folk
Hip-Hop
Instrumental
International
Jazz
Old-Time / Historic
Pop
Rock
Soul-RnB
Spoken