Welcome to the Free Music Archive (Beta)
"It's not just free music; it's good music"
cheyenne_h on 10/01/2014 at 01:15PM
Friends, Romans, FMA'liens:
Hi! I'm excited to be at the helm of this Really Big Ship as the freshly-minted Director of the Free Music Archive. That said, I'm brand new, so bear with me if things are a little wonky while I get my sea legs. A little about me: I'm Cheyenne. I'm from Kentucky. I'm a librarian and zine writer (mostly about karaoke), and I've been involved with College & indepednent radio projects for many years, including Lexington, KY's beloved WRFL 88.1 and Bowling Green, KY's WWHR 91.7, where I cut my College-Radio baby teeth. 
I'm excited to be working with so many musicians, curators, labels, and cool people in general - and to be a proponent of Creative Commons, which is helping to redefine music and art in the digital age. So glad you're here - say hi, and get in touch. I look forward to working with y'all!
I'll sign off with a track by Protomartyr, who recently appeared at the Cropped Out music fest:
» 1 COMMENTS
Via White Market Podcast » Visit Blog
» 0 COMMENTS
lizb on 09/08/2014 at 03:45PM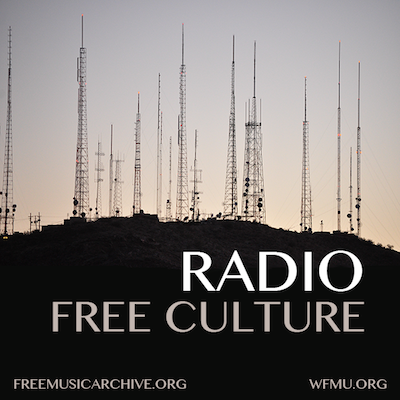 WFMU and the Free Music Archive are proud to present a new season of Radio Free Culture, a weekly podcast exploring issues at the intersection of digital culture and the arts. Our season opener is a two-part interview with FMA pal Elliot Harmon, Communications Manager at Creative Commons. We couldn't have imagined a better way to bring back Radio Free Culture than to take a look at the current state of affairs at our favorite alternative licensing operation.
Check out the first episode here, or subscribe to the podcast here (via iTunes).
» 3 COMMENTS
LCL on 09/01/2014 at 03:26AM
Out of our usual line, we're releasing a HipHop album straight from Ukraine.
Sun Sunych offers you "Hybris", a 15 tracks LP in russian & english with many featurings.
Heat from the east !


Check the release page on FMA for more information : http://freemusicarchive.org/music/Sun_Sunych/Hybris
» 2 COMMENTS
FMA Song-O-the-Day
Subscribe to the FMA's Song of the Day podcast to get hand-picked audio gems delivered to you each and every weekday. It's an easy way to dive in to the FMA's amazing catalog and load up on new music. Subscribe here!
Browse by Genre
Blues
Classical
Country
Electronic
Experimental
Folk
Hip-Hop
Instrumental
International
Jazz
Old-Time / Historic
Pop
Rock
Soul-RnB
Spoken
e