Welcome to the Free Music Archive
"It's not just free music; it's good music"

cheyenne_h on 06/21/2017 at 05:46PM
Here we go again! Net Neutrality is at risk, and we're coming together to push the FCC to preserve a neutral net. In the spirit of "THIS AGAIN?!" we have delved back into the FMA's own podcast archive and pulled a bunch of samples from our podcast about Net Neutrality from 2014 with Michael Weinberg from Public Knowledge (back then - he now works for Shapeways, and we interviewed him about IP and 3D Printing too). We've released the following soundbytes using CC0, so we encourage you to remix them to your heart's desire! 
Our friends at ccMixter are joining the fray - if you want to contribute to the music-making process over there, find out how you can Remix Net Neutrality.
Need stems or other bits of audio to use? No prob! We have a few beat pack and stem packs (Loop Mania, Bonus Beat Blast, Not Drunk) and of course there are tons of resources for this purpose over at ccMixter.org and freesound.org.
Of course, you're also welcome to grab something from our vast Public Domain/CC0 collections and mix with those, including our microSong Challenge and Masters Remastered Challenge, all of which have been released into the public domain by the goodwill of FMA artists and contributors! 
» 7 COMMENTS
cheyenne_h on 06/15/2017 at 03:34PM
Remember all that hullaballoo a couple of years ago, when #NetNeutrality was the rallying cry on the interwebs? That simmered down, but it's about to boil over again. If you don't remember what "net neutrality" is, it's the idea that ISPs (Internet Service Providers) should allow equal access to all content and applications online, regardless of where it comes from, and without favoring or blocking specific sites or applications.
If net neutrality is taken away, it can spell disaster for the current web. One scenario puts many sites at risk that depend on their communities for participation, traffic and support (y'know, like the site you're looking at right now).
Current FCC Chairman and former Verizon lawyer Ajit Pai wants to change the rules for cable companies, giving them even more control over what users can see and do online. There have been a few pushes for net neutrality advocacy since Pai became FCC Chairman, including John Oliver's "Go FCC Yourself" bit that temporarily jammed the FCC comment form.
Fight For The Future and dozens of websites, including our friends Kickstarter, Vimeo and of course, Creative Commons, will be participating in the Day of Action. The deadline for first comments to the FCC is July17th, so on July 12th the web will come together and raise the banner: it's time to speak up. If you want to find out more about how to get involved, visit https://www.battleforthenet.com/july12. 
» 2 COMMENTS
Bozoo on 06/11/2017 at 06:24PM
(english sub available on youtube) - listen album on fma - listen album on d!hr website 
For its 34th release, Da ! Heard It Records is warming up the machines to trace some new paths.
Impendulo is C_C's new cassette.
Packaged in quasi-monochrome illustrations with quasi-absurd architectural tendencies, the visuals emphasize the kinetic art and foreshadow what one is about to hear: chain reactions and strange angles; it all moves and it all hits.
This cassette is an absolute beat garage!
Think of a little place where things are done by hand, geared towards total customization, fine-tuning; truly without concession and C_C is the boss. He's the one with his nose under the hood and adjusting everything by ear. In total contrast with factory and chain-work sound, C_C knows how to use a system as Low-Cost as Low-Fi. Not afraid of getting his hands dirty!
The electronic sound is played from the fingertips, and it's audible: the patterns aren't dull and the rhythms brilliant.
It also plays with codes, and plays with them in a laid-back way, arm hanging out the window, headlights fully on. It advances tirelessly, entertaining without using, definitely more auto-reverse than auto-stop. Natural born bottom-of-time, C_C plays it in four-wheel drive, for all terrains, and completely versatile in all respects. He alternates straight hitting lines, feedback turns, and reverb drifts, and allows himself to ride right in the middle, his kick as pressed as the pedal, larsen melodies comfortably settled in the backseat.
At full speed, it's blinking from all sides, counterpoint at every corner. With always one ear on the rearview mirror, and the GPS evidently out of order… drifting away from the roots is inevitable. In Impendulo, one is thus neither here nor there, but rather on unknown territory with no markers, never safe, but always sound. Welcome to the fourth (rid)dimension, this four-track game that summons hormones and neurons, active listening, and active dancing.
The drum is electronic and its skin is unbreakable, and in a thousand miles, it will still be playing, unfettered. One hit up, one hit down, the rhythmics spar without any low hits and most importantly without the rotundity that fishing for sound can bring. With C_C, it's refined and chiseled by ear on the mixing side. The composition is stripped of anything superfluous, reduced to the bones, and you feel it in your bones: trans, love it or leave it.
Impendulo, the 34th release of Da ! Heard It Records is distributed under a Creative Commons BY_NC_ND license.
The album is fully listenable and downloadable at the following address:
http://www.daheardit-records.net/en/discography/dhr-34 
Mastering by Fabien Meunier - Illustration by Pia-Mélissa Laroche - Press text by Arnaud Rivière 
Via Da ! Heard It Records » Visit Blog
» 2 COMMENTS
Alpha_Hydrae on 06/07/2017 at 07:56PM
Hey there !
I've just released the 5th volume of It's time for adventure !, that I think will be the last one for this idea. It was at start kind of nothing. I was doing a soundtrack for the 10th anniversary of a RPG forum I used to play on. But I had a good time to do it so I continued, with a bigger idea of the concept. It was really great to do, and I'm really glad that people use and remix it in video and sometimes in videogames. You guys are making my dreams come true. Thanks a lot.
Here is a playlist with all tracks from my Komiku's project I think accurate for my vision of the potential game I've in mind. But it's just my vision of the stuff, you can do your if you're enough bored to do something like that :p
I think I'll continue doing stuff around RPG videogame soundtrack, but maybe it'll be a different ambiant, more accurate, because it's like a mess here ! Or maybe a fighting game soundtrack, like hyper speed bossa nova like in Marvel VS Capcom game or stuff like that. Could be fun.
Thanks a lot for using and remixing my music, You're all awesome.
Enjoy !
best,
Monplaisir 
» 6 COMMENTS
Submit A Recipe to our Audio Cookbook!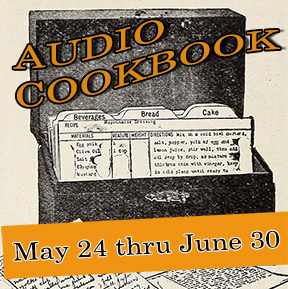 Want to contribute to the FMA's very own Audio Cookbook? Send a recipe song or recording for review on the contest page! Food and drink recipes are welcome! Songs are preferred, but spoken word tracks are OK too. Everything submitted will end up in the Public Domain using a CC0 license, and a lucky contributor will win a prize! Enter here until June 30th.
Browse by Genre
Blues
Classical
Country
Electronic
Experimental
Folk
Hip-Hop
Instrumental
International
Jazz
Old-Time / Historic
Pop
Rock
Soul-RnB
Spoken