Welcome to the Free Music Archive
"It's not just free music; it's good music."
The new release by Parallel Park draws on the band members backgrounds of punk, psychedelic and krautrock, creating a genre-shifting album held together by the tracks rough "demo" feel. Hence the album title.
Via Nul Tiel Records » Visit Blog
» 0 COMMENTS
Just about twenty five years ago, I stopped playing my guitar in the regular EADGBE tuning. In fact, I had stopped playing guitar long enough to intentionally forget a lot of what I'd learned in that tuning. When I resumed my playing, I began tuning the strings on my guitar to whatever felt (and sounded) good to me. After awhile, I decided to look for other alternate tunings when, by chance, I stumbled across a few online articles mentioning that the standard tuning for all instruments (A = 440 Hz) was something that had been imposed / mandated by "those in power" with less than wholesome intentions. Since the nature of the notion is conspiratorial, comment sections of related articles and videos were chock full of comments bashing those that felt that A = 440 was not a healthy tuning. I began to wonder why people would go out of their way to bash someone else's belief concerning a topic that's seemingly not all that important. The amount of bashing that I saw was enough to lead me to believe that those doing the bashing were doing so for a reason. Reading and partaking in online arguments on the subject seemed to be nothing more than a waste of time and energy so I decided to see for myself. What I found by playing in A = 444 Hz is that the tuning actually resonates with my physical being a lot more than it does if I were to tune to A = 440 Hz.
I recently came across this video for the CymaScope app. This app includes a small circular keyboard and the ability to see the actual cymatic geometry that's created by different tones by using one of three different tunings. (A = 432 Hz, A = 440 Hz and A = 444 Hz) While the demonstration in the video doesn't show the geometry of those five simple notes that were made famous by 'Close Encounters of the Third Kind' in 432 Hz, it does show the geometric effects of those five notes in 440 Hz and 444 Hz. It may be a matter of opinion but, to me, the patterns created by A = 440 Hz are rather sloppy and lack the symmetry and beauty of the patterns created by A = 444 Hz.
Seeing might not be believing so you might have to do just as I did and shut the world off, put aside any preconceived notions, pick up your instrument of choice and experiment. I found a lot of folks that mentioned that A = 432 Hz was the 'correct' tuning. While that might be a tuning that resonates well with some people, it didn't resonate as well with me and the open tunings that I use. When I first tuned to A = 444 Hz, it felt like I'd arrived at home after a long trip (for lack of a better way of describing it) After having felt and heard the differences first-hand, I'll never go back to using the A = 440 Hz tuning.
A search on the subject yields a lot of results that can be seen as religious or 'new-agey'. The majority of results actually make a lot of sense. The trick is to not be dissuaded or put off by the 'out there' stuff and keep a very open mind. As I previously mentioned, try the different tunings for yourself and you can be the judge. Outside of Jay Z's 4:44 album, John Lennon's 'Imagine' and a handful of Paul McCartney concerts, there isn't a lot of 444 Hz music available that's not under the 'new age' / religious category but that doesn't have to be the case.
The Free Music Archive is a great musical resource but I feel that music can't really be free, or played freely, if it's blindly played in an imposed standard tuning. We live in a world where we're constantly bombarded with unhealthy and unregulated frequencies that the human body cannot readily detect. If we can allow ourselves the choice to create, listen to and share music that carries with it a healthier frequency, the world might become a better place. If you (or your band) have music that's been recorded in A = 444 Hz (or A = 432 Hz) feel free to add a link in the comments section below. My Ünspecified collection is all A = 444 Hz as is 'Squeaky Wings' and 'Brother Christmas'.
As the Nikola Tesla quote goes, "If you want to find the secrets of the universe, think in terms of energy, frequency and vibration"
» 0 COMMENTS
Via Murmure Intemporel » Visit Blog
» 0 COMMENTS
Bozoo on 06/14/2018 at 06:37AM
For its 37th release, Da ! Heard It Records sends your ears into orbit.
Why, who could these mysterious characters, the Fragilos, out to discover apparently unknown territories be? Take the time to follow their adventures through this UFO-reminiscent album that encapsulates a few instants of their stealthy existence in 13 pieces …
In the style of the illustrative discs of the seventies and eighties from which Phillippe Brown draws inspiration, the titles of this cassette's compositions are clues themselves designed to stimulate the listeners' imaginations. Thus, by holding the sleeve drawn up by Man Oroa while listening, each will be able to make up his or her own little story and discover the naïve-sounding, yet far from obvious, melodies.
One will thus go from one moon to the next without ever fully landing, floating softly above the ground among the bossa, zouk, or oriental rhythms and cinematographic atmospheres imprinted as much with second degree as with light melancholy.
Attracted to a musical era he didn't experience but of which he uses the codes with style, Philippe has the characters evolve well beyond the musical frontiers we sometimes burden ourselves with. With this fictional original sound track at the crossroads of genres and eras, he visibly goes very far away, so far that everything leads us to believe that this dreamer of a musician most certainly has his head in the moon!
L'Alunissage des fragilos, the 37th release of Da ! Heard It Records is distributes under a Creative Commons License Y-NC-ND. The album is available for free listening and downloading at the following address: http://www.daheardit-records.net/en/discography/dhr-37
Via Da ! Heard It Records » Visit Blog
» 0 COMMENTS
Celebrate Surf Music Month!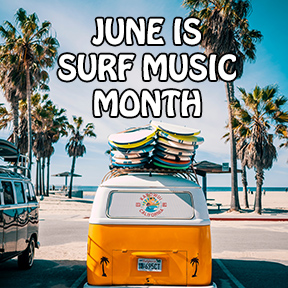 Love the sounds of SURF MUSIC? So do we! June is International Surf Music Month, so celebrate with us by enjoying some of our surf tunes or submitting your own until July 1!
Guidelines for submitting tracks can be found here! 
Listen to the surf songs that have been submitted here!