Welcome to the Free Music Archive
"It's not just free music; it's good music"

cheyenne_h on 05/22/2017 at 06:15AM
You may recall some news we shared last summer about a music dataset that was in progress - now it's complete!
Michaël Defferrard, Kirell Benzi, Pierre Vandergheynst & Xavier Bresson, a team of researchers interested in MIR (music information retrieval), have put together some audio datasets using the FMA's collection! They have written a paper about the FMA's potential as a viable and legal option in digital audio research. Since recorded music is often fraught with copyright concerns, machine learning sets for music have been hard to find, or not sufficient for some projects. You can find the datasets on GitHub.
The FMA's dedication to the Creative Commons philosophy of sharing has been a boon for artists, educators, and researchers - as well as, of course, listeners! Hopefully this dataset will be widely adopted for use by MIR researchers. It seems to have already been well-received via Twitter: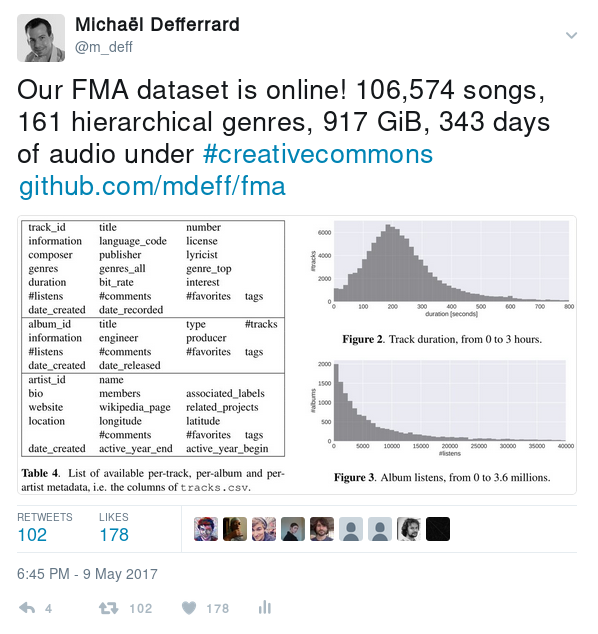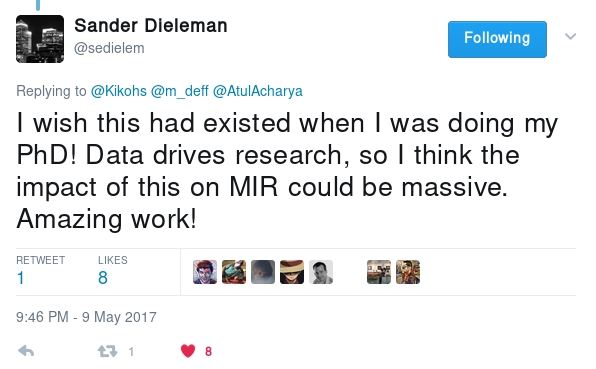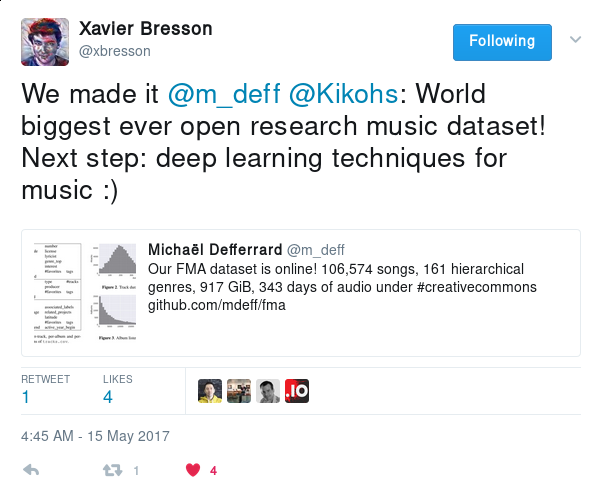 A great big THANKS go to this team for thinking of FMA and sharing our collection with a new audience, for a new purpose, in a new way! We look forward to the cool projects that will stem from their efforts.
» 0 COMMENTS
cheyenne_h on 05/21/2017 at 04:26PM
FUN FACT:
Recipes are not subject to copyright! (Yep, it's true.)
But there are just not enough songs about recipes, or containing recipes, to satisfy us. We want you to help make our songs-about-food dreams come true!
Do you have a favorite recipe (or five) you'd like to share with the world? We have just the opportunity: the FMA's Audio Cookbook! It'll be an audio compendium of recipes, all free and dedicated to the Public Domain using the CC0 Public Domain Dedication tool, so anyone can use the recipes however they'd like.
So, here's how it'll work:
Choose a recipe you want to share. (If it's from a cookbook that's still protected by copyright, it's OK to share the ingredients and the directions - but any commentary or descriptive wording should be your own. Don't plagiarize, or you'll get disqualified.) Don't have a recipe in mind? Check out our resource page for inspiration!
Compose a song or make a recording containing the recipe. Songs must contain a recipe to be eligible for the Audio Cookbook. Recipes must be for food or drinks; recipes for home cleaning products, for example, are not eligible. Questions? Email us at contact [at] freemusicarchive [dot] org.
Submit it on the Audio Cookbook album page (along with your FMA username, the name of the band/artist, song title, and please include the text of the recipe from which your recording was derived - or a link to the place where you found it). You must have an FMA account to submit a song; if you don't have one, sign up for free here. Songs are reviewed before they are 'published' so if you notice yours doesn't pop up within a day or two, let us know.
Rinse and repeat as many times as you like!
Make sure your song is original - singing a recipe to a traditional (read: public domain) tune is fine, but putting your words to a current song that's protected by copyright can get us into hot water! Please don't do it.
We will accept entries from Wednesday, May 24 2017 until Friday, June 30 2017. One lucky artist or band will be selected as the reigning Audio Cookbook champion, and they will win a prize for their efforts!
Want to record yourself givng instructions for how to make a favorite appetizer, entree, dessert or drink, maybe with some musical accompaniment? Do it!
Want to get arty and record the sounds of veggies being chopped up, or something sizzling in a pan, with narration? Sounds tasty!
Want to write a ditty with the recipe of your choice as the lyrics for the song? We want to hear it!
Want to liven up your Aunt Gertrude's recipe for zucchini bread with some harmonica and throat-singing? We strongly encourage you to do so!
Is your favorite recipe a surrealist series of instructions that results in a three-foot-tall sandwich that nobody could eat? Well, okay, that's cool too!
However, we gotta draw the line somewhere. If it doesn't contain a recipe for SOMETHING (theoretically) edible or drinkable, we won't share it. Rules is rules, and we don't want anyone poisoning themselves with your ah-mazing idea for kitty litter ice cream. Save it for another contest.
» 4 COMMENTS
cheyenne_h on 05/09/2017 at 09:59AM
We are SO EXCITED to tell you about our newest project - the FMA Listening Party! A weekly, one-hour program that will bring selections from the FMA to your ears (and eyes, if you choose to join us for the weekly playlist and chat).
The show will consist completely of music from the FMA (with an occasional chat with a guest or co-host), hosted by FMA Director Cheyenne. We teamed up with Give The Drummer Radio (or GTDR, a WFMU-affiliated webstream) and have a place in their weekly schedule: from 3-4pm (Eastern) on Tuesdays. Huge thanks to Doug and the Stream Team for making it possible, and welcoming us into their family of dedicated, incredible DJs!
We'll also share the playlists weekly, so you can download everything in one easy place, if you enjoyed the show. We hope you'll join us today for our very first Listening Party, right here.
» 1 COMMENTS
rosso on 05/08/2017 at 03:02PM
Our sincerest apologies for the FMA site outage this morning which lasted from roughly 7:00 EDT until 14:00 EDT.  In the interest of increased transparency about the FMA's operations, I've decided to write this brief entry describing what happened today.  We have a very small staff and I wasn't able to begin rectifying the outage until about 11:30 EDT.
What happened?
Certain types of requests made to the FMA's servers are logged directly in our database.  The size of these logs reached a point where the hard disks on our database servers were filled to their capacity.  When that happened, the database servers (a master and several read-only replicas) became completely unresponsive.  Since the site relies entirely on our database cluster, no pages could be rendered and no api requests could be completed--end users saw a giant error message!
What was the solution?
As soon as I was able to begin working on the problem, I put the maintenance page up and began downloading a snapshot of the logs which filled the database servers' hard disks.  This took much longer than anticipated.  Once I was able to retreive the data, I truncated the tables in question (truncated meaning deleting all data in the tables--a database table is similar to a spreadsheet).  After that, I waited for the read-only replicas of our master database to catch up.  It's not enough to restart the site with only the master database running--the site depends on the read-only replicas as well.  I waited almost an hour for the read-only replicas to catch up, but they didn't.  Due to the nature of our hosting provider, it was faster to delete the read-only replicas and create new ones.  That took another several minutes.  Once the replicas were rebuilt, I was able to restart our front-end servers and restore the site to normal operation.
How will we prevent this from happening again?
Logging directly to a database is definitely bad practice, but it was implemented on FMA many years ago by the original development team.  For now I will keep my eyes on database disk usage and will set alerts to let me know I need to do something before the disks fill up again!  Longer term, I will move all logging activity to a separate service, for example just flat log files.  Unfortunately, FMA is no stranger to outages, but whenever they happen, we try to restore service as quickly as we can and take steps to prevent similar outages from happening subsequently.
Is there anything I can do to help?
Yes!  FMA operates with a tiny staff (2 people) and extremely limited resources.  The best way to help is to Donate!  If you are a developer and have any technical suggestions, please write to me directly at [email protected] - We greatly value input from our users and the community.  We're dedicated to making the FMA the biggest and best resource for Creative Commons licensed, and other royalty-free music, anywhere on the Internet.
What is this song?
One of my all-time favorite FMA tracks, and an adequate description of how it feels to finally fix a major outage.
» 14 COMMENTS
Submit A Recipe to our Audio Cookbook!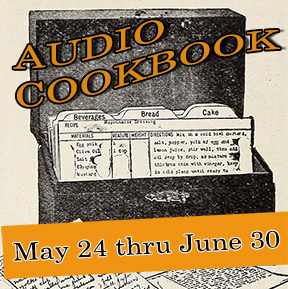 Want to contribute to the FMA's very own Audio Cookbook? Send a recipe song or recording for review on the contest page! Food and drink recipes are welcome! Songs are preferred, but spoken word tracks are OK too. Everything submitted will end up in the Public Domain using a CC0 license, and a lucky contributor will win a prize! Enter here until June 30th.
Browse by Genre
Blues
Classical
Country
Electronic
Experimental
Folk
Hip-Hop
Instrumental
International
Jazz
Old-Time / Historic
Pop
Rock
Soul-RnB
Spoken