Welcome to the Free Music Archive (Beta)
"It's not just free music; it's good music"
theradius on 04/01/2015 at 05:30PM
PATCH is a series of curated playlists selected from the Radius episode archive. Each playlist is organized around a specific topic or theme that engages the tonal and public spaces of the electromagnetic spectrum. PATCH serves as a platform to illuminate the questions, concerns, and complexities of and within radio-based art practices.
Radio Majesty documents the first meeting of four Vancouver-based audio artists who explore the frequency spectrum through real-time digital signal processing, unconventional tuning systems, and free improvisation. Radio Majesty was originally intended as a remote public performance via webcast for RadiaLx Festival in Lisbon, Portugal. It was also recorded privately at VIVO Media Arts Centre in Vancouver, Canada.
READ MORE
Via Radius » Visit Blog
» 0 COMMENTS
beyondwithin on 04/01/2015 at 09:15AM
Energized by a shockingly great 30th Anniversary mini-tour, wiggy art-punk popsters The Prefab Messiahs have cooked up their first new audio hi-jinks since originally disbanding in 1983(!). Keep Your Stupid Dreams Alive  ─ a co-release between BURGER Records and KLYAM Records ─ is a solid garage-psych-meets-power-pop slam. 
The Prefabs defiantly pick up where they left off and go Way Beyond, connecting-the-dots to 'THE NOW' for anyone who has been intrigued by their prophetic proto-lo-fi garage-psych-pop sounds. 
This new batch of songs etches a loose Siddhartha-like trajectory—partly inspired by the band's early experiences—of a desperately idealistic journey from suburb to school, forming a band, encountering life's pratfalls, and finally—battling disillusionment and self-doubt—gaining enough insight to keep dreams alive in a messed up and uncaring world. Dig? 
"Weirdoz Everywhere" alternates irresistible garage-blast turnarounds and power-jangle verses; "Orange Room" evokes some classic acid-pop as bassist Trip sings about his vibrant old crash space; "Bobb's Psychedelic Car" is a trippy-yet-bracing tip of the hat to their original guide & guru, outsider psych legend Bobb Trimble (who took the photo above after the Prefabs painted his '74 Century—with the paint left over from the Orange Room!).  
The sessions were captured by ace knob-twiddlers Doug Tuttle (ex-MMOSS, now solo on Trouble In Mind) and Jesse Gallagher (recorded Quilt's 1st LP for Mexican Summer). The final mixes were conjured by the band themselves, and Burger's mastering guru Patrick Haight applied the final happy-glaze. 
The crazy dreams encapsulated here all conspire to live on timelessly, even without pausing to take heed of the title track's mischievous prodding. Keep 'em alive, kids of all ages!
[Grab the new 10" Vinyl or full-color digipak CD from Burger Records or KLYAM Records]
» 0 COMMENTS
TAGGED AS:
left-field
,
psychedelic
,
80s oddballs
,
garage
,
reunion
,
power pop
,
psych-pop
,
klyam records
,
psych-rock
,
burger records
,
garage pop
,
See Less...
cheyenne_h on 03/26/2015 at 09:15AM
WFMU and the Free Music Archive are proud to bring you a fresh episode of Radio Free Culture, a weekly podcast exploring issues at the intersection of digital culture and the arts. 
In this episode, Cheyenne Hohman, RFC host and current Director of the FMA, spoke to Bram and Gareth, co-founders of Black Lantern Music, a netlabel from Scotland. They just released a compilation highlighting their first 100 releases and talked about what's on the horizon for the netlabel, including FMA exclusive releases, like selections from SJ Mellia's back catalog.

Check out the podcast on WFMU, PRX, or subscribe to the Radio Free Culture via iTunes, or listen right here: 
» 3 COMMENTS
katya-oddio on 03/19/2015 at 05:00PM
In honor of the Masters Remastered Challenge underway at the Free Music Archive, here is a collection of just a few of the many great albums of reinterpretations of classical works residing at the FMA.
Via Oddio Overplay » Visit Blog
» 2 COMMENTS
Remaster the Masters!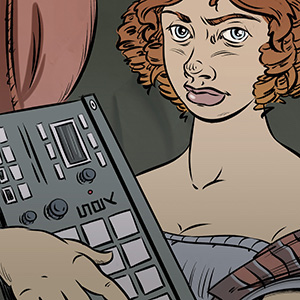 We challenge YOU to take a well-known and loved piece of classical music and MAKE IT COOL AGAIN (or weirder, or slower, or whatever you want)! Details are on Cheyenne's blog, official rules are here, judges are here, and you can submit a track (or listen) here!
Browse by Genre
Blues
Classical
Country
Electronic
Experimental
Folk
Hip-Hop
Instrumental
International
Jazz
Old-Time / Historic
Pop
Rock
Soul-RnB
Spoken