Welcome to the Free Music Archive
"It's not just free music; it's good music."
Bozoo on 06/14/2018 at 06:37AM
For its 37th release, Da ! Heard It Records sends your ears into orbit.
Why, who could these mysterious characters, the Fragilos, out to discover apparently unknown territories be? Take the time to follow their adventures through this UFO-reminiscent album that encapsulates a few instants of their stealthy existence in 13 pieces …
In the style of the illustrative discs of the seventies and eighties from which Phillippe Brown draws inspiration, the titles of this cassette's compositions are clues themselves designed to stimulate the listeners' imaginations. Thus, by holding the sleeve drawn up by Man Oroa while listening, each will be able to make up his or her own little story and discover the naïve-sounding, yet far from obvious, melodies.
One will thus go from one moon to the next without ever fully landing, floating softly above the ground among the bossa, zouk, or oriental rhythms and cinematographic atmospheres imprinted as much with second degree as with light melancholy.
Attracted to a musical era he didn't experience but of which he uses the codes with style, Philippe has the characters evolve well beyond the musical frontiers we sometimes burden ourselves with. With this fictional original sound track at the crossroads of genres and eras, he visibly goes very far away, so far that everything leads us to believe that this dreamer of a musician most certainly has his head in the moon!
L'Alunissage des fragilos, the 37th release of Da ! Heard It Records is distributes under a Creative Commons License Y-NC-ND. The album is available for free listening and downloading at the following address: http://www.daheardit-records.net/en/discography/dhr-37
Via Da ! Heard It Records » Visit Blog
» 0 COMMENTS
DASK on 06/12/2018 at 09:52AM
Abiogenesis 'The creation of life from non-living matter', also known as spontaneous generation. That term explains how this album came into existence. Coming from an electronic engineering background with a focus on sounds and audio I spent over 10 years experimenting with sounds, building tracks and putting down ideas but I always discarded all material and tracks before completion due to not being a professional musician and thinking they had no artist value.
Even professionally trained musicians and artists struggle with finishing tracks and releasing material. I have since learned that the more you finish, the more you progress which becomes motivation to do even more. So be spontaneous and finish those tracks when you feel creative, someone will like them, even if only a few fans. Do not worry how it might be received or if a label will sign you otherwise you will never finish anything. I was fortunate to eventually release some of my music through a label but I also still self release and it is no longer seen as being any less credible. There are many great artists much better than myself give their work for free on FMA and other sources so why not join them.
» 3 COMMENTS
Nul Tiel Records has two new albums being uploaded one track at a time, as and when the tracks are completed:
Content by Bio Unit - ambient melodic electronica
Sector by Silicon Transmitter - hypnotic and atmospheric guitar loops
Via Nul Tiel Records » Visit Blog
» 1 COMMENTS
dhf510 on 06/03/2018 at 01:52PM
In attempt to connect deeply with nature my newly-released album, Revisionist History, is immersed in atmospheric field recordings and jazz-inspired drone.  The album looks to delve into the embrace of a warm, youthful summer's day and perhaps explore what mental state endured by such an environment. This album was made as a direct response to my previous album Manifest Destiny. It follows the lighter pathways opened in conclusion of its predecessor. Revisionist History was made carefully and purposefully. I got a lot out of making this thing and I hope you do as well. Thanks for reading and enjoy!
» 0 COMMENTS
Celebrate Surf Music Month!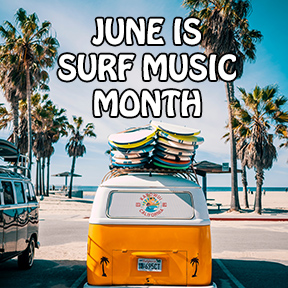 Love the sounds of SURF MUSIC? So do we! June is International Surf Music Month, so celebrate with us by enjoying some of our surf tunes or submitting your own until July 1!
Guidelines for submitting tracks can be found here! 
Listen to the surf songs that have been submitted here!