Welcome to the Free Music Archive
"It's not just free music; it's good music."
cheyenne_h on 07/18/2018 at 09:08AM
New York-based musician Sam Newsome specializes in pushing the medium of solo saxophone. He was invited to WFMU to perform live on the radio for Kurt Gottschalk's program, Miniature Minotaurs, on July 13th. The recordings are edgy, raw, and innovative. His techniques range from traditional vibrato and percussive methods to unusual additions to his instrument to create extra sounds, textures, and depth to his work. 
"My music," says Newsome, "is a type of improvisatory art music in which jazz functions more as a resource than a musical genre to be interpreted with stylistic specificity." 
His first improvisation session is more experimental than the second, with chimes hanging from the instrument, percussive key-tapping, and an exploration of low-range sounds that issued from his instrument. The second improvisation is laced with arpeggios and bears a resemblance to compositions by Philip Glass.
Want to hear it already? Click on a track below: 
» 0 COMMENTS
I chose to join the FMA because I believe that my music should be accessible to everyone regardless of money ! All of my music is available "pay what you want" on bandcamp, so it was only natural to move onto here as well. I've toured around alot of the country and have been making music for a long time, so I've developed alot of goals and principles for my music. I'm especially focused on making calm and thoughtful music, and it's exciting to me to make music of this ilk more available to the public (especially through means that aren't spotify/itunes etc!) Here is a bio that goes more in depth about my music :
A focused, painterly approach can be found throughout Philadelphian musician Tim Woulfe's discography. Whether describing a single night of sleep on The Sleep Cycles (2016), the course of an average day on Silence (2017) or the myriad other explorations of place, person and nature on the many albums and EP's that have been steadily released since 2013, Woulfe builds each track from the ground up with field recordings, nylon guitars, vocal harmonies and whatever else happens to be lying around the room at the time. These many layers make the songs feel human and lived in, a distinctly personal and stabilizing attempt at embodying stillness and softness in an often harsh and overwhelming world. 
» 2 COMMENTS
yanterrien on 07/17/2018 at 12:39PM
Yan Terrien spent his life working as a technician for artists, writing the code for globally recognized softwares, and created many other things.
At the same time, he was composing music on his computer, just for him, when he had time.
In 2014, he had to stop all activity because he was diagnosed with metastatic lung cancer. He then spent days in these hospital corridors, waiting, watching all those people for whom life suddenly took on a new dimension. After three years of operations and treatments, stuffed with drugs, he wrote the album "Music For Corridors". This pieces were created by writing computer code, then inserted into tracks of an audio sequencer and reworked patiently, to sound like those suffering silhouettes that he saw passing slowly in front of him over these days.
All his music is free to use under attribution-sharealike license.
By the way... in july 2018, he was still alive ;-)
See all his music on this page...
READ MORE
» 1 COMMENTS
cheyenne_h on 07/17/2018 at 10:25AM
Just a reminder to you artists out there -- you, too, can be featured on our FMA front page! All you have to do is write a paragraph or two about yourself (or, preferably a release on FMA), add a few tracks, and publish your blog entry. Then send us a note about it - we'll take care of the rest! Entries are added at our discretion, so blogging about a release or launch is not a guarantee, but it does increase your chances considerably (as opposed to not writing at all)! 
» 3 COMMENTS
Summer Jams Challenge 2018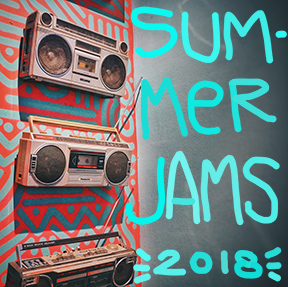 For the month of July 2018, we're accepting your chillest poolside tunes, bumpin'est beats, and most creative summer sound collages! That's right, it's our Summer Jam Challenge! Click the image above to listen to the growing playlist.