Welcome to the Free Music Archive
"It's not just free music; it's good music."
cheyenne_h on 09/25/2017 at 10:49AM
We are very excited to announce this year's newest FMA swag item - a tote bag! Heather Faye Kahn, the artist who designed this bag, is an illustrator, animator and visual artist in New York. She is also the host of Hello Children, a weekly freeform radio program on WFMU whose last episode (for now) was Sept 10, 2017. You can find out more about her here. 
This bag, at 15x15 in, will fit a few vinyl records inside, or some groceries, or many many mp3s! Pick one up with a $180 one-time donation, or a $15 monthly donation (your choice).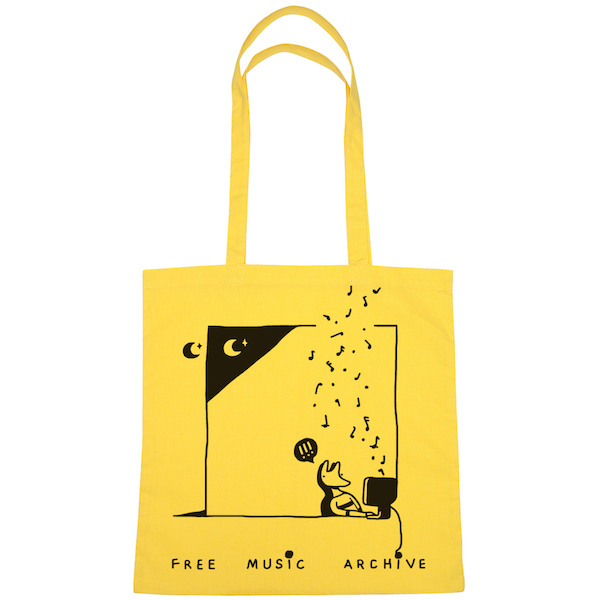 » 0 COMMENTS
cheyenne_h on 09/19/2017 at 10:18AM
For the next two weeks, you can enter a drawing to win a Pocket Piano from Critter & Guitari! Enter now by making a suggested donation of $100! 
From the Critter & Guitari website: 
The Pocket Piano is a fun, versatile synthesizer! It has seven synth modes, a rugged anodized aluminum and wood enclosure and 18 maple keys. It's got a 3W built-in speaker and a line out audio jack. The Pocket Piano is perfect for making music in the studio, around a campfire and at your kitchen table! The seven synth modes are:
• Vibrato Synth
• Harmonic Sweeper
• Two-Octave Arpeggiator
• Octave Cascade
• Mono FM Synth
• FM Arpeggiator
• Mono Glider
To operate, turn it on and start playing keys. Use the Mode button to select modes. Depending on the mode, you can select from four wave forms (sine, square, triangle or sawtooth) or increase the octave with the auxiliary button. Each mode has two parameters that are controlled by the two left knobs.
The following modes offer four voice polyphony: Vibrato Synth, Harmonic Sweeper, 2-Octave Arpeggio, Octave Cascade, FM Arpeggio. The remaining modes (Mono FM Synth, Mono Glider) are monophonic. The tuning knob adjusts the keyboard over two octaves and the far right knob controls volume. The 'Hold' function maintains notes that are playing and frees up your hands for other musical tasks.
The winner will be drawn on Friday, Sept 29th! See it in action here: 
For the official rules, please see our Eligibility Notice. 
» 0 COMMENTS
massdist on 09/18/2017 at 09:51PM
Around 2000, Mass Dist made 2 comps highlighting and hyping our many releases.
The first - Comphellation 1 - was put together primarily by Jonah. He's so awesome at putting together mixes and this one flows together really well.
The second - Comp 2 - was spearheaded by myself. It is a mess! 67 tunes over 2 cds. Tons of noise, tons of our friends, and tons of weird edits. It made sense to me at the time.
Go in.
Look at this insane list of artists on these comps:
Elf P Godbois Donkey Dissaster Deer Hoof Raw Dog Rex and the Family Devil Music Don Lenon Tunnel of Love 2000 Flushes Craig and Tim Mike D Blind Mitre The Judds The Grand Island DJ Skatological ACLSDC Bull Roarer The Frogs Tuttle Music Jimmy Cousings Tristan Dunster Eloe Omoe J.K. Mellow Man Rick School of Dada No Peddlers Stinky Treats Git then Crusty Nautical Almanac vs. Bull Roarer Love Handlers Kevin Purvis X-Members Dave Moody Raw Dog March 28th 1:41 am 2000 Infinite Blob Jero Harris Devil Music The Druid Fat Day NMSE Dildo Von Dildo Koondaa Holaa and the beetches Neptune vs. Can't The Tickler WACSAC Racket Attack Malabaster Touch a Booty Jesus Chrust  Tanqueray Force Field  Neon Hunk Elvish Presley Maggotzoid Keel Project Yosh the Gift  An Angband band  Meerk Puffy Monkeys ? Band PornBelt PPPPicsces Duct Tape Union Corn Dawg Meets Wesley Willis Leif Richey's boom box meets Filthy LaBottom Hillbilly Werewolf Wolf Eyes Cottin K's Mystery Brinkman NMSB Bullroarer Olneyville Sound System Grand Banks  Lightning Bolt  Stems Miagi Patrick Muecke Automatic Hi I'm on Fire 54 Franklin Street USAISAMONSTER Mix Ape RWL rap allstars M.O.R.B. Julien Boyer Peostenkill Romantic Snowman La Vid Est Immense Harry Fishpye and the Brown Sounds Jeffrey M P&L Railroad
» 0 COMMENTS
massdist on 09/17/2017 at 10:19PM
Around 2000, I asked our friends at Fort Thunder to give us a few 5 second songs for the comp we were making.
They did it. How psyched was I.
Exclusive music from The Druid, Mix Ape, Force Field, Meerk Puffy, Mystery Brinkman, Hi I"m On Fire, M.O.R.B, and Lightning Bolt
This mix gives a unique window on a normal day at the Fort - a life changing psychedelic show space art studio etc loft in Providence, Rhode Island.
Ps. I do want to add that Matt got mad at me cause he thought I was making a 5 second song comp. There was a communication breakdown and I felt terrible that Matt felt terrible. We've hung out and had awesome times a million times since then and are cool but I do want to be clear that Im sorry this happened and I never meant to mislead him or steal their juice. What I wanted was interlude music in between the mass dist music, but I have had a tendency to miscommunicate. I hope in some way that this blog post, by compiling only the Fort Thunder music, puts the music in an entertaining and satisfying light.
Listen below or here
» 1 COMMENTS
WIN A POCKET PIANO!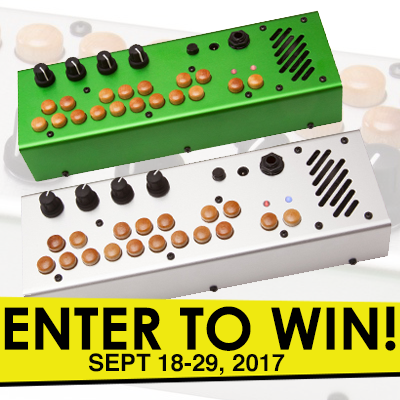 You can win a Pocket Piano from Critter & Guitari by supporting the Free Music Archive. Donate now (suggested amount $100) and enter to win! 
Only available until September 29th! Don't miss it!
Donate now or check out our official rules if you're curious. 
Browse by Genre
Blues
Classical
Country
Electronic
Experimental
Folk
Hip-Hop
Instrumental
International
Jazz
Old-Time / Historic
Pop
Rock
Soul-RnB
Spoken