Welcome to the Free Music Archive
"It's not just free music; it's good music."
cheyenne_h on 02/20/2018 at 03:08PM
This week's Listening Party was calm and collected, and we wanted to share some of that peace with you!
Listen to the playlist below:  
» 2 COMMENTS
derekclegg on 02/16/2018 at 01:34PM
Hey guys!  It's Derek Clegg, your resident singer-songwriter type.  Just wanted to drop a line to let you know my band Small Tall Order just released our latest album called "Easily".  Lot's of hard work went into it so we hope you enjoy!
» 0 COMMENTS
Alpha_Hydrae on 02/16/2018 at 04:51AM
Hi, it's Monplaisir,
I'm really glad to present to you the new Cuicuitte album called "L'Anteville".
It was a long run, a home made album we've worked with my friend Otite Noire during more than a year. We didn't know what we wanted to do as a genre of music (and we still don't know how to qualify what we do- if you have a word, tell us !) and we ended in this cute and naive noisy folky acoustic music.
I really hope you will like it ! Don't hesitate to comment what you think about it !
Best,
Monplaisir
» 1 COMMENTS
massdist on 02/15/2018 at 05:04PM
I am Colin. Colin is me.
When I was on tour all the time with Usaisamonster, I'd also keep busy making experimental tapes and whatnot on the side. I'd sell these tapes and get my ya ya's out too.
Here are all of them.
Monogamous Octopus was a one night only George Michael cover band etc with brand new musicians Barbara Schauwecker and Meghan Eckman. Raw on purpose and by accident.
Live Loop was my interpretation of Zappa Beefheart's "The Blimp" performed by the Dude Tour dudes - Jimmy Cousins, Adam Taber, Dan Beckman, Rob Francisco, and Jeremy Harris.
Guitars was a nice jam day with old buddy Eric Boros. Just wanted to make something together.
Langenius was a piece I wrote for a small orchestra led by David Kadden and recorded in Anthony Braxton's room at Wesleyen U.
High As Hell was is an unlistenable? noise collage. Kinda one of my specialties.
Babylongdong and Butt Buddies Forever were two 1 night only bands with silly names with frequent collaborator and old friend Sara Shapouri. Noise.
It's a dark twisted funny fun road to hell and back catch a heart attack.
Thanks for the time.
» 0 COMMENTS
Music Licenses 101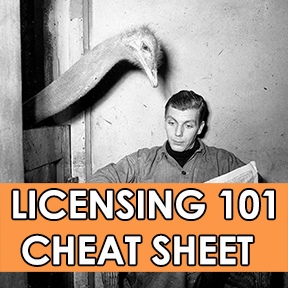 Not sure if you can use a piece of music on our site for a podcast, video or other purpose? We know that some of you are new to this, so please pop over to our License Guide or the Do's and Don'ts of using the music on this site. If you're really fresh to FMA, welcome, and please read our FAQ.