Welcome to the Free Music Archive
"It's not just free music; it's good music"

Bozoo on 02/07/2017 at 02:52PM
Founded in 2006, eclectic label Da ! Heard It Records aims to promote new artists and new music. D!HR is a label that is open to the world, be it to professional artists or to amateurs, and accessible to all listeners, as per its engagement to free and free-of-charge culture as well as the nature of its publications.
From nocturnal peregrinations to musical events and multiform creations, it's been almost ten years since Max Parasite first started observing the Da ! Heard It Records label; ten years of dealing with artists with terribly improbably works: unrestrained circuit bending, grandiose chiptune, disheveling catharsis, or cavernous industrial ambient.
Anything is possible.
From the start, it seemed clear that this small community very engaged in free access to culture needed to be talked about. The idea of a documentary soon surfaced. After digging deep into the arcane corners of the Internet to investigate the beginnings of European 8-bit, Max Parasite found a bunch of the label's artists: Ben et Béné, Computer truck, Eat Rabbit, Infecticide, Jacques Cochise, Klaten, Le Matin, Sidabitball, Skinfaxe, Sputnik Booster.
From this resulted a unique documentary about an autonomous microcosm as astonishing as it is obscure: https://www.youtube.com/watch?v=e8UoUJha3zw&feature=youtu.be
All of the releases introduced in this documentary are available for free listening and free downloading at the label's site: http://www.daheardit-records.net.
Via Da ! Heard It Records » Visit Blog
» 2 COMMENTS
krunchy on 02/06/2017 at 11:55PM
Have you ever had these thoughts: "What is the music like in Siberia?" or maybe "I sure wish an ethereal maiden would transport me to a place of sonic bliss"? Well, do I have the answer for you. 
The Owl is the solo project of composer and pianist, Daria Shakhova. Shakhova is part of progressive rock band Hale de Mars and has been performing music in Novosibirsk since 2006. While I can't speak for the rest of Siberia, Novosibirsk boasts substantial electronic and ambient scenes. The Owl is surely on that ambient spectrum, though more neoclassical in flavor. 
Fairy Forest is a delicate instrumental album inviting you to lose yourself in daydream. Each track features Shakhova on piano and vocals backed by strings. Her voice is haunting but never obtrusive. The Owl's style is evocative of the compositions of Yann Teirsen. All in all, it is a highly listenable album that doesn't demand much of its audience. With titles like "Dreams of Trees", "Winter Smoke", "Moon Saturday", "Rainy Sun", you can think of each track as a meditation. In fact, think of the heroine's voice being stolen by the sea witch. Think of mythological sirens in the mist. Think of anything but ordinary things. Maybe there is something of a characteristic dreamy quality to the music created in such a remote part of the world. 
The only downside is that this is The Owl's only album, but Fairy Forest delivers. Keep it in your back pocket, it is an effective resetter. 
» 1 COMMENTS
cheyenne_h on 01/25/2017 at 02:44PM
A few weeks ago we got a message from a couple of producers, Johanna Kelly and Cameron Marshad, who were working on a film. They wanted some help getting in touch with the band Atlantic Thrills, because their song "Bed Bugs" from a WFMU Live performance had caught their attention. They wanted to use it to accompany the ending credits of their upcoming documentary, "The Gateway Bug."
The film is an exploration of 'entomophagy,' or, as you might call it in plain English, eating insects! Many have touted this practice as a way to conserve natual resources and take advantage of a food source that is nutritious, easy to cultivate, and plentiful, especially in parts of the world that have not embraced the practice. The film will debut at the Santa Barbara International Film Festival on February 2, 2017. More info can be found here.

FMA: Tell me about your project, "The Gateway Bug."  
Johanna: Our fully independent documentary exposes America's disconnect with food as pivotal tipping point for climate change and global warming. Following the terrifying paper presented in 2013 by the UN that food production must double by 2050 to feed Earth's exploding population, and their warning that at this rate, that's impossible - we needed to know how and why. Upon finding that nutrition is direct result of culture and policy, everyday activities like eating, gardening and grocery shopping become revolutionary acts. This film converts viewers into activists, inviting exploration of taste, ethics and taboos to ignite social change through education.
Cameron: "The Gateway Bug" explores the booming edible insect industry now taking hold in Western countries as a direct response to the unsustainable agricultural practices we've witnessed over the last several decades. We discovered the topic through our friend studying at UCSB, and for his thesis he was tasked with developing a business that solves an ecological problem. The problem he was most familiar with was the overfishing of our oceans, and he proposed we start using insects as fish feed, rather than wild fish. Johanna and I found this fascinating, especially when we started talking about insects for human consumption.
FMA: Why did you want to make a film about this topic?
Cameron: The earth and its population are facing many crises at the moment, and food is one big part of that puzzle. We can't survive without it. I am an adventurous eater, and when I heard about humans starting to eat insects in the US, the land of the free and home the quarter pounder with cheese, I was immediately entranced. The reason I wanted to make this film was to tell the story about climate change from a different perspective, one that involves food culture breaking social norms.
Johanna: I'm a filmmaker because I'm a film-lover and I watch a lot of documentaries. It's kind of my favourite way to learn these days and I think a lot of people feel the same way. You can spend weeks trying to finish a book on something you want to know more about, or you can just sit down on your couch and be an expert in a couple of hours. These issues and solutions stand to change the world, so what better way to share them than in the easily digestible (HA!) form of a film? I hope our film helps people see how easy it is to help the planet and minimise climate change. Which in turn hopefully also makes them feel damn good about themselves, improving their health through better nutrition is just a happy side effect in my eyes.
FMA: Do you consider the purpose of the film educational, social, culinary, or something else?

Cameron: I believe the purpose of the film is to enable free thought around how our food is made and how we define what is food. It's a mix of educational, social, and culinary commentary; we meet chefs, farmers, celebrities, and Washington leaders, so we show the burgeoning edible insect industry from multiple angles. We also use archival footage throughout, which is meant to invoke a feeling of "Wait, we've been talking about this stuff for years, why hasn't anything changed?" I think it is a call to action, to encourage new ways of thinking about food production and food culture and their environmental consequences.
Johanna: I think it covers a lot of ground: social impact, environmental, culinary exploration of culture, what it means to survive in America, eating an American diet and how that's a vastly different experience depending on where you were born. We go from cricket farms in food deserts across the rust belt and the water crisis in Flint Michigan to high end restaurants on the lower east side in New York City. From tech geeks in Silicon Valley to Aquaponic farms in Santa Barbara and everything in between.
>>READ MORE below for more answers, further reading, and links!

READ MORE
» 0 COMMENTS
cheyenne_h on 01/17/2017 at 02:47PM
Every once in a while, we get a message about something special happening to tracks from the Free Music Archive. Recently, we heard from Michael Schubert, a radio producer whose work was nominated for Australia's National Features and Documentary Award. His work featured FMA audio prominently, so he wanted us to know about it. We love and deeply appreciate news of cool stuff happening with audio sourced from our little ol' archive. A few weeks later, we heard from him again - he won!
Michael has had a lifelong interest in audio, and is now Broadcast Manager at his local community radio station BayFM Byron Bay, which is also home to multiple award winning shows and documentaries, including his own, In Search Of Silence. He is also involved with the production of SoundMinds, a 15-minute weekly program that features the work of a university researcher in their own voice, and mindwaves, a program that "explores ideas, drawing from philosophy, psychology, sociology, biology and science in general; providing a point of intersection between these disciplines; creating an opportunity to cross over between different "ways of seeing".
You can listen to "In Search of Silence" below:
We followed up with Michael to find out more about his creative process and how the Free Music Archive factors into his work.
FMA: Can you give a quick overview of "In Search of Silence"?
MS: In Search of Silence is my personal project and my first venture into a longer form documentary. Being on radio and producing a documentary about silence seemed like the perfect match. In Search of Silence is a 30 minute documentary that does include radio silence (a suspenseful 8 seconds), as well as interviews with a conductor, movie sound producer and cognitive science hearing expert. I also got myself locked in an anechoic chamber and was honoured to be proclaimed winner of the National Features and Documentary Award 2016. The award recognises the value of such work and in a not for profit sector such as community radio, it is not an easy journey. It gives me the confidence to move forward on other projects in the future.
FMA: Why did you want to explore the theme of 'silence' for your audio documentary?
MS: In mindwaves earlier seasons I had taken on the concept of silence several times, each time finding new perspectives and new ideas.  And silence is such a juxtaposition to audio production.  On radio we call it "dead air" and avoid it.  To be honest, the fact that you can't really explain what silence is intrigued me, because it is realistically the absence of sound and does not "exist".  There's absolute zero for temperature, absolute zero for speed, but no absolute quiet. And the more you go down the rabbit hole of silence, the more perspectives there are.  When I started talking about the idea, no matter who I talked with, they got excited.  Not just musicians and sound engineers, but artists and accountants.  Everyone had an idea and everyone wanted to know what I might do with it.
FMA:  Did you learn anything new or interesting about silence while you were making the documentary?
MS: I keep coming back to something I know, but it still is a bit weird and freaky. There is no sound in your head. None.  Just electrical and chemical connections that we interpret as sound. There are sound waves in the world, but not in your head. It's a bit weird to contemplate, particularly when you talk to yourself. Who are you listening to?
FMA: What went into making "In Search of Silence"?
MS: I was used to doing a 15 minute piece, but 30 minutes is long, and if it's not interesting, it's really boring. That was my main challenge: getting the pace right. Silence is not in itself exciting, so the story had to be compelling. 
One day I drove 40 miles, flew 500 miles, caught a train to a university, got locked in the anechoic chamber and completed three interviews, flew back home and picked my own daughter up from university. That was huge, particularly when I realised I had not recorded my first session in the anechoic chamber (lesson: don't take new equipment to important gigs) and had to go back later in the same day. I realised later how lucky I was for and the generousity of essentially 'rock stars' in their own fields of research, conducting and film sound recording.
My main mentor was honest, really honest.  The first draft file was, to say the least, a bit underwhelming.  It was as he said, 'more about your script writing skills than the talent' and it had 'not delivered' on what he thought would be an interesting idea.  Good to hear about the script writing skills, but back to editing. With the help of another couple of mentors (sound and tech guys who listened to the entire piece) and armed with 5 pages of notes, I went to work.  And the deadline was real, the documentaries had a time booked to go to air.  Many hours listening to the same piece of audio, tweaking here and there.  And a very understanding family (including my wife as the 'voice of silence') who looked at my back as I edited for what seemed like  forever to them.  They are used to me getting SoundMinds done within a day. At one level it is all about the workflow and file management, boring I know. But if you just get a system that works for you, so you can find what you need (even if it is all in one huge folder, with backups), you are way ahead.  And don't try new things 'on the fly', just use what you know and ask lots of questions.  People are remarkably helpful.
>>Read more below, including Michael's Top Ten tips for audio documentaries!

READ MORE
» 0 COMMENTS
Music Licenses: A Handy Guide!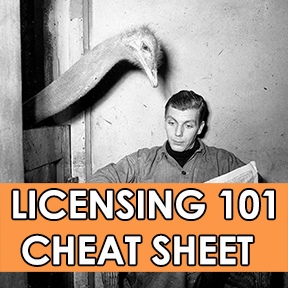 Go ahead and take a peek at our License Guide, assembled as a quick reference sheet for the variety of music licenses we carry on our site. From the array of Creative Commons options to the FMA-Limited to Public Domain dedications, this guide tells you what you can - and can't! - do with the music you find here. 
Browse by Genre
Blues
Classical
Country
Electronic
Experimental
Folk
Hip-Hop
Instrumental
International
Jazz
Old-Time / Historic
Pop
Rock
Soul-RnB
Spoken