Welcome to the Free Music Archive
"It's not just free music; it's good music."
cheyenne_h on 07/17/2018 at 01:08PM
New York-based musician Sam Newsome specializes in pushing the medium of solo saxophone. He was invited to WFMU to perform live on the radio for Kurt Gottschalk's program, Miniature Minotaurs, on July 13th. The recordings are edgy, raw, and innovative. His techniques range from traditional vibrato and percussive methods to unusual additions to his instrument to create extra sounds, textures, and depth to his work. 
"My music," says Newsome, "is a type of improvisatory art music in which jazz functions more as a resource than a musical genre to be interpreted with stylistic specificity." 
His first improvisation session is more experimental than the second, with chimes hanging from the instrument, percussive key-tapping, and an exploration of low-range sounds that issued from his instrument. The second improvisation is laced with arpeggios and bears a resemblance to compositions by Philip Glass.
Want to hear it already? Click on a track below: 
» 0 COMMENTS
yanterrien on 07/17/2018 at 12:39PM
Yan Terrien spent his life working as a technician for artists. When Iannis Xenakis asked him to create a laser deflection system with hundreds of mirrors to write a score of light, he did it. He created for Jean Michel Jarre one of his best laser harps. He invented an innovative fireworks sequencer system. He wrote the code for a globally recognized show-control software, and created many other things.
At the same time, he was composing music on his computer, just for him, when he had time.
Unfortunately, in 2014, he had to stop all activity because he was diagnosed with metastatic lung cancer. After three years of operations and treatments, stuffed with drugs, he wrote the album "Music For Corridors". He had spent days in these hospital corridors, waiting, watching all those people for whom life suddenly took on a new dimension.
The pieces were created by writing computer code, then inserted into the tracks of an audio sequencer and reworked patiently, to sound like those suffering silhouettes that he saw passing slowly in front of him over these days.
By the way... in july 2018, he was still alive ;-)
READ MORE
» 1 COMMENTS
cheyenne_h on 07/17/2018 at 10:25AM
Just a reminder to you artists out there -- you, too, can be featured on our FMA front page! All you have to do is write a paragraph or two about yourself (or, preferably a release on FMA), add a few tracks, and publish your blog entry. Then send us a note about it - we'll take care of the rest! Entries are added at our discretion, so blogging about a release or launch is not a guarantee, but it does increase your chances considerably (as opposed to not writing at all)! 
» 2 COMMENTS
MarilynRoxie on 07/14/2018 at 09:32AM
For the third year in a row, Vulpiano Records is participating in international online music celebration event Netlabel Day. With 9 new releases from new and returning artists across a range of styles from ambient to alternative, acoustic to field recordings, there is something for everyone. Also included in the mix are some tracks from recent releases just before Netlabel Day.
» 0 COMMENTS
Summer Jams Challenge 2018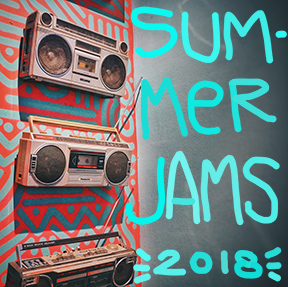 For the month of July 2018, we're accepting your chillest poolside tunes, bumpin'est beats, and most creative summer sound collages! That's right, it's our Summer Jam Challenge! Click the image above to listen to the growing playlist.