Welcome to the Free Music Archive
"It's not just free music; it's good music."
dhf510 on 07/13/2018 at 11:58AM
On July 9, Gilman Mom released an atmospheric nature music video for "Coast of Daylight", the opening track on album Revisionist History. The video immerses the viewer in the arboreal world that the song lives in. Monkeys, flowers, and lamination abound, have fun delving into this video.
» 1 COMMENTS
YizzyV on 07/12/2018 at 01:15AM
Hi everyone, this is Ysabel from Musiio. Kicking where Hazel left off and serving up Indie Rock this time! 
Indie Rock, an umbrella genre that is identified more by its ethos than a musical approach, is one that is not easily - or can be - objectively identifiable by ear. In making music that suits their personal taste more than selling records (a major label thing), Indie bands exploit that freedom to explore sounds, emotions and subjects that can have limited appeal to the mainstream audience. Music that may seem too whimsical, too melancholic, too delicate, too raw, too abrasive for the general public, yet balancing these leanings with a pop sensibility. 
With the ever-growing list of subgenres and styles, the right question here is then - How do you like your Indie? Personally I'm big on garage-influenced Crumbsnatchers and Night Beats, and new wave artists a la Single Bullet Theory. 
Share your favourite indie style by commenting on this post!  
Ysabel @ Musiio 
» 0 COMMENTS
slclabel on 07/11/2018 at 12:00PM
Soisloscerdos con ganas de que llegue el Netlabel Day 2018. El 14 de Julio, fecha elegida por cuarto año consecutivo, compartiremos, al igual que muchos netlabels de todo el planeta, música en estado puro, libre y personal, en nuestro caso, música techno. Gracias por el apoyo a todos los que os acercáis a esta cultura.
- Ant GM, nos alegrará con su techno, concreto, analógico y afilado.
- Langax, nos cede más canciones, esta vez muy acid. Además se han añadido al esfuerzo dos colaboradores, Ángel García y Halted Instant, aportando sus remixes de una canción del EP.
- (029) se apunta a última hora, aportando su gran techno, directo a la pista. Gracias!
» 0 COMMENTS
cheyenne_h on 07/06/2018 at 08:55PM
The FMA is full of strange sounds, and some are downright otherworldly! There is an instrument known to some called the waterphone, and it's played with a bow or mallets. This instrument is made of an array of metal rods connected to a bowl that has water inside a central handle (see photo above for some examples). This allows for ethereal and eerie sounds to emerge when a bow is drawn across the metal; different rods generate different tones. If you've ever seen a scary movie, you've probably heard the sound of this amazing instrument. Recently, Philp Gayle appeared on WFMU to perform and has generously shared the recording with us at the Free Music Archive. Listen below:
» 0 COMMENTS
Summer Jams Challenge 2018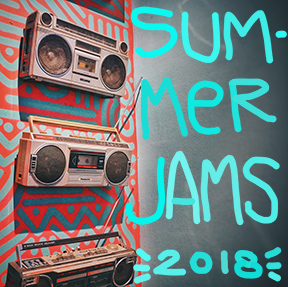 For the month of July 2018, we're accepting your chillest poolside tunes, bumpin'est beats, and most creative summer sound collages! That's right, it's our Summer Jam Challenge! Click the image above to listen to the growing playlist.