Welcome to the Free Music Archive
"It's not just free music; it's good music"

cheyenne_h on 12/07/2016 at 02:09PM
YouTuber and online video tutorial-producer PremiereGal gave FMA a shout-out on her latest video about places to find music for videos. She's also rockin' our 2016 fundraiser shirt!
She also mentions a blog entry that gives a quick run-down of the licenses and whether or not they're suitable for video, which you can find here. As always, we encourage everyone to read the licenses carefully and contact the artist if you're in doubt, but don't let that stop you from utilizing all that our archive has to offer!
OK, enough about us. Here's the video!
You can find more of PremiereGal's tutorials and updates at her website.
» 0 COMMENTS
Via Murmure Intemporel » Visit Blog
» 0 COMMENTS
My instrumental albums have been downloaded 26,600+ and streamed over 80,000 times by people from all over the globe. I love the internet for more than just cat videos!  :-)  It's been a great expirence to share my music with people from all over the world.  Thanks FMA! I'm hoping to release more new music soon. 
~adrianna 
» 0 COMMENTS
pyrdiscos on 11/21/2016 at 03:13PM
Hello there. In addition to running the pan y rosas discos netlabel, I am also an archivist and community history nerd. For a while now I have been thinking about documenting and archiving netlabels, the culture of netlabels and the work that goes into them. After struggling to come up with a perfect solution I finally decided to abandon the perfect and just start with some questions. A text based interview is better than nothing and much more realistic in terms of what I have time and capacity to do. It is also the least difficult for participants! I hope. 
So, do you run a netlabel? Or did you run a netlabel? Or do you know someone who did, or does? What you do is important and I want to hear from you!
Although I run a netlabel, I am by no means an expert on netlabels and I want to make sure I cover as many scenes, regions, voices and perspectives as possible. I would like to know if there are any topics or questions you think should be included in this project going forward. And if you have any leads on other people working to document the history and culture of netlabels, I would be grateful to learn about them. 
I envision the end result of this project to be an online archive - website or blog - containing all the interviews. Possibly also a printed zine or something. But, the most important thing right now is to capture the information.
What follows is an overview and the questions. Please feel free to share this wherever you feel is applicable! Thank you netlabelers!
Netlabel Survey / Interview / Archive Project
November 2016.
Please return answers to Keith Helt at [email protected]
The purpose of this interview is to document the history and culture of netlabels. The responses will serve as a resource for researchers and anyone interested in the topic. As such, the responses will be made public in some way - as a website, a zine or something else. By answering the questions and sending them back you are consenting to your responses being made public, please keep that in mind.
For the purpose of this project I am defining a netlabel as a label that distributes music without a physical version and for free. I am aware that some labels do both, or began as a netlabel and transformed into a paid label or vice versa. If you run a label that began as a netlabel but isn't one anymore or if you run a hybrid label, I'd still like to hear about your experiences running the netlabel portion of your label.
I know there are a lot of questions, but there is no deadline to this project. So take as long as you need to answer them.
I also want to say, please feel free to write your answers in the language you are most comfortable with. I do not want to privilege english responses just because that is my first language.
If you feel uncomfortable with any question, you are not obligated to answer it.
Thank you in advance for your time.
Questions after the jump:
READ MORE
» 2 COMMENTS
Music Licenses: A Handy Guide!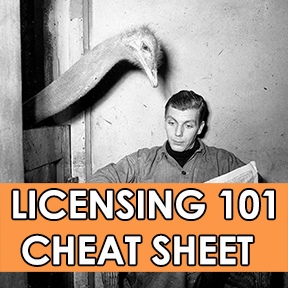 Go ahead and take a peek at our License Guide, assembled as a quick reference sheet for the variety of music licenses we carry on our site. From the array of Creative Commons options to the FMA-Limited to Public Domain dedications, this guide tells you what you can - and can't! - do with the music you find here. 
Browse by Genre
Blues
Classical
Country
Electronic
Experimental
Folk
Hip-Hop
Instrumental
International
Jazz
Old-Time / Historic
Pop
Rock
Soul-RnB
Spoken