Welcome to the Free Music Archive
"It's not just free music; it's good music"

pyrdiscos on 11/21/2016 at 03:13PM
Hello there. In addition to running the pan y rosas discos netlabel, I am also an archivist and community history nerd. For a while now I have been thinking about documenting and archiving netlabels, the culture of netlabels and the work that goes into them. After struggling to come up with a perfect solution I finally decided to abandon the perfect and just start with some questions. A text based interview is better than nothing and much more realistic in terms of what I have time and capacity to do. It is also the least difficult for participants! I hope. 
So, do you run a netlabel? Or did you run a netlabel? Or do you know someone who did, or does? What you do is important and I want to hear from you!
Although I run a netlabel, I am by no means an expert on netlabels and I want to make sure I cover as many scenes, regions, voices and perspectives as possible. I would like to know if there are any topics or questions you think should be included in this project going forward. And if you have any leads on other people working to document the history and culture of netlabels, I would be grateful to learn about them. 
I envision the end result of this project to be an online archive - website or blog - containing all the interviews. Possibly also a printed zine or something. But, the most important thing right now is to capture the information.
What follows is an overview and the questions. Please feel free to share this wherever you feel is applicable! Thank you netlabelers!
Netlabel Survey / Interview / Archive Project
November 2016.
Please return answers to Keith Helt at [email protected]
The purpose of this interview is to document the history and culture of netlabels. The responses will serve as a resource for researchers and anyone interested in the topic. As such, the responses will be made public in some way - as a website, a zine or something else. By answering the questions and sending them back you are consenting to your responses being made public, please keep that in mind.
For the purpose of this project I am defining a netlabel as a label that distributes music without a physical version and for free. I am aware that some labels do both, or began as a netlabel and transformed into a paid label or vice versa. If you run a label that began as a netlabel but isn't one anymore or if you run a hybrid label, I'd still like to hear about your experiences running the netlabel portion of your label.
I know there are a lot of questions, but there is no deadline to this project. So take as long as you need to answer them.
I also want to say, please feel free to write your answers in the language you are most comfortable with. I do not want to privilege english responses just because that is my first language.
If you feel uncomfortable with any question, you are not obligated to answer it.
Thank you in advance for your time.
Questions after the jump:
READ MORE
» 2 COMMENTS
vialka on 11/14/2016 at 05:05AM
Posset is the anti-hero, a lone gun-slinger of the North armed with nothing more than Dictaphones and an armload of cassettes. Manufracture is proud to present "Having Nothing Then Giving It Away", an aptly-titled collection of recordings spanning the years of 2008-2013, unearthed from the artist's personal archives. Posset's re-examination and disintegration of the magnetic audio format is above all physical, real-world, and in real-time. Various field recordings are broken and melded as the listener is taken on a visceral journey though the junk shops and underground music haunts of Tyne and Wear county and beyond. Temporality is lost, there is only "here" and "now". This is the blues, summoned forth by a modern-day bard, the drunken zen-master – indeed, giving it all away.
Via Manufracture » Visit Blog
» 1 COMMENTS
cheyenne_h on 11/10/2016 at 05:48PM
Here are the FMA, there are few ways to measure the popularity or success of a new artist - downloads, streams/listens, and, probably most importantly, distribution. By sharing songs under Creative Commons licenses that allow for reuse in video, many artists get to reach an audience that they would have never touched before. This has been the case with recent addition Monkey Warhol. His music has shown up in skateboarding vids, reverse cooking tutorials, video game play-throughs, drawing demonstrations, and even a creepy Dada-esque fan video!
You can lisen to Monkey Warhol's first FMA release, the Darwin LP, here - or watch the official music video for "Lovely Lady":
FMA: Where are you from?

MW: Minnesota.  The land of Bob Dylan, Prince, The Replacements, Hüsker Dü, Soul Asylum, Owl City, and Steven Greenberg (he's the guy behind the disco hit "Funkytown")!  Amazing place, isn't it?

FMA: Yeah, not bad! How long have you been interested in music?

MW: Forever (or at least as long as I can remember)...  As a young padawan my parents would prop me up against the family piano, and I would annoy them with my insistent pounding.  Now that I have a family of my own, I continue to annoy them with my insistent pounding; but since I'm the dad, they can't tell me to stop!  (Actually, they can…  I just don't have to listen.)  I guess some things never change.
 
FMA: How would you describe your music to someone who hasn't heard it?

MW: In general… electronic, poppy, hyper, energetic, and fun!  Of course in my mind, my music sounds like a super hip amalgamation of Andrew WK, Daft Punk, and the Flaming Lips.  However, in reality, it probably sounds closer to Moby moonlighting at a "Weird Al" Yankovic concert.

FMA: Where does your name, "Monkey Warhol," come from - and do you consider Andy Warhol to be an influence on your creative process?

MW: "Monkey" is what Mama and Papa Warhol called me when I was a little baboon pounding on the piano, and I guess it just kinda stuck!

However, digging a bit deeper and to geek out, I remember hearing about the "Infinite Monkey Theorem" which states that given enough time any monkey could type Shakespeare and Andy Warhol was quoted as saying "In the future everybody will be world-famous for 15 minutes."  So I guess that sums up my musical aspirations and "Internet Culture" in general... Mama Warhol knew best!

FMA: There are many layers to your songs. Where do you usually begin?

MW: The majority of my songs start with silence, and then I build them from there with a chord progression, hook, or pattern.  Through years and years of experience, I've learned that it's best to have an idea for the various parts of a song complete before I hit "record" or else I end up with a hard drive full of half-finished tracks.

As for the layers, I think it's largely due to being self-produced where on playback I'm constantly tweaking, refining, and adding a little "spice" to the mix in order to keep the energy up and keep myself interested.  Actually, it's funny that you mention the layers as I've been consciously trying to refine my production skills and scale back the layers thinking that sometimes less is more... I've actually gone from about 100 tracks a song to 50, so I'm gradually scaling back, but I realize it's still a bit excessive.

FMA: It sounds (and looks) like there are some kids involved in your music (judging from Lovely Lady, in particular). Would you consider your music to be "for kids"?

MW: While I don't set out to write music specifically for children, I'm not surprised that my "sound" combined with my willingness to follow through on stupid/silly ideas (i.e. the "Lovely Lady" video or playing live in a monkey mask) might catch the attention and enthusiasm of some kids.  That said, I still make music for myself, but am honored and flattered by anyone who is willing to take the time and give my music a listen! 
READ MORE
» 2 COMMENTS
I teach a course on population geography and I'm developing a course on the geography of armed conflict. One area of overlap between these two courses is refugees, a topic that has been in the news frequently in recent months--most often tragic in tone. After hearing the ugly political rhetoric regarding refugees in the Brexit and U.S. presidential campaigns, as well as European countries debating erecting barriers to refugees, I began to ask bands if they'd be willing to contribute a track to a compilation to raise awareness about the plight of refugees. I got an overwhelmingly positive response. Without Borders: On Behalf of Refugees is primarily garage/psychedelic compilation not only because these are some of my favorite bands, but also because this music expresses so well an undercurrent of discontent while offering a vision of a better world. I use this platform then to provide links to organizations providing assistance to forcibly displaced populations. I encourage those who would like to offer their support to do so.



READ MORE
» 6 COMMENTS
Music Licenses: A Handy Guide!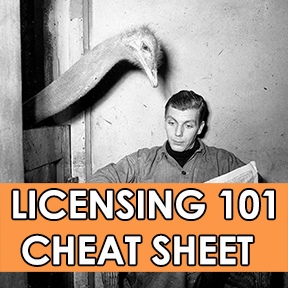 Go ahead and take a peek at our License Guide, assembled as a quick reference sheet for the variety of music licenses we carry on our site. From the array of Creative Commons options to the FMA-Limited to Public Domain dedications, this guide tells you what you can - and can't! - do with the music you find here. 
Browse by Genre
Blues
Classical
Country
Electronic
Experimental
Folk
Hip-Hop
Instrumental
International
Jazz
Old-Time / Historic
Pop
Rock
Soul-RnB
Spoken