Welcome to the Free Music Archive (Beta)
"It's not just free music; it's good music"
cheyenne_h on 07/07/2015 at 02:15PM
We've been getting a few questions about using music in videos again! We're always happy to field questions, but I'd like to share a video of the webinar that Elliot Harmon of Creative Commons and I hosted earlier this year, which will walk you through the basics of using music from the Free Music Archive in your next video production. For more in-depth Q&A, please visit our Video FAQ. If you're just looking for music to use in a video, cruise over to our "Music For Video" curator portal. 
» 0 COMMENTS
d/eaR Friends & Followers,
with this album Jaan Patterson - 'Ergo Protagonists', including: J. Karl Bogartte, Leif Elggren, AG Davis, Seiei Jack, Jeremy Gluck, Herr Penschuck, Vziel, Clutter, John M. Bennett, Darius Greene, ION, Anthony Donovan, Runar Magnusson, Dada AG, Jochen Arbeit, Vania Rovisco, The Implicit Order, Bryan Lewis Saunders, Otto von Rhinau, Erick Diego, Hopek Quirin, suRRism, Acedia Nuit, Jurica Jelic, John Hyatt, Anton Mobin, Patrizio Pica, Lezet, Travis Johnson, William Davison, The Recordists, S. Higgins, C. Hinz, J. Bailey, P. Mosher,  L. Feesey, Binary Slim, John Juan, Yoshihiro Kikuchi, MaCu & Alessandra Celletti.
i'm trying to crowdfund enough money to keep the domains for suRRism.Phonoethics & Classwar Karaoke running. If you can spend a dime, please do so via this page at bandcamp https://surrism-phonoethics.bandcamp.com/album/ergo-protagonists i'd be very grateful for your support!
This Album at the Free Music Archive
love,
» 1 COMMENTS
TAGGED AS:
otto von rhinau
,
yoshihiro kikuchi
,
l feesey
,
c hinz
,
william davison
,
patrizio pica
,
jurica jelic
,
hopek quirin
,
alessandra celletti
,
john juan
,
p mosher
,
s higgins
,
travis johnson
,
anton mobin
,
acedia nuit
,
erick diego
,
macu
,
binary slim
,
j bailey
,
the recordists
,
lezet
,
john hyatt
,
surrism
,
vania rovisco
,
runar magnusson
,
darius greene
,
vziel
,
seiei jack
,
j karl bogartte
,
bryan lewis saunders
,
jochen arbeit
,
anthony donovan
,
john m bennett
,
herr penschuck
,
ag davis
,
the implicit order
,
dada ag
,
ion
,
clutter
,
jeremy gluck
,
leif elggren
,
See Less...
cheyenne_h on 06/25/2015 at 10:00AM
WFMU and the Free Music Archive are proud to bring you a fresh episode of Radio Free Culture, a bi-weekly podcast exploring issues at the intersection of digital culture and the arts. 
In this episode, Cheyenne Hohman, RFC host and current Director of the FMA, spoke to Dina Maccabee, a musician and scholar who headed up a project called "Song-O-Phone." The project has a home on the Free Music Archive, allowing listeners to trace the changes of the song as each artist in a series of 30 interpreted and performed the same song. A selection is below, but check the full series out at the Song-O-Phone curator page! 

FMA Volunteer Ethan has also made a Song-O-Phone inspired playlist, called "Phone-O-Songs." You can listen to it here!
Check out the podcast on WFMU, PRX, or subscribe to the Radio Free Culture on iTunes. 
» 1 COMMENTS
Dream Pop duo Plastic Flowers unleash their new EP, "Summer of 1992" which was recorded at their home studio in London. The video of "Lucy" was directed by Pedro D. Takahashi and follows the steps of a young man whose life is in pieces and Lucy(?) still haunts his dreams. 

The EP is now available on Bandcamp.
» 0 COMMENTS
Listen to Vitamin Pets Premixes!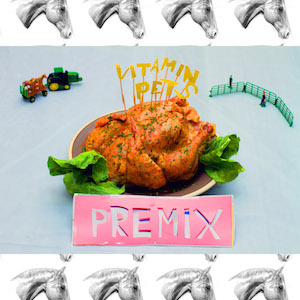 Vitamin Pets released a pack of stems from their upcoming album, "Horse Helpers of the High Country." FMA community members used them to make new creations - released before the album itself! Click the image above to listen. 
Browse by Genre
Blues
Classical
Country
Electronic
Experimental
Folk
Hip-Hop
Instrumental
International
Jazz
Old-Time / Historic
Pop
Rock
Soul-RnB
Spoken