Welcome to the Free Music Archive (Beta)
"It's not just free music; it's good music"
Via White Market Podcast » Visit Blog
» 0 COMMENTS
lizb on 09/08/2014 at 03:45PM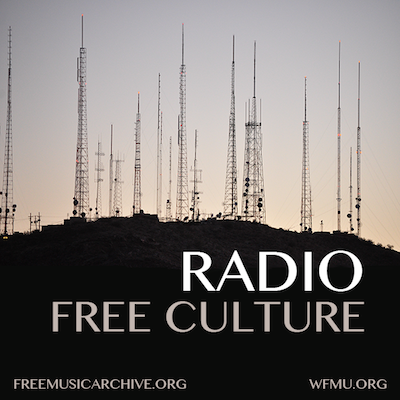 WFMU and the Free Music Archive are proud to present a new season of Radio Free Culture, a weekly podcast exploring issues at the intersection of digital culture and the arts. Our season opener is a two-part interview with FMA pal Elliot Harmon, Communications Manager at Creative Commons. We couldn't have imagined a better way to bring back Radio Free Culture than to take a look at the current state of affairs at our favorite alternative licensing operation.
Check out the first episode here, or subscribe to the podcast here (via iTunes).
» 3 COMMENTS
LCL on 09/01/2014 at 03:26AM
Out of our usual line, we're releasing a HipHop album straight from Ukraine.
Sun Sunych offers you "Hybris", a 15 tracks LP in russian & english with many featurings.
Heat from the east !


Check the release page on FMA for more information : http://freemusicarchive.org/music/Sun_Sunych/Hybris
» 2 COMMENTS
wmmberger on 08/02/2014 at 11:46AM
Ah, Grasshopper! A mainstay of My Castle of Quiet playlists from the very beginning. This Brooklyn duo has traversed the most-eerie of improvised / otherworldly territories, and come out the other end, as outstanding soloists and collaborators, in many projects outside of Ghop. Their musicianship remains expert, the sheer quality of them "knowing what they're doing," and choosing to do THIS, is one of the great charms / inspirations of Grasshopper, still very much the "mothership" for Josh and Jesse.
Fans will find the band largely in familiar territory here, painting a slow-burn garden of creeping dread and pulsation, cradled by ethereal long tones. "Witch's Blood in a Sauce" finds them especially "on," adding unanticipated horror-dressing to their usual array of mesmerizing sound evolution. Always good, and always at home on MCoQ.
Grasshopper have new work out or coming soon, on various formats / labels. The new, full-length Grasshopper LP (their third 12" on vinyl), Dark Sabbath: Symbols of Evil is coming soon on Hausu Mountain. Jesse and Josh also have a solo / split tape, Josh Millrod / Shingles, also on Hausu, there's a full Shingles cassette, First God Planted a Garden (2AM Tapes) ,and a Josh Millrod solo cassette, Seeking the Millenary Kingdom, on Solid Melts. (MCoQ archive links: Josh | Shingles)
Grasshopper on My Castle of Quiet, v.1 (2009; our second live-musical guests, ever!)
Thanks as always to audio engineer Juan Aboites, for his professionalism and talent, and to Tracy Widdess of Brutal Knitting, for continuing to immortalize my crappy iPhone band captures.
Via My Castle of Quiet » Visit Blog
» 5 COMMENTS
FMA Song-O-the-Day
Subscribe to the FMA's Song of the Day podcast to get hand-picked audio gems delivered to you each and every weekday. It's an easy way to dive in to the FMA's amazing catalog and load up on new music. Subscribe here!
Browse by Genre
Blues
Classical
Country
Electronic
Experimental
Folk
Hip-Hop
Instrumental
International
Jazz
Old-Time / Historic
Pop
Rock
Soul-RnB
Spoken
e