Welcome to the Free Music Archive
"It's not just free music; it's good music"

ilzetzki on 01/11/2017 at 09:16AM
A quick look at the Wikipedia page entitled Experimental Music roughly two years ago would have disclosed that whoever wrote that article relates experimentalism in music pretty much exclusively with the NY school. As intertwined as these two might be, any person who knows the first thing about experimental music today would immediately see this definition as gravely insufficient. And indeed, visiting the same page just a few days ago disclosed some heavy editing attempting to put the topic in some broader perspective. However, the many quotes on that page from admired composers – notably, Michael Nyman and Pierre Boulez, disclose the general attitude towards an attempted definition: It seems that every side is trying to define experimentalism to the benefit of the school s/he's affiliated with (whether this definition is favourable or not). And then, of course, there are the many musicologists trying to make sense of it all without inserting any judgement, as should be the case when trying to define something… poor souls.
My PhD research attempted a (pretty failed) look at the spectrum between open (supposedly experimental) and through composed (supposedly avant-garde) 20th century scores. Not only did I start getting a feeling throughout the research that these supposed opposites (avant-garde and experimentalism), are not in any way mutually exclusive, but I also realised time and again that the definition of experimentalism in music is as open as Walmart on black Friday! Just take a look at the "experimental" tag on this site: you'll get anything from South American spoken word to Japanese minimal noise. And these two extremes travel through a plethora of styles that seem quite distant from, if at all exhibiting any awareness of the NY School or any other music mentioned on the aforementioned Wikipedia page. And so, a strengthened resolve started growing in me to try and make some sense of this opaque term! And I also immediately knew what methodological route I was bound to take: Past research had already taught me that that the best way to look at a subject was not from its macro to micro situation, but rather the opposite. And thus, Experimental Israel was born.
READ MORE
» 0 COMMENTS
andygcohen on 01/10/2017 at 02:27AM
Introduction
I am Andy G. Cohen, a guitarist and multi-instrumentalist who, since October 2015, has had my music available under CC-BY licenses on Free Music Archive. This blog post is my story about how FMA has been helpful to me as a musician. In short, it directly led to about a 1/3 million plays directly on FMA and most likely tens of millions of plays indirectly (through the videos and podcasts which feature my music). 
Before FMA
I am a musician in my spare time -- for me, it's a hobby to play different instruments and compose songs; I've been doing this since I was about 9 years old. After many few years of making music for myself (or playing in little bands), I decided that I would share some of my original songs online, originally on the platform SoundCloud. Some of my songs started being used in different homemade videos on YouTube. When I saw that some of these videos were quite good, and that my music was really adding something to them, I decided to license almost all of my songs with the CC-BY (attribution) license.
Once I changed the licensing to CC-BY, I was eligible to be featured in SoundCloud's moderated Creative Commons Group (sadly and frustratingly for CC musicians, SoundCloud has gotten rid of the groups feature). I then saw my listens jump from a few dozen to a few hundred. I also started occasionally seeing videos pop up with my music in it. Nice!
Enter FMA
At this point, I realized that releasing my songs under CC licenses significantly increased the total number of people who heard my music. I started getting emails from people who liked my music, and some even occasionally voluntarily paid for my music! At this point, I tried to get myself onto FMA, probably the biggest site for CC-licensed music. Initially I contacted an admin and was added to ccCommunity -- later my music also got picked up by the Music for Video curators.
READ MORE
» 2 COMMENTS
Honnda on 01/09/2017 at 12:32AM
The emergency vehicle siren is the unofficial national anthem for every country, each wailing on a different melody.
Organized by Seth Aaron Graham and Keith Rankin, Orange Milk has released an expansive compilation; 100% of the proceeds will go to the Fire Relief Fund for Victims of Ghost Ship Oakland Fire.
The international underground music community will never forget you.
Feel free to donate here, directly, too.
-Honnda 
[Honnda is a member of Mouthguard88, and a contributor to the compilation.]
» 0 COMMENTS
cheyenne_h on 01/04/2017 at 12:05PM
We often get messages from users asking how they could preview songs efficiently, without having to download everything that looked interesting. Well, friends, you can! And it's right at your fingertips! 
Ever notice the little symbols next to tracks on our site? There's a star (for those of you who log in -- clicking the star marks a song or album as a 'favorite' and allows you to find it again later; all favorites are stored in a big ol' list at your profile page), a plus sign (which launches the pop-out player), and a 'down' arrow (which is the download button). 
We know, the plus sign isn't the most obvious ideogram for "add this song to the pop-out player," and we're sorry about that. But now you know what that arcane little symbol means. 
Anyway, once you click, it'll launch a separate player that has features you've come to expect from audio players across the web: the ability to scrub and skip through a track, and the ability to control the volume. The tracks you click on will add themselves to the queue in this magic little box. If you've made playlists in the past, you'll be able to find them in the drop-down menu (the default is called "Working," as in "Working on my next killer mix"). 
You can add and remove songs, or even clear the whole playlist and start fresh. This tool is indispensable for anyone who wants to leverage the full power of the FMA to their advantage! Go forth, FMA'liens, and mix like the wind! (And if you are proud of your mixes, send us links, we always wanna share new & exciting selections from our community.)
» 0 COMMENTS
Music Licenses: A Handy Guide!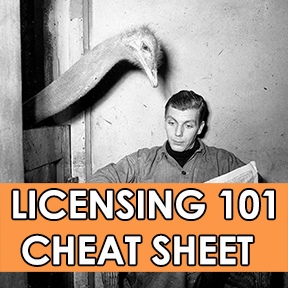 Go ahead and take a peek at our License Guide, assembled as a quick reference sheet for the variety of music licenses we carry on our site. From the array of Creative Commons options to the FMA-Limited to Public Domain dedications, this guide tells you what you can - and can't! - do with the music you find here. 
Browse by Genre
Blues
Classical
Country
Electronic
Experimental
Folk
Hip-Hop
Instrumental
International
Jazz
Old-Time / Historic
Pop
Rock
Soul-RnB
Spoken