Welcome to the Free Music Archive
"It's not just free music; it's good music."
dhf510 on 11/15/2017 at 10:32PM
Manifest Destiny was a labor of love. Or of falling out of love. I funneled my emotions from a turbulent time of self-reflection into an album that I feel deeply connected to. If nothing else I think one can say that it's sincere. Along the way I felt the urge to document moments that captured the mood of the record, which turned into snapshots of each song and eventually what I have to present to you now: Manifest Destiny, the film. It's somewhere between a home movie and an art film; just as experimental as the album. These are vague allusions to the memories that inspired these songs meant for background play as you listen to the album.
You can watch/listen to it here: https://www.youtube.com/watch?v=m6JAp43G1bc
Thank you.
» 0 COMMENTS
massdist on 11/14/2017 at 02:32PM
Ok. First off, don't listen to ANY of these Devil Music records until you -
GET THE NEW DEVIL MUSIC RECORD "CISUM LIVED" ON 100% BREAKFAST AVAILABLE HERE
Then, after you thoroughly study that new album, you can listen to these 8 other Devil Music records available now on the FMA here
We got their rock records Mastul, S/T, and Go.
We got their soundtracks (audio only without the annoying old black and white movies) Caligari, Big Stakes, Nosferatu, and Dr. Jeckyll.
Big Stakes was really influential to me - combing country and western and minimalism, it opened some doors for me.
We even got, maybe their best record, HEAVY METAL CREW which is a split between Brendon's elementry school student and a found tape of kids screaming. Classic Mass Dist!
What can I say about these guys?!? Prolific Boston jammer composers. Psychedelic warriors. Old friends. Spiritual musical searchers. Get lost with these dudes!
» 1 COMMENTS
cheyenne_h on 11/13/2017 at 02:02PM
The holidays are upon us! Whether you celebrate with Thanksgiving feasts, lighting the menorah, holiday parties, Christmas trees, or anything around and in between, it is the perfect time of year to express gratitude, seasonal tidings, and make some noise. It's the season of giving - so share your finest original and traditional, holiday and seasonal pells (a capella/isolated vocals), samples, and remixes. We would like to encourage you to record traditional public domain Christmas, Hanukkah, Kwanzaa, and Winter Solstice songs, as these are very popular with both listeners and remixers.
We are honored to be collaborating with ccMixter, Jamendo, and Plotist in this year's Under The Tree remix event. Together, we are giving the gift of music to the world.
DETAILS:
Dates: November 12th-January 2nd
Who: CCMixter, Jamendo, Free Music Archive, Plotist
Where: CCMixter.org & CC BY-NC-SA source materials right here on FMA!
What: Holiday Remix event produced under Creative Commons licenses. Artists upload vocals (pells) or samples (short sounds or individual instrument tracks) for the remix community to produce music that listeners can download and share. A selection of songs will be curated into a compilation.
Got an audio sample, instrumental track, or isolated vocal to share for this holiday season?
SUBMIT IT HERE!
» 1 COMMENTS
cheyenne_h on 11/10/2017 at 05:45AM
Fred Cole, beloved musician and member of Dead Moon, Pierced Arrows and much more, has passed away. The Free Music Archive is fortunate to have some live sessions from WFMU and other sources, some selections of which are included below. His musical legacy will live on, as noted in the statement below written by his wife, Toody Cole: 
» 0 COMMENTS
Song Of The Day Podcast: SUBSCRIBE TODAY!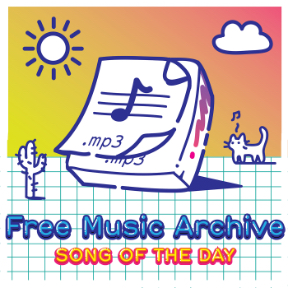 Hop over to iTunes and subscribe today to our long-running Song of the Day podcast! A Creative-Commons licensed, curated song for you to listen to every weekday. You can also find them via our Twitter & Facebook feeds every morning.