Welcome to the Free Music Archive
"It's not just free music; it's good music."
massdist on 10/13/2017 at 06:35AM
DONKEY DISASTER, ACLSDC, TANQUERAY, JESUS CHRUST, MIAGI, MR. TONX, 2000 FLUSHES, MONKEYS, RAWDAWG REX, POESTENKILL, and SHARK MOUNTAIN!!!
That's 11! 11 bands newly up on the FMA. Stoked. These records run the gamut. Dig in. Get deep. Thanks! MassDist
» 1 COMMENTS
cheyenne_h on 10/03/2017 at 09:56PM
In collaboration with ccMixter, the FMA is asking everyone to send us their spookiest sounds! 
For the month of October, we're collecting spooky sounds (licensed for remix) for the Ghost Notes mixter. 
Filmmakers, game devs, app creators, and party goers hunting for haunting soundtracks will surely find spooky soundbeds, terrifying tunes, eerie anthems, and bone-chilling ballads! ccMixter members will be remixing these sounds to create Halloween soundscapes for parties, short films, and more! 
If you have a collection of spooky sounds (or feel like recording some and sharing them), we've opened a submission page for you! We're accepting spooky sounds until October 20th! Please notify the FMA when you upload spooky + shareable sounds for others to use.
If you're an artist and want to license your spooky sounds for use with a different license, please send us a link when it's live! 
Happy Halloween!
» 3 COMMENTS
cheyenne_h on 10/02/2017 at 12:04PM
Our third and final giveaway is a BOSS RC-3 Loop Station Pedal! If you're feeling loopy, this pedal has what you need to express that, musically! 
Some of its features include: 
Up to three hours of stereo recording time, storage for 99 loops, a "real drums" rhythm guide, aux-in for digital loops, and USB 2.0 compatibility. It also has an "auto record" function that will start recording a sample as soon as you start playing. 
The suggested donation for this giveaway is $100. We'll draw and announce a winner on Friday, October 13th! 
See it in action here:  
Enter to win today!!
For the official rules, please see our Eligibility Notice.
» 0 COMMENTS
cheyenne_h on 09/29/2017 at 07:33PM
Ross did a very high-tech drawing for this one. Check it out below!! 
Congrats, Joseph T from Brooklyn!
» 0 COMMENTS
Song Of The Day Podcast: SUBSCRIBE TODAY!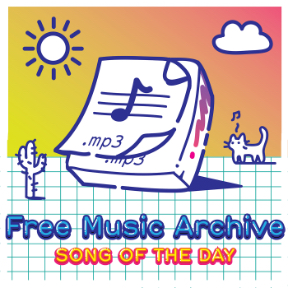 Hop over to iTunes and subscribe today to our long-running Song of the Day podcast! A Creative-Commons licensed, curated song for you to listen to every weekday. You can also find them via our Twitter & Facebook feeds every morning.