Welcome to the Free Music Archive
"It's not just free music; it's good music."
massdist on 01/11/2018 at 09:41PM
Usaisamonster was a band for 9 years. When it started there was a lot of jamming but over time it became soley focused on composition.
The songwriting became more and more complex and progressive and the improv completely went out the window.
We became better at songwriting than improvisation but I'm glad we scraped together these two jam tapes.
USAISAMANTRA is 2 live recordings from 2007. We never jammed live at this point but decided to for these two gigs.
KITES IS A MUDBOY is 2 colab recordings, one with Kites and one with Mudboy. It was just about trying something new with friends.
Thanks for listening!
» 0 COMMENTS
rosso on 01/11/2018 at 11:11AM
We have received many bug reports and feature requests concerning the audio players on the FMA site.  This includes the in-page player (play buttons on the webpages) and our outdated flash-based pop-out playlist player.  I am currently developing a brand new html5 pop-out playlist player for the site and am working to remove the last traces of flash from FMA, which includes portions of the image and audio uploaders.  I hope to have all of this completed by Jan. 31 so keep watching here for updates!
» 4 COMMENTS
cheyenne_h on 01/10/2018 at 08:33AM
For the next month or so, we're opening a submission page for songs about love, longing, and how to celebrate Valentine's day your own way! If you've never submitted a song to FMA before, now's your chance! We are accepting submissions from now until Tuesday, February 13th. Your song must meet the following criteria: 
**thematically consistent with Valentine's Day, love, candy, longing, roses, chocolate, going on dates, or disdain thereof (in title OR lyrics - can be instrumental)
**less than 5 minutes long
**licensed CC BY-NC
**marked if inappropriate for all audiences
You can submit a song (as long as you're logged in to our site) by clicking on the "Submit Track" button on the Lonely Hearts Challenge page. 
» 0 COMMENTS
thetwinatlas on 01/08/2018 at 05:13PM
The 2017 output from New Jersey's LAZY SALON is now on the FMA.  'Invisible Like Peace' was the project's debut full-length originally released in March of last year, and the 3-song 'Trisset' EP was released in September.  (the first 3 EP's from the project are also on FMA)
These instrumental tracks weave elements of electronic, ambient, beats/rhythm, shoegaze, post-rock & modern psychedelia with an emphasis on texture, repetition, rhythm and hypnotic melody.
LAZY SALON is producer/multi-instrumentalist Sean Byrne, formerly of The Twin Atlas and drummer with Lenola, Mazarin, BC Camplight and others.  
» 0 COMMENTS
Song Of The Day Podcast: SUBSCRIBE TODAY!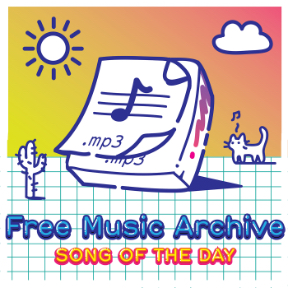 Hop over to iTunes and subscribe today to our long-running Song of the Day podcast! A Creative-Commons licensed, curated song for you to listen to every weekday. You can also find them via our Twitter & Facebook feeds every morning.