Welcome to the Free Music Archive
"It's not just free music; it's good music."
cheyenne_h on 12/10/2018 at 01:53AM
After months of uncertainty about our future, the Free Music Archive is joining KitSplit, a camera gear rental platform by and for creators. With KitSplit's support, we will stay up and running for the indefinite future - something we are very relieved to report. Though KitSplit is a for-profit business, the FMA will remain true to its mission of sharing free, curated audio to all.
In the coming weeks, we will reopen artist/curator uploads and our Music Submission form and resume our regularly scheduled audio weirdness, curated playlist posts, and new releases here on our blog.
The Free Music Archive will be one of many educational resources in the KitSplit library - they have a bounty of informative materials on their blog, Viewfinder, and they offer free coaching sessions to women in film and video, which we think is sorely needed and super cool. The Free Music Archive is widely used and loved by indie video producers, and KitSplit wants to make our archive even more accessible and useful by bringing our audio collection to their community's attention.
While this milestone is bittersweet and we're sad to be saying goodbye to WFMU, we are forever in their debt for making the Free Music Archive a reality. We are excited to be able to preserve the archive and continue our essential work of curating the Commons with the support of KitSplit.
Thanks to everyone who supported us during this uncertain time, who reached out with moral support or made donations to keep the lights on, and especially to our amazing, inspiring, awesome community!! We are looking forward to the future for the Free Music Archive as its collections and communities grow, and we hope the best years of the Free Music Archive are yet to come. 
For more details on the transition as it unfolds, please check the KitSplit blog and/or subscribe to their newsletter.
For this news in Spanish, please visit the blog at Libre FM - thanks friends for the translation! 
» 22 COMMENTS
cheyenne_h on 11/29/2018 at 07:11PM
Friends, something wonderful is happening here at FMA, but we can't give you all the details just yet.
For the time being, we are still suspending new uploads and backing up our MP3 collection at archive.org/details/freemusicarchive, but we're thrilled that service will NOT be suspended on December 1 as previously indicated.
Thanks for sticking with us during this time of transition, and we can't wait to tell you all about what's in store for our beloved Archive!
Expect to hear our big news by the end of December.
» 33 COMMENTS
cheyenne_h on 11/15/2018 at 05:19PM
Due to a few very generous donations, we are able to keep the site up, as-is, through the end of this month. We will still not be adding any more new uploads to the collection and are proceeding with our plans to back up the entire current MP3 collection at archive.org.
We are in talks with a few organizations who have very substantial interest and whose values align with ours. As negotiations continue, I may write more updates here as we move along and may be able to announce a new parent org for FMA in the coming weeks. Nothing is set in stone though so we still face shutdown, and if you have questions or want to help, please contact us using the Closure Comment form (at the end of this blog post). 
In the meantime, donations large and small do keep the lights on here, and we are so thankful for your support!
» 4 COMMENTS
cheyenne_h on 11/08/2018 at 12:38PM
Due to traffic, the site's been up and down today. Please DO NOT try to scrape the site, friends! We will keep all the music available here until it is available at archive.org, where you can continue to explore the collection, download (even different audio formats!) and mark stuff as 'favorites'! 
Thanks for all the love and support you've given thus far. Donations help in the short term. We are in talks with a couple of orgs who might be able to help us out. Watch this space for details.
If you have skills to offer, are part of an interested organization who wants to help FMA, or have other feedback, please use our form in the post below. 
» 6 COMMENTS
FMA is now powered by KitSplit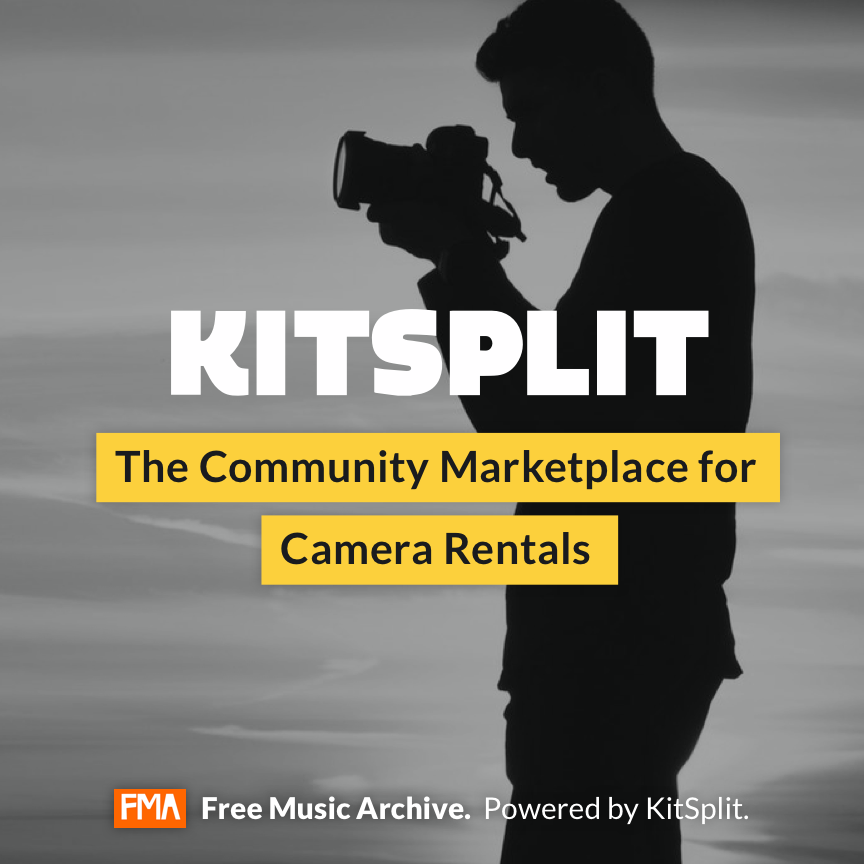 As of December 10th, 2018, the Free Music Archive is joining the KitSplit family as an educational and artistic resource. Want to know more about the transition? Check out our blog entry on FMA or the announcement from KitSplit!